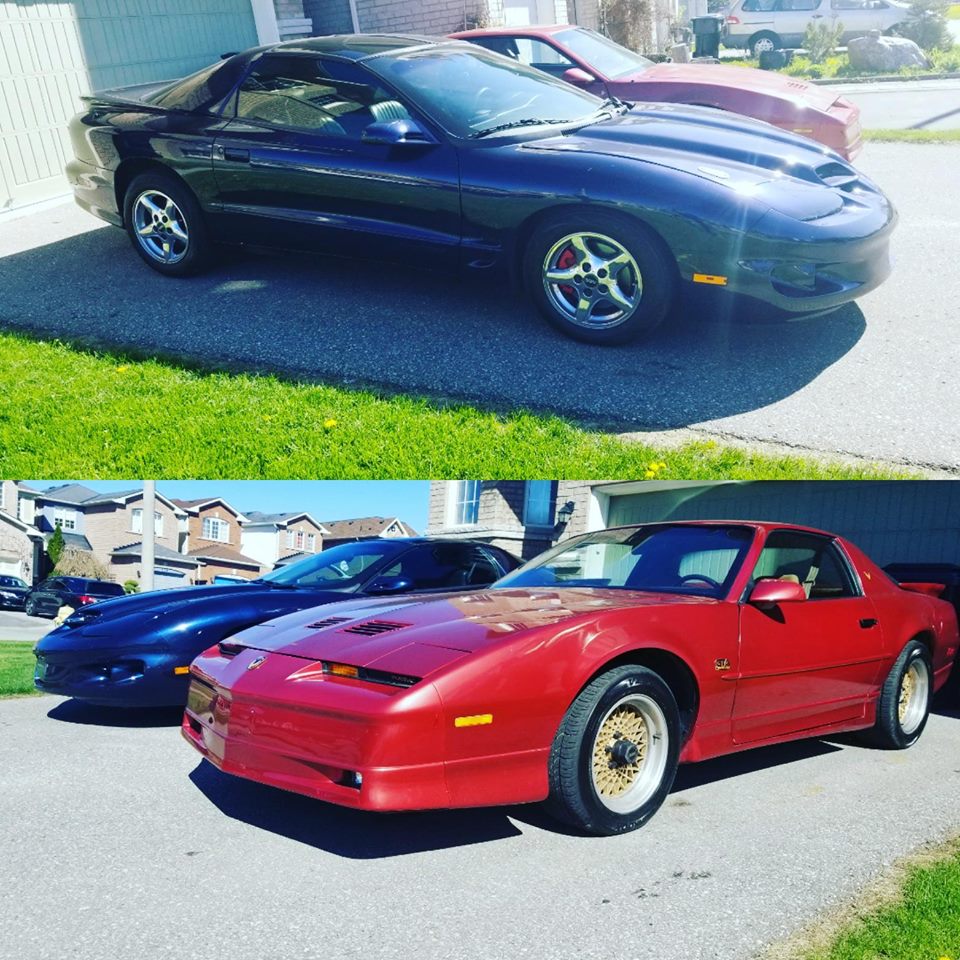 Chapterl President // Jorge Solorzano
1 - 1998 Pontiac Firebird 109 000 original kms. Navy Blue Metallic Paint 3.8 V6 engine T-tops and original 10 speaker monsoon sound system Aftermarket ram air hood
2 - 1988 Pontiac Trans Am GTA 128 000 original km's Flame Red Metallic paint 5.7 L98 350 V8 TPI with a 700r4 automatic transmission Fully loaded with all the power options and a digital dash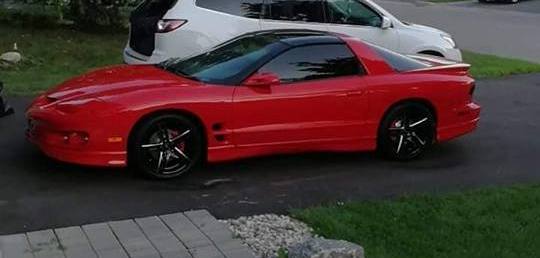 Vice President -  // Laurent Richard
- GTA 1998 Pontiac Firebird
3.8L V6 completely rebuilt and heavily modified.
315hp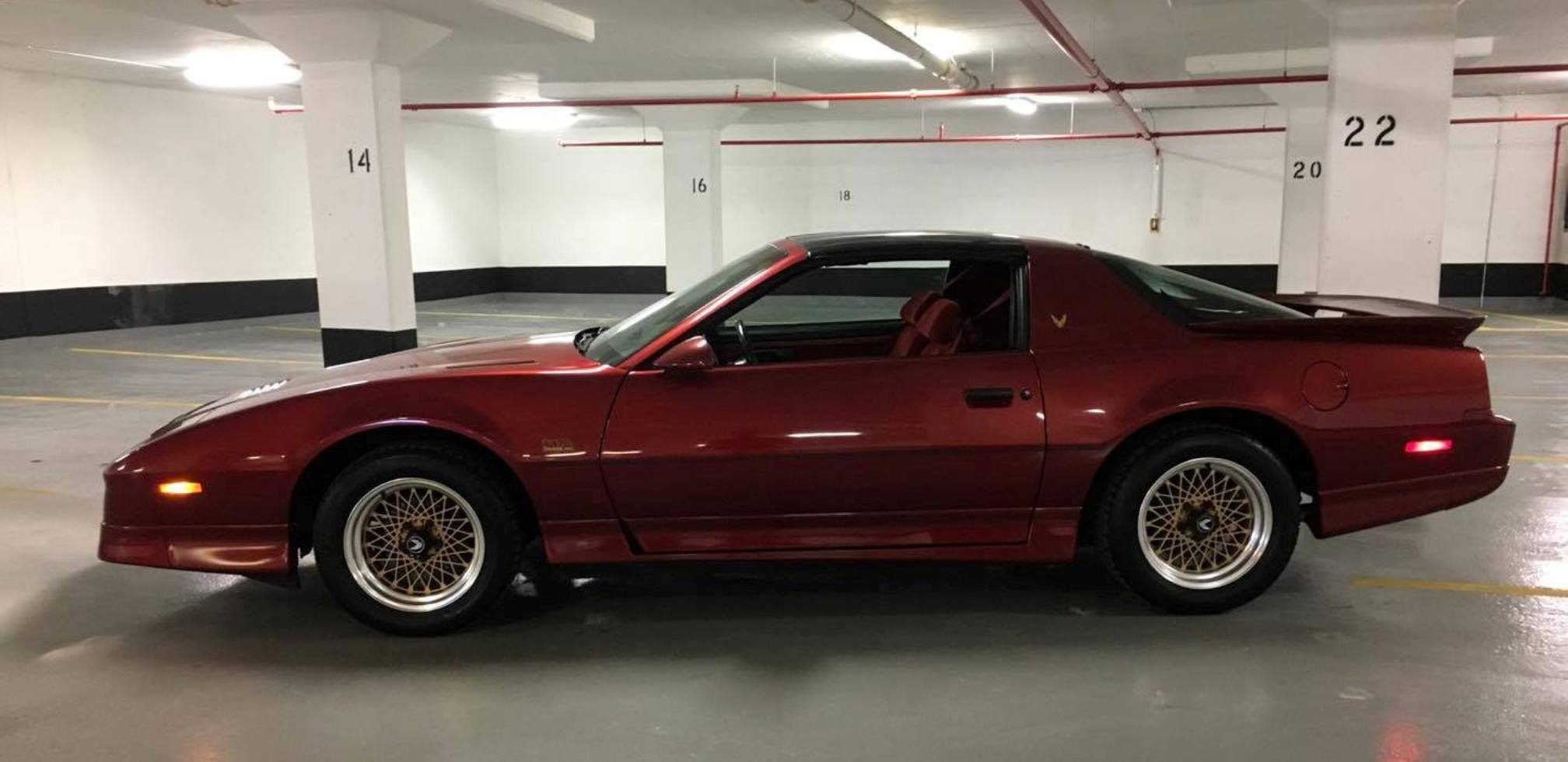 1st Officer // Fazal Khan
1987 GTA
1987 Pontiac Trans Am GTA 5.0 Auto 69KM.

Clubs 1st Founding Member Nationally -// Terry Donaldson // Chief Executive Officer For Life
1977 Trans Am
Black on black - I have owned the car for 23 years.
95,885 original miles - New Black Paint in 2015
Black leather interior - 400 Pontiac Engine
350 Transmission - Hurst Dual Gate Shifter
Rare Rear Seat Console - Rally 2 Wheels Aluminum Rings
15 Inch Tires 50 Series - Original space saver spare
Kenwood Sound System - Aluminum Radiator
Complete New Brake Hardware

//  Club Founder & National President Murray McMillan 
Engine - 1969 Pontiac 428 - Bored .030 - 4 Bolt Mains - Ported & Polished -Original #62 Heads
Compression is 11 To 1 - Premium Fuel Only
Horsepower = Enough
Lunati RAM IV Cam .495 Lift
Comp Cams Roller Rockers
Edelborok Performer Intake
Hedman Aluminum Headers..Dual exhaust
Holley Avenger 670 ....Size 76 Jet Primary / Size 80 Secondary - Vacum Tuned
Interior - Black Leather from Larry's Auto Trim
Paint Buccaneer Red W/Gold Misted Pixie Dust / Ghost Flames by Ron at Classic Paint
New Turbo 400 W/3000 Hole-shot Stall Converter - B&M Quick Silver Shifter W/ Trans Go Stage 3 Shift Kit
12 Bolt Rear end 3:23 Gears
2" Summit Drop Leafs In The Rear
QA-1 Coil Overs in the Front
Complete Braking System Redone - All New Hubs and Ceramic Pads
Accel HEI Ignition System With 6200 Rev Limiter
3 Core Chamion Aluminum Radiator With Dual Heat Activate Electric fans
Halogen Lamp Upgrade With Cut Glass Lenses
All New Control Arm Bushings in 2019
14.7 :1 Sterring System Upgrade 2019
18x8 Bandit Wheels Front
18x9 Bandit Wheels Rear
Tires - Bridgestone Summer Performance Pole Position
4200 Watt Rockville Sound system with 1000 Watt Alpine - Mono Amp For 12" JL Audio Subwoofer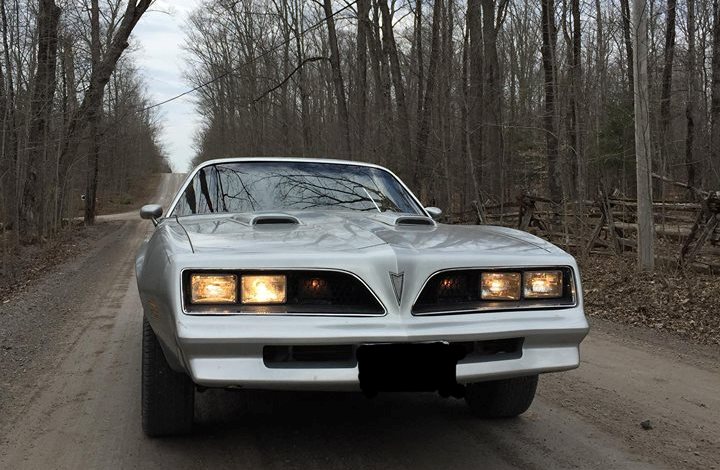 Founding Member #6 // Sebastian Korkus
INNACTIVE
1980 Firebird Base, thought it had a 400, but really is a 350 Chevy small block, 77 nose, Brand new to the family and a work in progress
Founding Member #7 // Steve Dewar
1978 Trans Am
Marinique Blue
Edelbrock Crate 350 Engine
Frame Off Restoratiob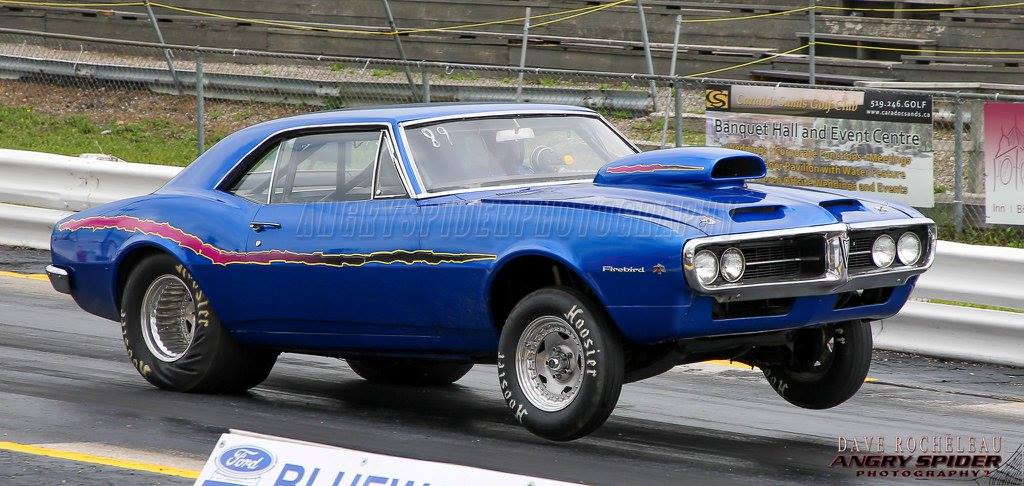 Founding Member #8 // Gabriel Teves
1967 Firebird
Drag Racing
Tubbed
Ladder bar car, 12 point cage
Turbo 400 transmission with trans brake
Hurst shifter
Ford 9 inch Rear End
35 spline axles and 4.11 gears
Engine - 484 ci Pontiac with 13-1 compression
Comp cams roller cam
Harland Sharp 1.65 roller rockers, wiseco pistons
K-1 rods
Forged Crank
Edelbrock Victor intake ported by Mike Voycey
Edelbrock rpm heads ported by Ron Elford
Quick fuel 1000 cfm carburetor
MSD Billet distributor
Autometer gauges
Moroso vacuum pump
Convo pro rims
31x14 Hoosier slicks
Engine dynoed at 680hp 650 fts tq
Ontario London 1st Officer - To Be Named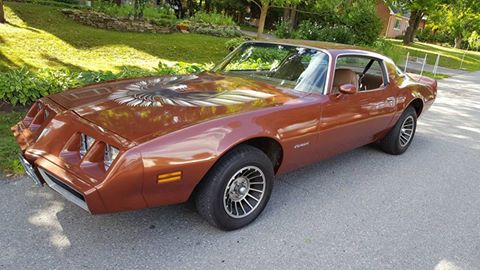 Founding Member #9 // John Armstrong
1980 Pontiac Firebird
I am the 4th owner and the 6th owner
The car was purchased by my grandfather in 1989
Passed down to me
Sold in 2012 repurchased in 2015
Originally came with a 301 small block but was later replaced with a 350 after an engine seize in 2014
The entire car is pretty much stock except for the replaced engine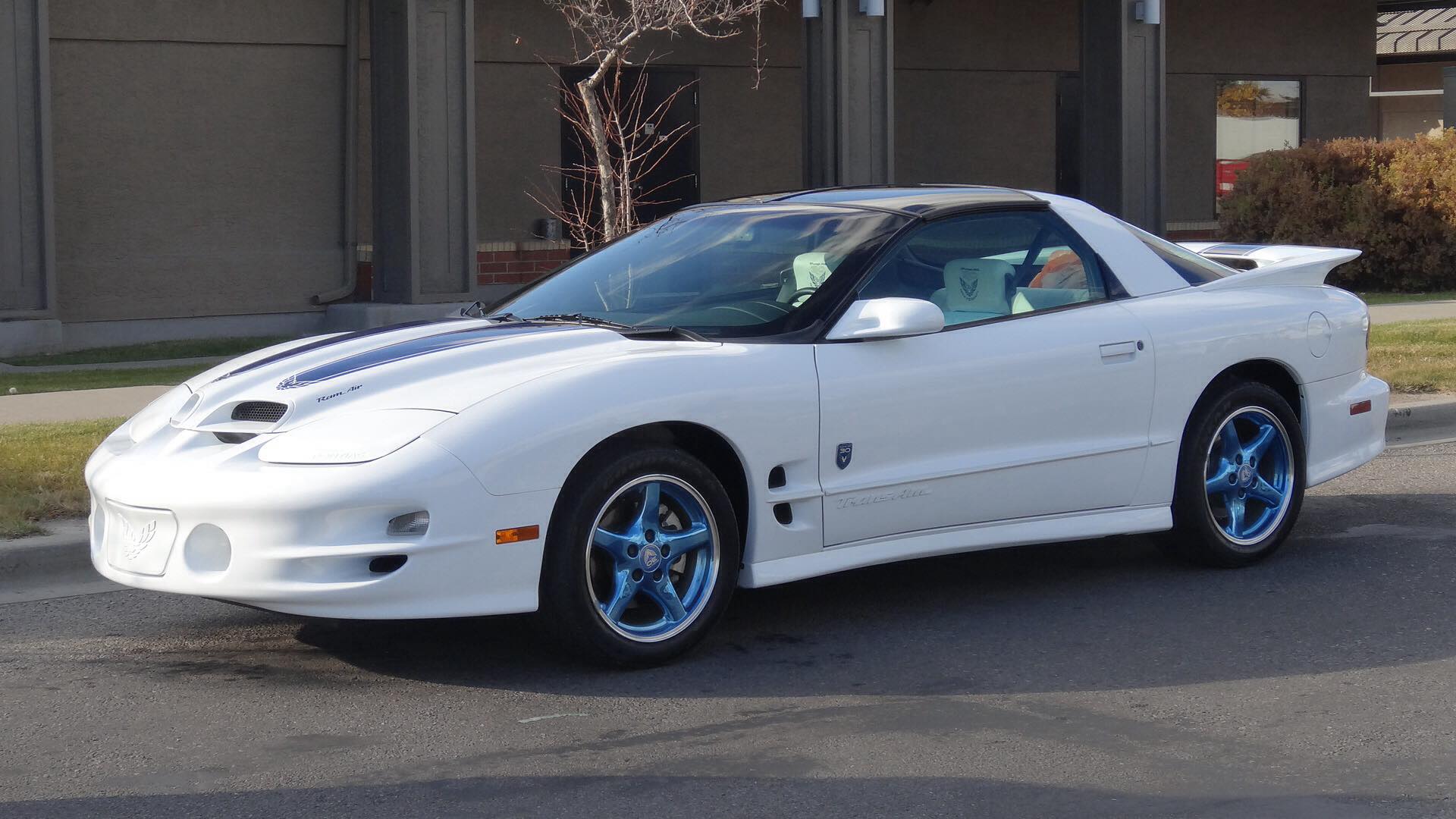 Founding Member #10 // Rick Skrabl
Pontiac 30th anniversary transam car number 501
This car is all stock and 1 of only 100 Canadian cars 65 coupes.
Mine is one of and 35 convertibles
I have all the documentation from the day it was sold at a dealer in British Columbia
The other 1500 cars were American cars sold in the USA.
My car is a automatic with every option available at the time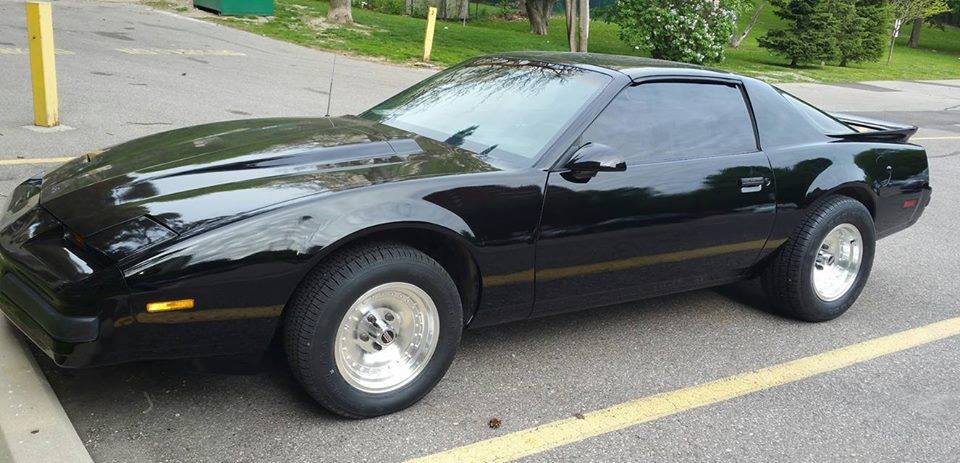 Founding Member #11 // Tina Tini
INNACTIVE
1987 Firebird Trans Am
Black W/ T-Bar Roof
383 Stroker Engine
Torque Converter
Posi-Traction Rear end
Updated Brakes
American Racing Centre Line Wheels
Stagger Style - Bigger tires on the back and rims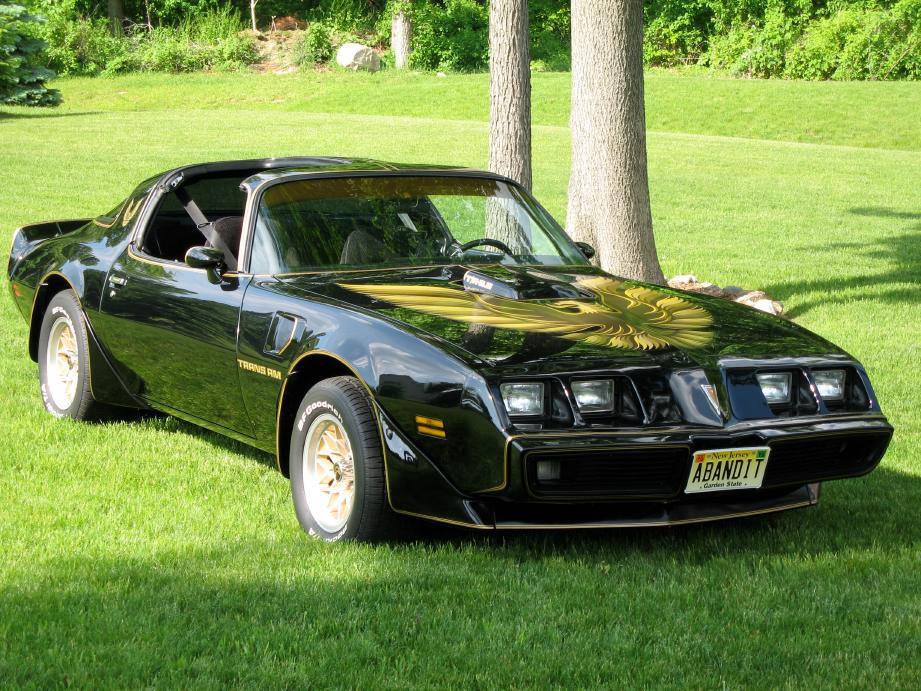 Founding Member #12 // Danny Pearce
Original Numbers Matching
Y84 Special Edition car
WS6 Handling Package
6.6 Litre
Removable T-top roof panels
15x8 Snowflake wheels.265/60R15 BF Goodrich tires
Purchased Lindsay Pontiac, Lindsay ON.
Have owned car since Aug 1979.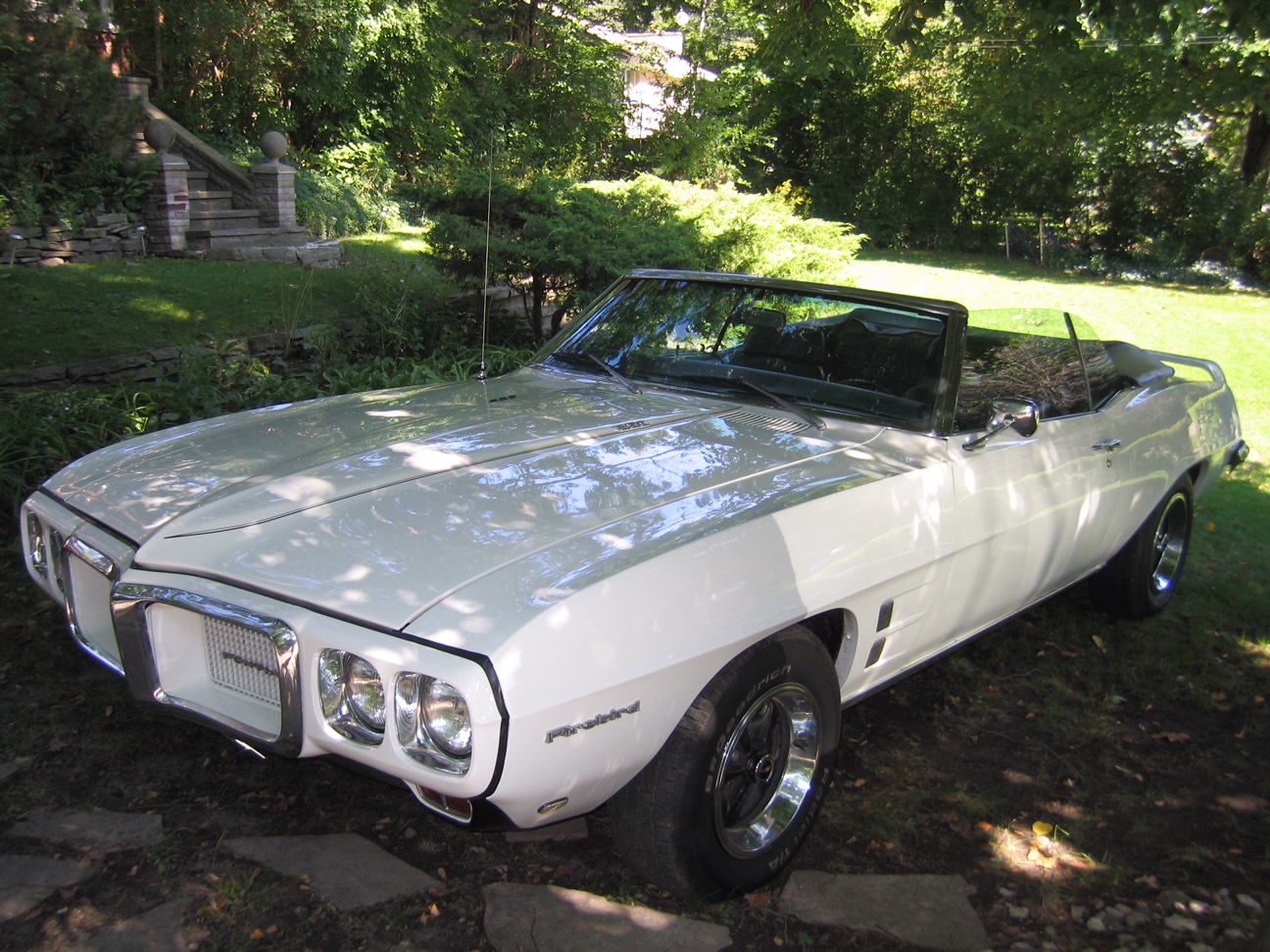 Founding Member #13 // Robert Nardi
1969 Firebird Convertible
350 v8 4 Barrel
White exterior
Black interior
4 speed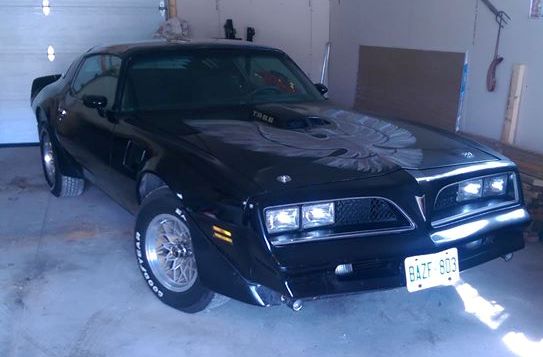 Founding Member #14 // Ted Greene
Bought in 1994 needing lots of work for $300.
Had rear ended someone.
Stock 403 with headers, currently getting 1970 350 heads, cam etc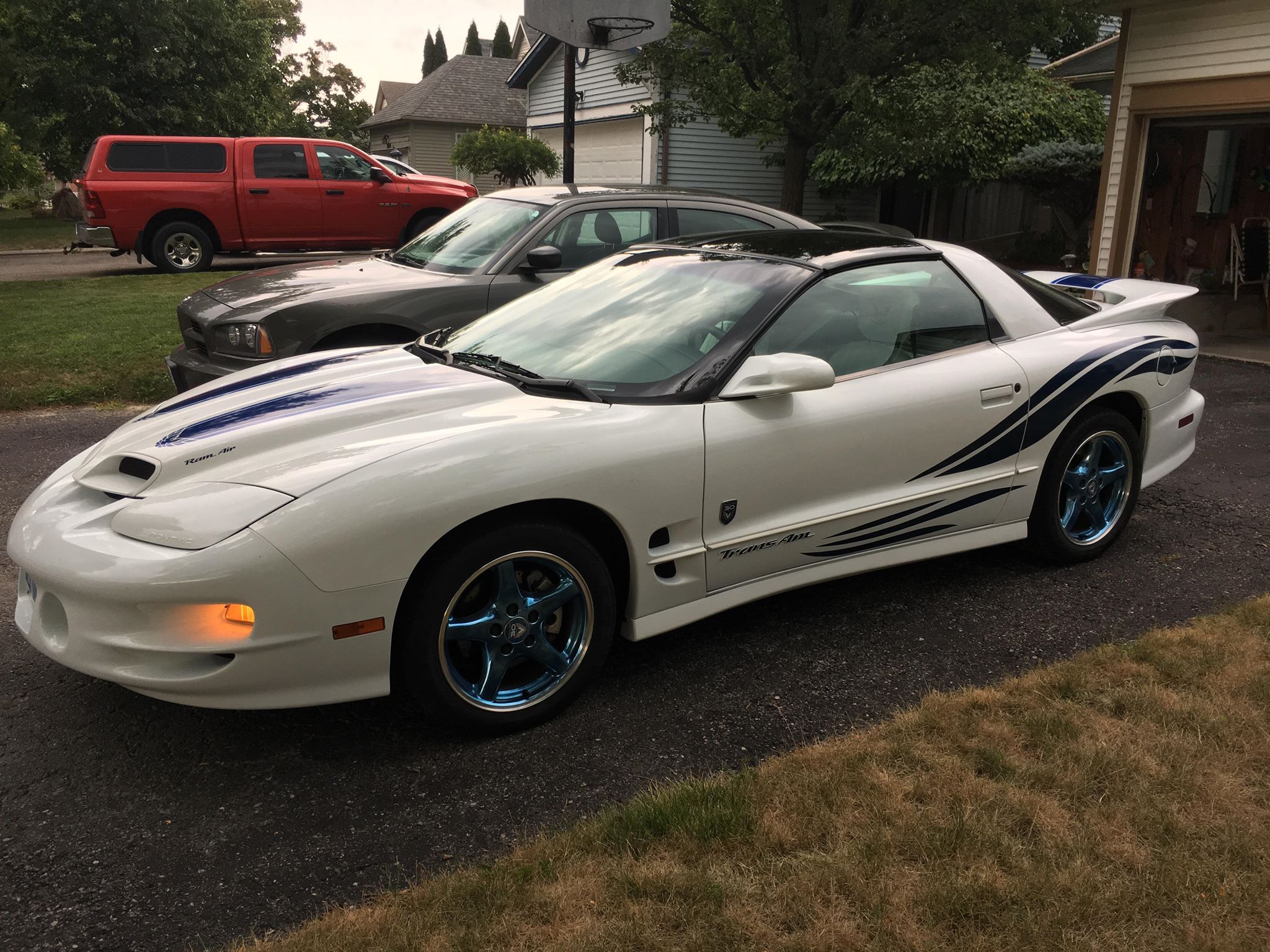 Founding Member #15 // Charles Kelly
1999 30th Anniversary edition #658 Firebird Transam
Founding Member #8 // Charles Kelly
1999 30th Anniversary edition #658 Firebird Transam
Founding Member #16 // Carl Beaudry
INNACTIVE
1980 turbo. Black and gold SE. Interior is camel tan. I rebuilt the 301 turbo motor and was unsatisfied with its performance so I sold the motor and transmission. I have a rebuilt 403 from my 79 trans am sitting on a stand ready to drop in. Car is currently in my barn waiting for restauration. Parts car: 1980 turbo with a blown 403 in it. Interior is also camel tan. Donor for the black car. I am going to part this one out. Once I have stripped it, I will post the parts up on the club site if anyone wants anything that is left.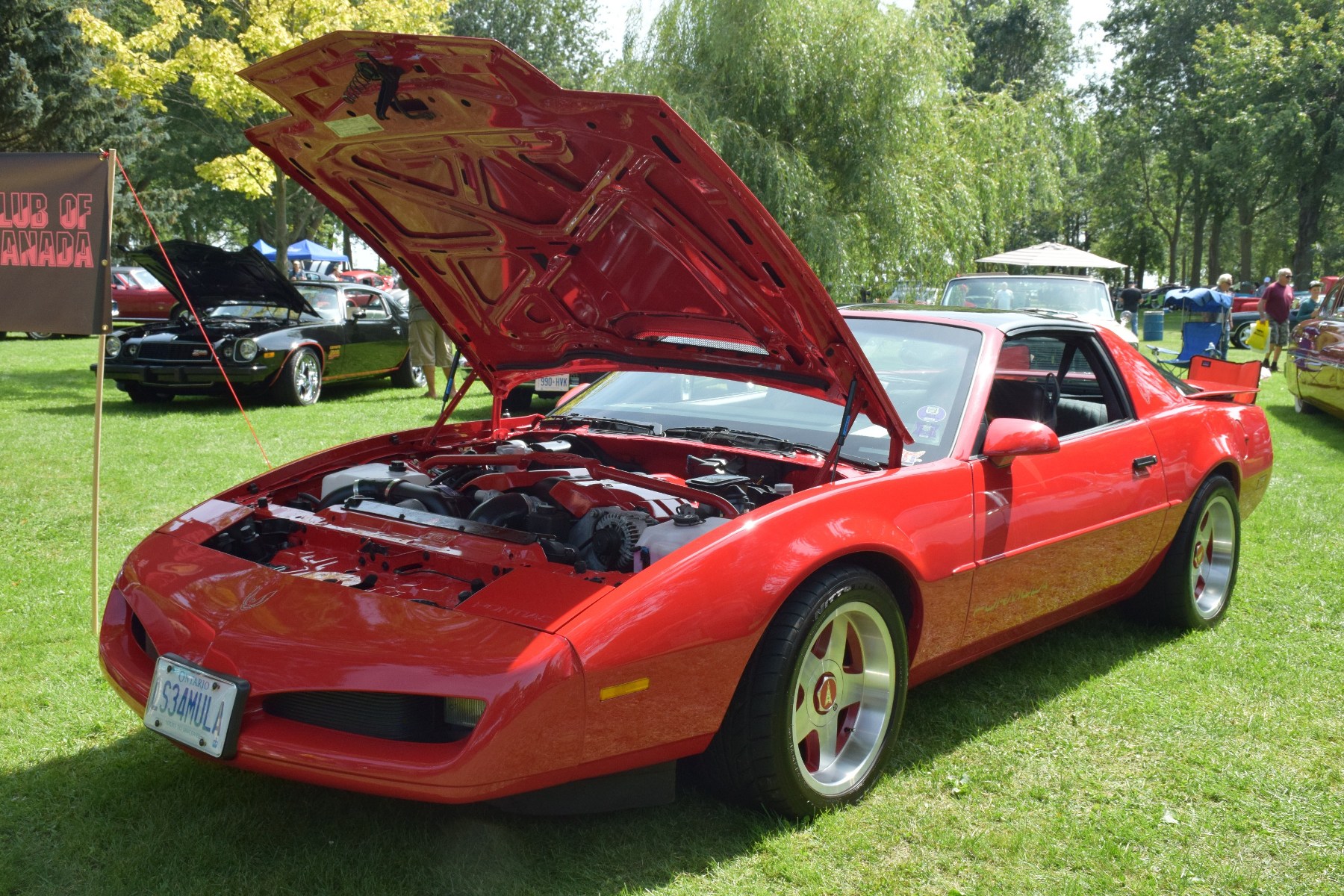 Founding Member #17 // Jeffrey Cohen
I've owned my Formula since 2003. I looked for 2 years to find the right car. It was originally a 5 litre automatic. I did a swap to a manual 5 speed in my garage using a donor car a year later. I've done the following mods in chronological order:
17" Ronal Firehawk wheels
New carpet
Flowmaster cat back exhaust - Eibach sport lowering springs.
BMR strut tower brace - Sub frame connectors
Steering box brace
LS3 swap using a a GMPP LS480 crate engine
Magnum T56 six speed transmission
Stainless works headers
In 2014 I added:
BRP hot rod headers and cat, and Magnaflow cat back.Repainted the engine bay, front clip, and the bottom of the car.
Corvette fuel system with 400 lph pump. All new fuel lines.Night Fury camshaft
Hawks 8.8 rear end, which included swapping the factory rear drum set up with 4th gen rear discs.4th Gen seats.
Nitto 555s in front and 555Rs in the rear.Last year I added the Procharger and intercooler.It put down 650 rwhp on the Dyno in current form at 8 psi.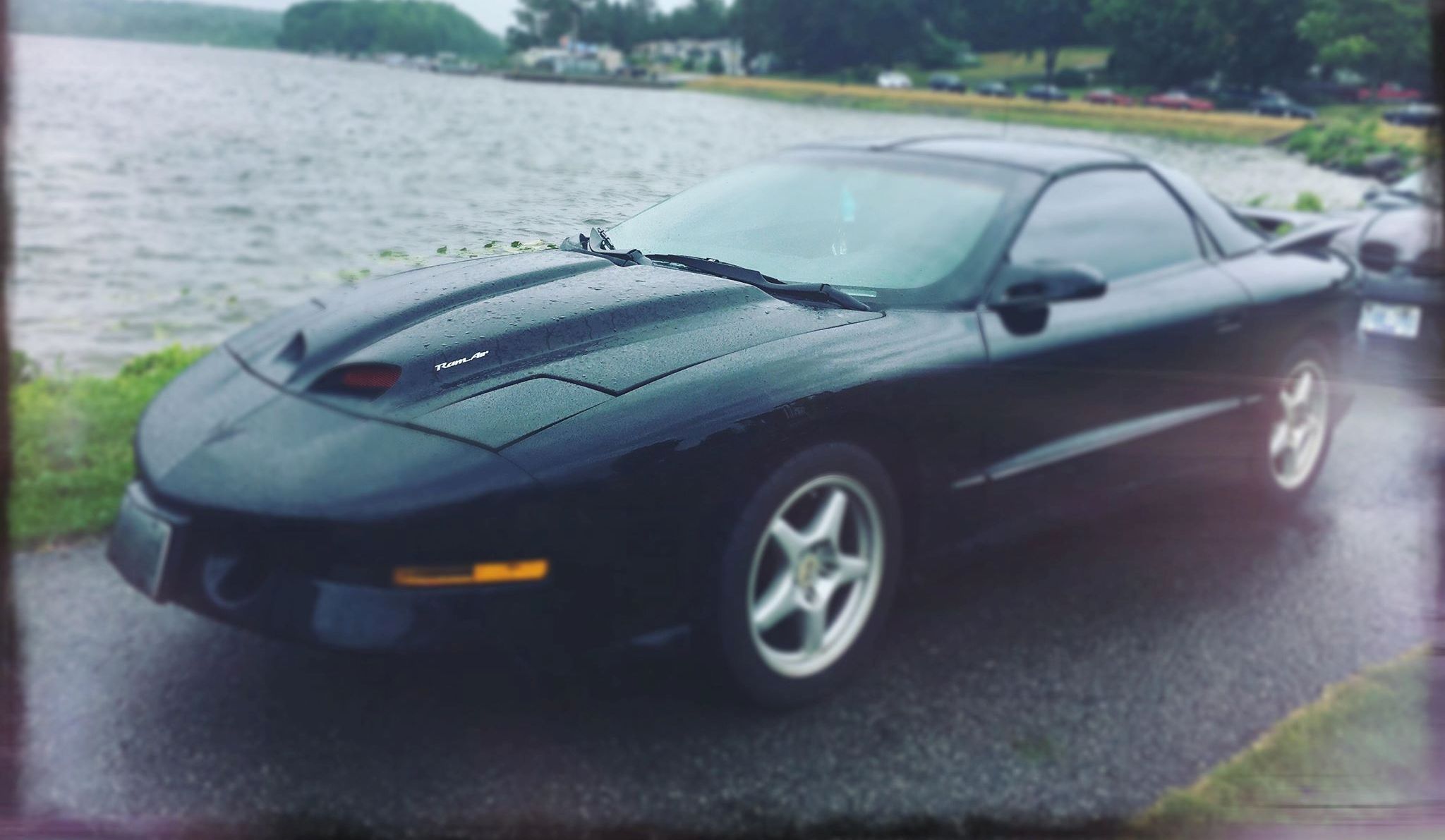 Founding Member #18 // Wanda Jestara Lorraine
INNACTIVE
1994 Trans Am
5.7 LT1
6 speed t56
Black T - Top
Aftermarket Ram Air Hood.
Leather interior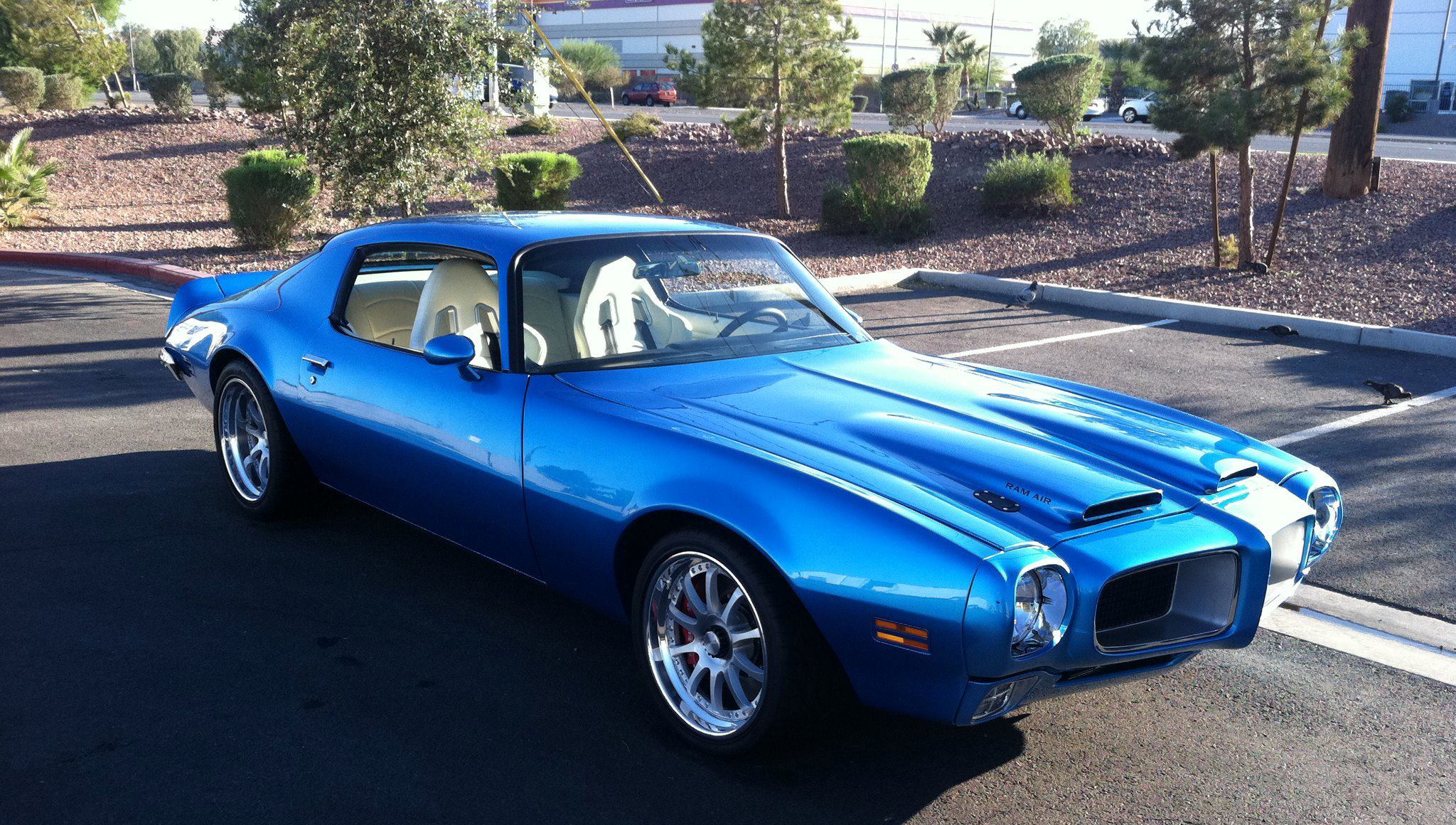 Founding Member #19 // Albert Melchior
INNACTIVE - FIREBIRD IN BUILD
Is a 2011 SEMA trash starting as a stock 1970 Formula 400. As the owner of Carbon Kustoms I decided to attempt to create a neutrally balanced car and shed weight for a strong agile performance car. The end result is in 71/2 weeks we built the car from sratch, lost about 400lbs overall and created a 51% front and 49% rear weighted car that has been featured at "SEMA", competed at the "Optima Ultimate Street Car" and was a featured on "R U Faster than a RedNeck"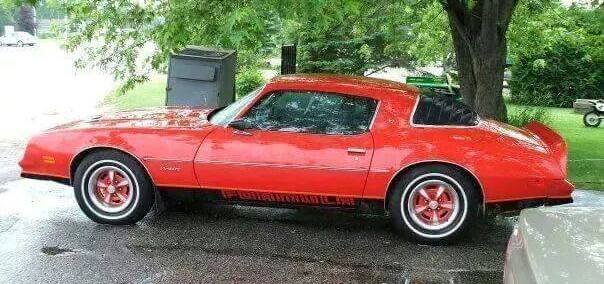 Founding Member #20 // Jim Morisson
INNACTIVE - FIREBIRD IN RESTORATION
1977 Formula Firebird
Engine Pontiac 455 525 HP
Paint - Buccaneer red.
Transmission -Automatic
Options - power windows, Rallye wheels, gauge pkg,black velour interior with a new headliner, console with factory eight track deck rear spoiler, rear window louvre, has the original licence plates, space saver spare with inflator can, 36707 miles on car,, bought on October 7, 1977. Second owner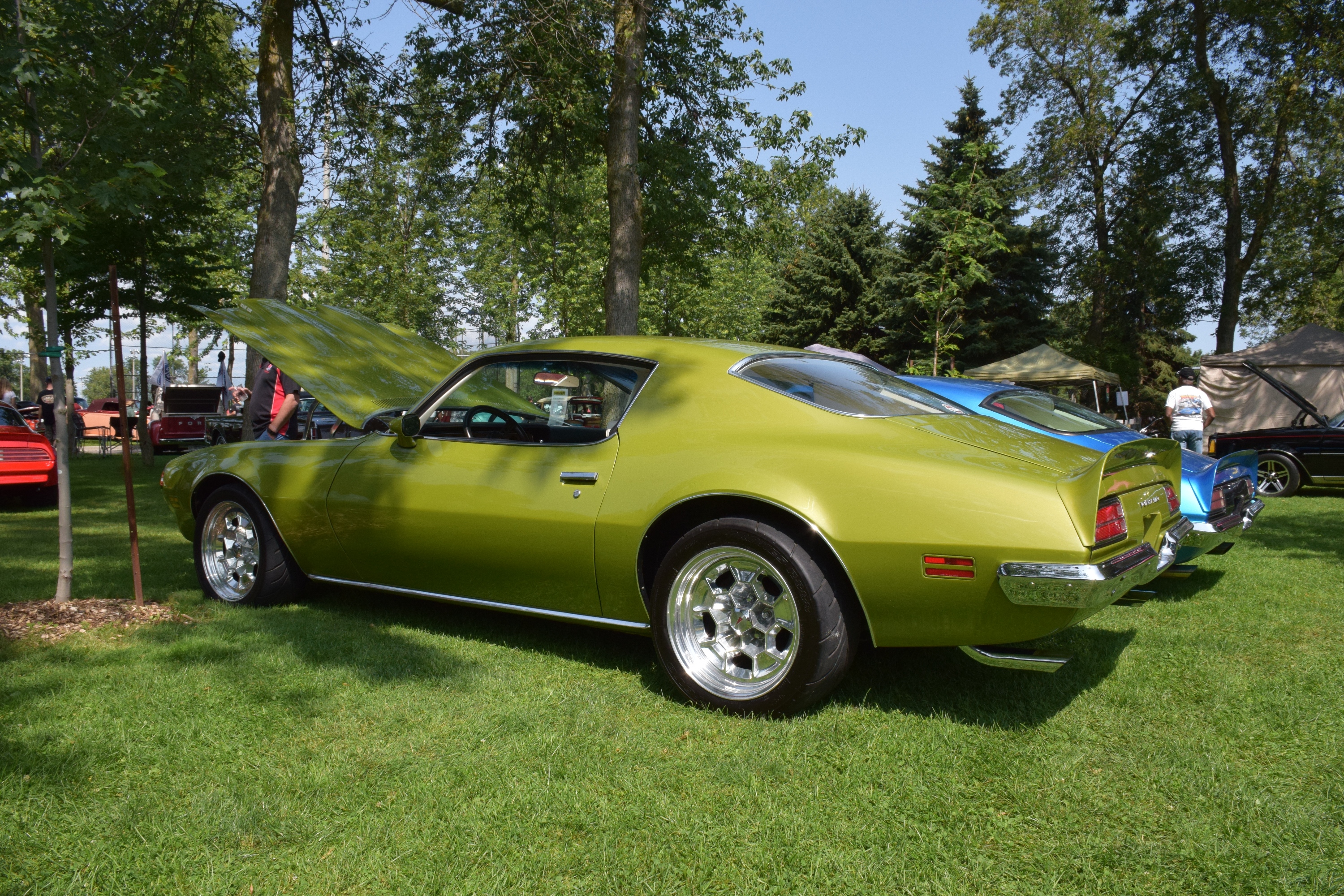 Founding Member #21 - Gordon Barrister
INNACTIVE
1970 Formula 400 with a 60 over bored 455 hooked up to a TKO 600 5 speed...Oregon based roller that we brought back to Ontario in 2007 was the base for this early Pro-touring platform. The car took two years to complete and has been featured at "SEMA", competed at the "Optima Ultimate Street Car" ,was feature in March of 2009 in "High Performance Pontiac" magazine, and won "The Starlight Children's choice Best of Show" award at the 2009 Trans Am Nationals. The wheels are custom carved one off in the world rims that are arguably the rims that spurred the production of Year One's subsequent 17" honey comb styled wheels...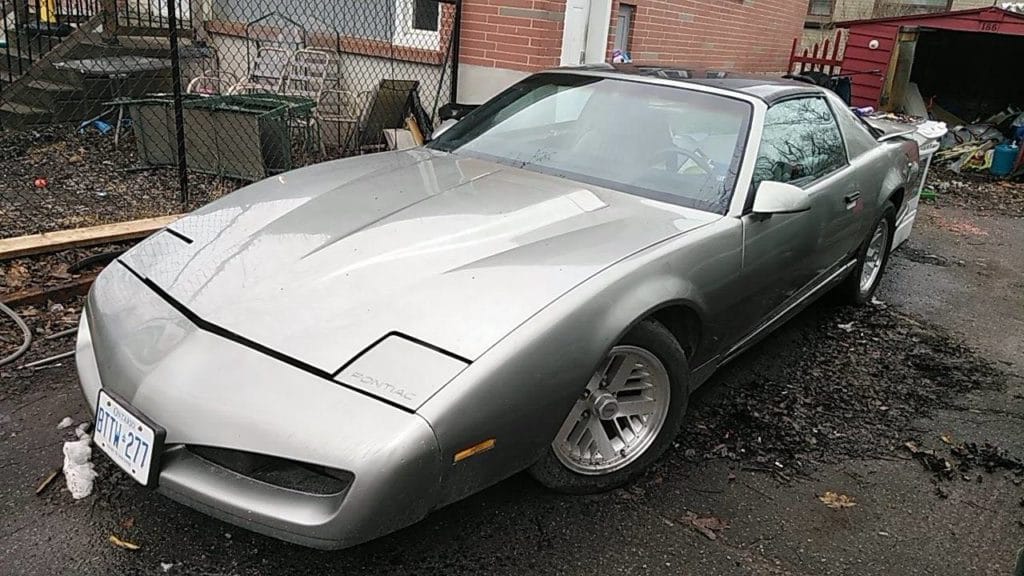 Founding Member #22 // Jesse Battye
INNACTIVE
Decals say Trans Am
1991 firebird GTA
5.7 liter with a Carburetor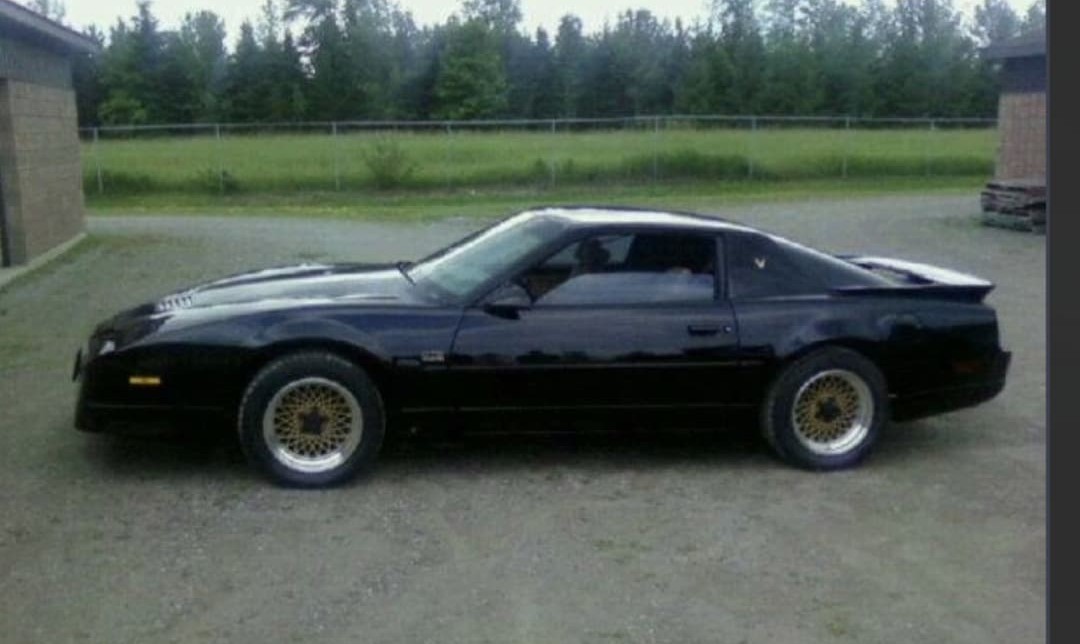 Founding Member #23 // Paul Severiano
1988 GTA 5.7
Black Exterior
Beige interiorAutomatic
Crazy high end stereo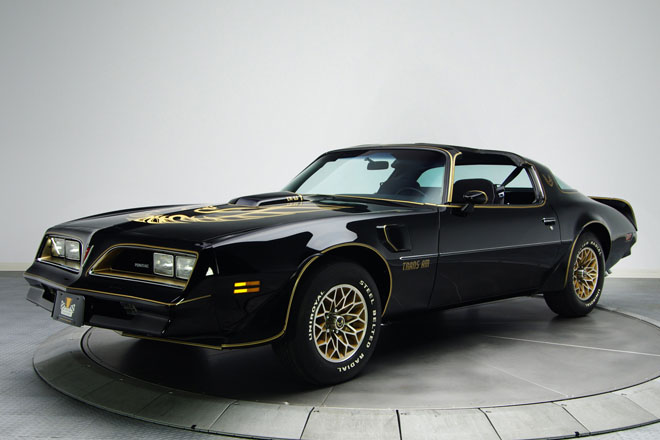 Founding Member #24 // Dale Hart
INNACTIVE - SOLD FIREBIRD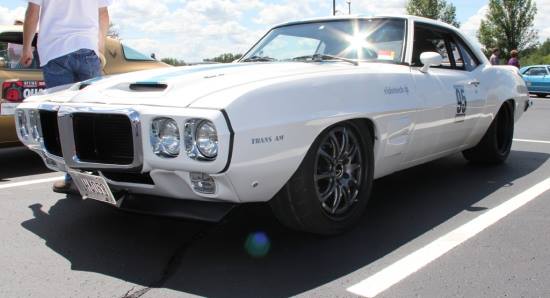 Founding Member # 25 // Imran Chaudry
INNACTIVE
Info Pending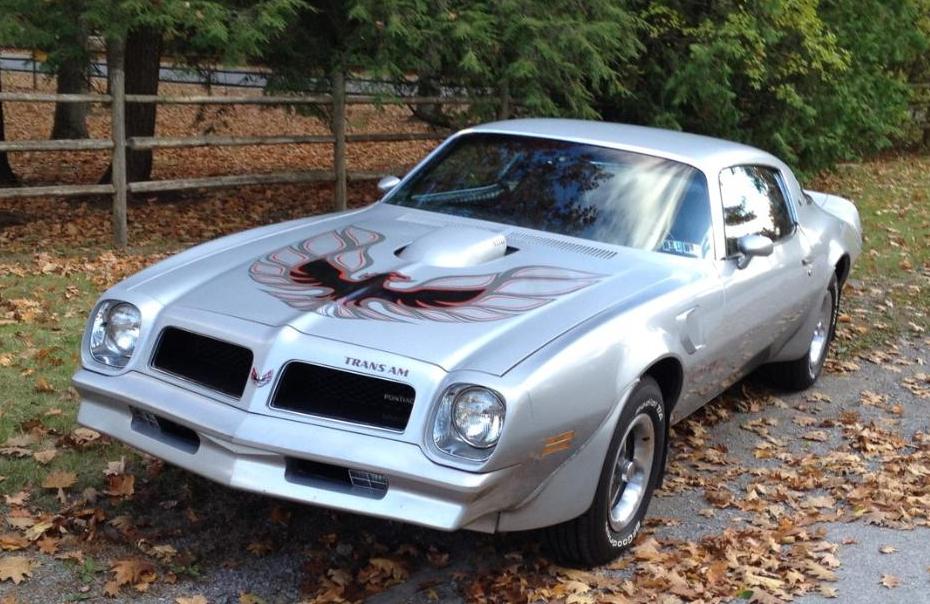 Founding Member #26 // Ken McCaw
1976 Trans Am, 400 engine with Automatic transmission, Sterling Silver paint and Black Interior. All stock survivor with a stock engine rebuild this summer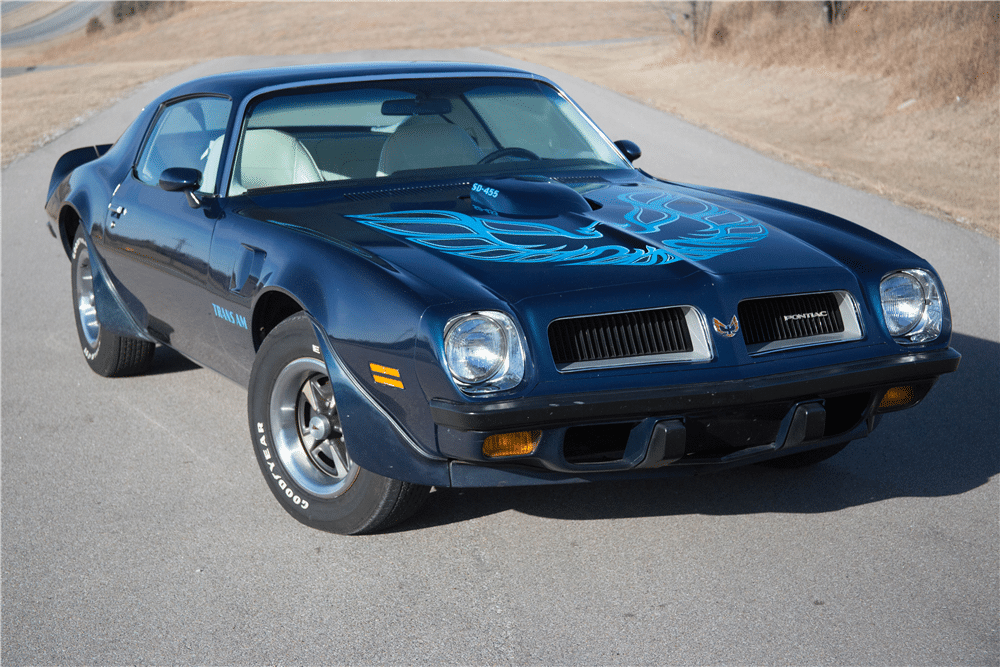 Founding Member #27 // Dean Bergerson
INNACTIVE - CAR IN RESTORATION
1974 - 4 speed 455 SD
I am the origional owner.
Only 289 4 speeds produced in 73/74 that I am aware of.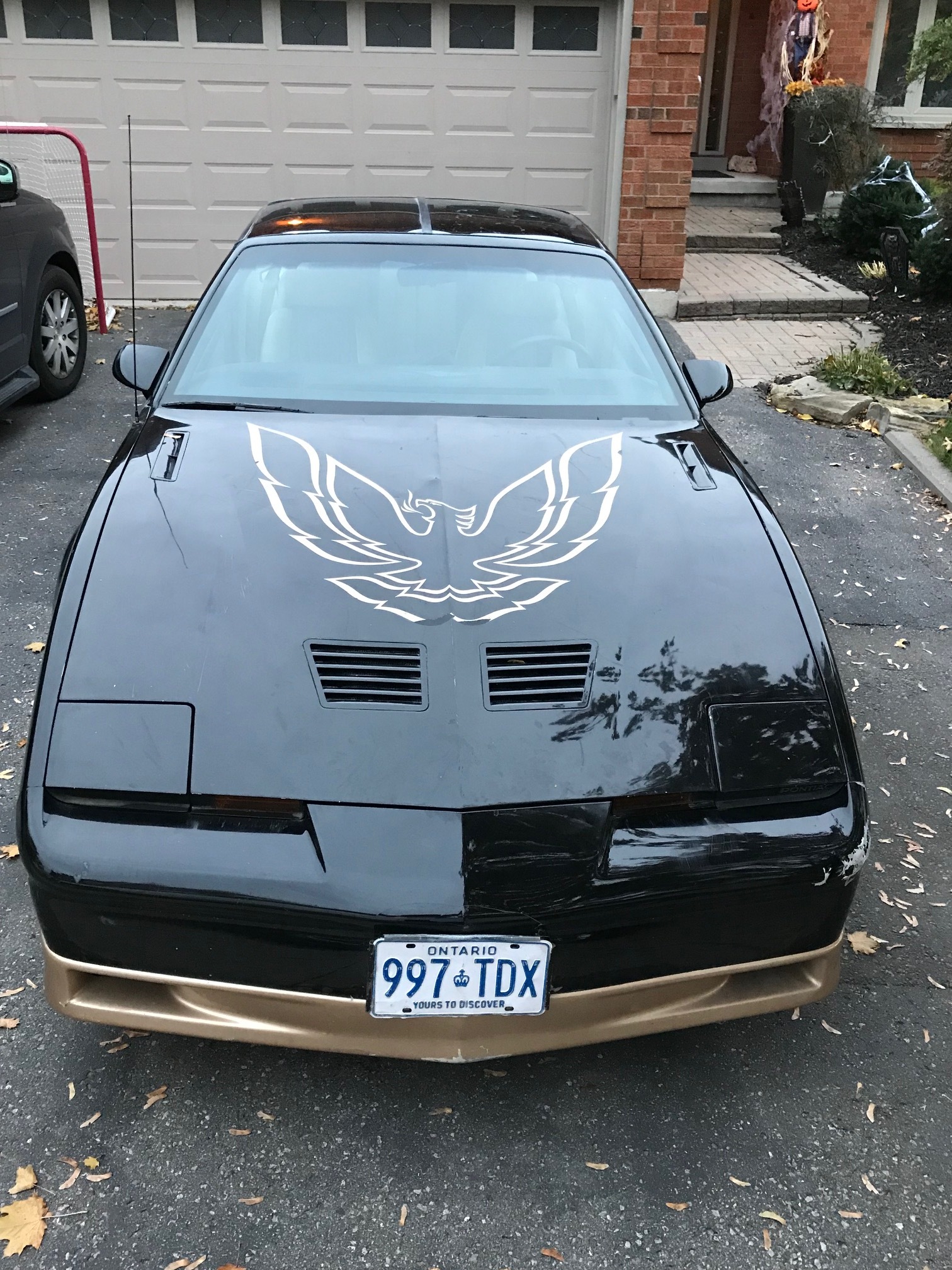 Founding Member #28 // Thomas Turner
1985 Pontiac Trans Am
305 engine
Automatic
Black exterior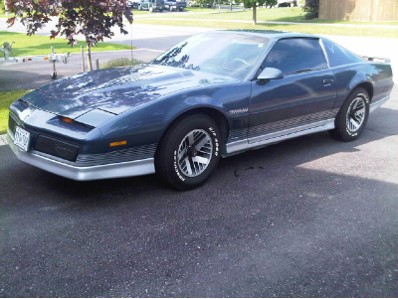 Founding Member #29 // Barry Blaskie
1984 Trans Am
350/5.7L
4bbl carb
4 speed automatic (with O/D)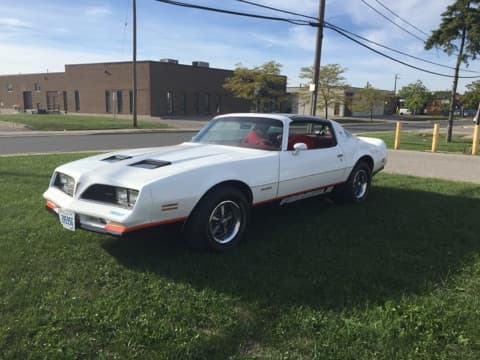 Ontario Central Founding Member #30 // John Prsa
77 Firebird Formula
Cars and Concepts T-Top
350 auto
Great condition overall
White Original color and red deluxe Interior
Bought it from a friend last April and it was in his family since new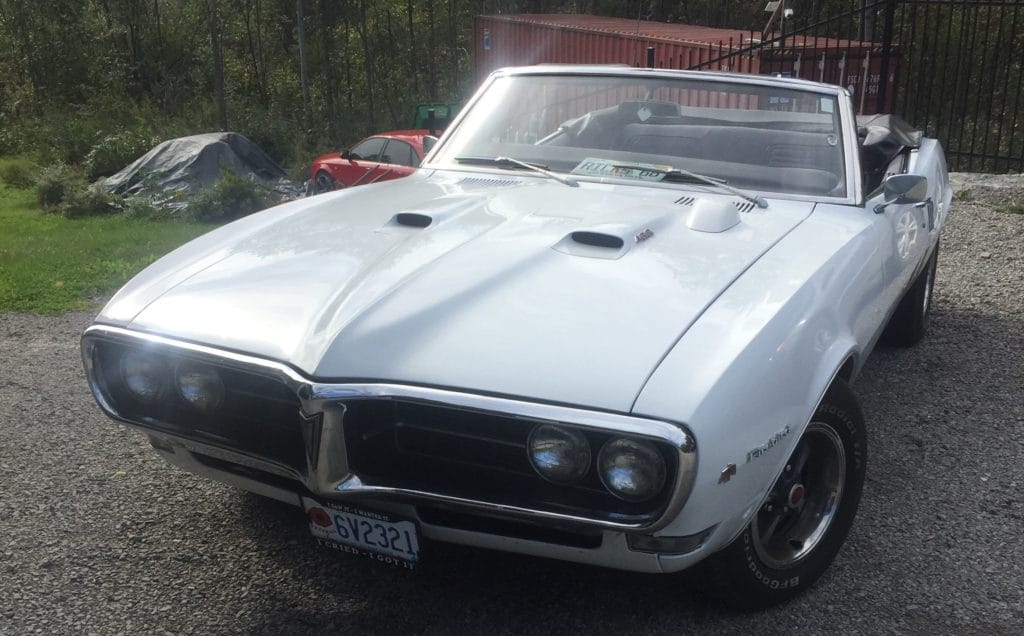 Founding Member #31 Rick Ward
68 Firebird 400 Convertible
Engine 1971 – 400
Trans 1971- TH350
Bought in Iowa - 2010.
Kept in Florida until 2017
Parts I have added:
QA1 Coil overs 550lb/in GS401-10450A
Hotchkis front and rear sway bars
Hotchkis 1.5 rear shocks
Hotchkis 2407C Rear Leaf springs
Hotchkis sub frame extenders
Hotchkis Convertible X-Brace body support
Right Stuff front Disk Brakes
BF Goodrich Radial T/A's
Flo master Dual Exhaust w/2 1/2" pipes
Petronix Flame Thrower Distributor HE Ignition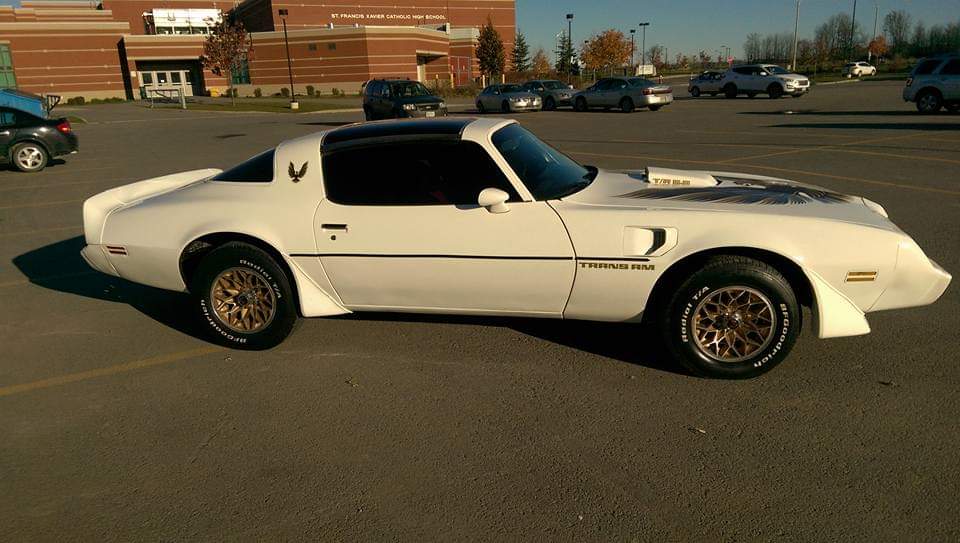 Founding Member #32 Shawn Cormier
Creme white 1979 Firebird Trans Am with the following
30 over Olds 350 Rocket with Edelbrock Performer aluminum intake
Petronix Flamethrower HEI distributor
Petronix Digital HP CDI box
630CFM Quickfuel Carburetor
Dual Flex-A-Lite electric fans
Scat Pro-Car rally seats
SoundMat interior with Alpine sound system
Rebuilt TH350 turbo transmission with 2nd stage TransGo Shift kit
3:43 Tru-Trac rear-end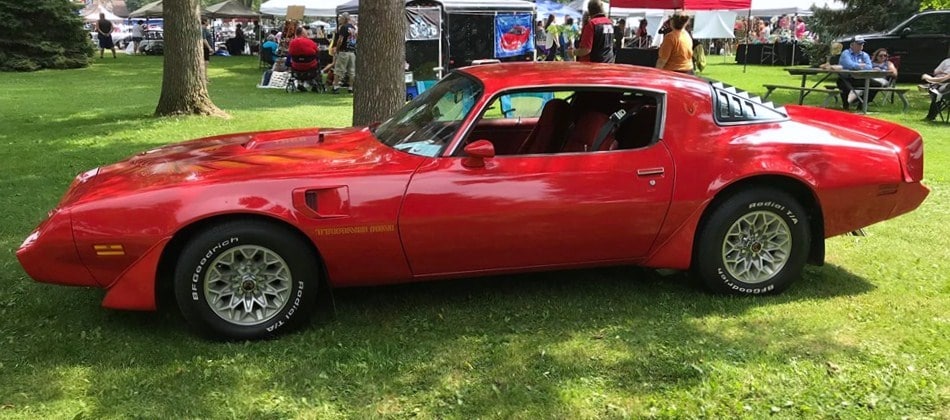 Founding Member #33 // Wyatt Bedard
1979 Trans Am
Unmolested , All Original, Numbers Matching
6.6 litre, Automatic
Original Mayan Red colour
I am the 2nd owner, and I have owned it since 1995
Low Kilometers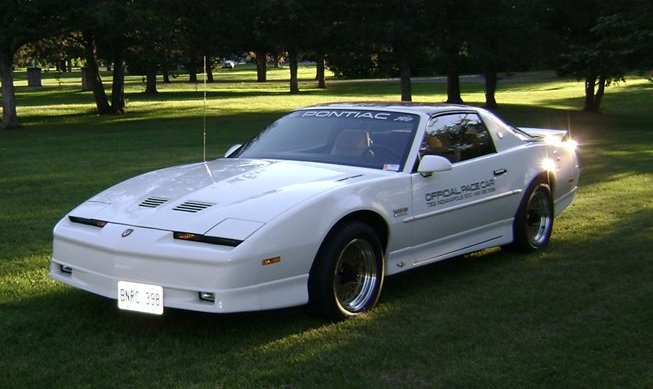 Founding Member #34 // Don Stewart
1989 Trans Am 20th Anniversary
Turbo Trans Am Festival Pace Car #37
PAS REgistry car #78
1994 25th Anniversary T-Top 1750 Produced - 600 W/Cassette 75 For Canada Imported From Maryland
1999 Trans Am 30th Anniversary -Convertible #1565 - 1 of 535 Produced - Originally New Mexico Car Imported To Canada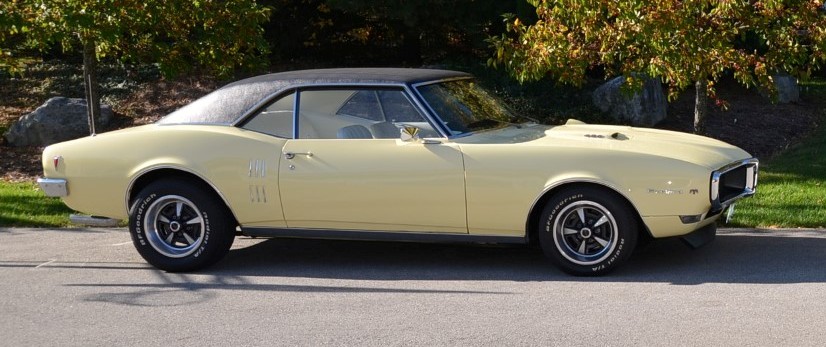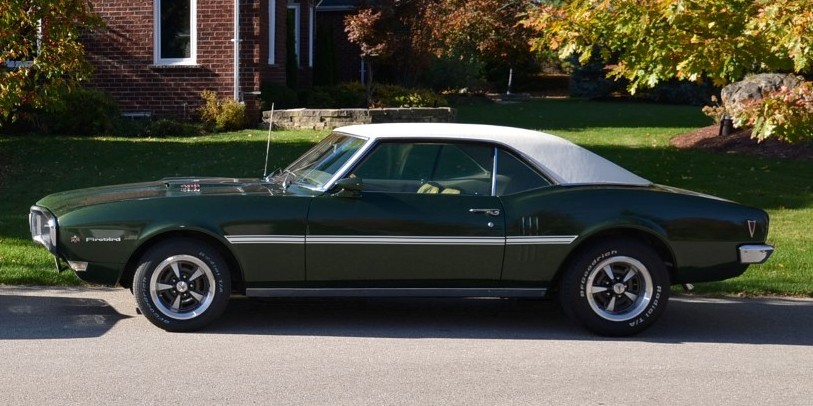 Founding Member # 35 // Alex Pulcini
1968 Firebird
Numbers matching 350 - upgraded with 4 barrel Edelbrock intake, Holley carb, 4 speed automatic with OD, posi traction 3.55 gearsAlessandro Pulcini ///California built car, numbers matchingEngine: 400 CI , mild cam,Transmission: Turbo 400Shift kit, posi traction 3.55 gears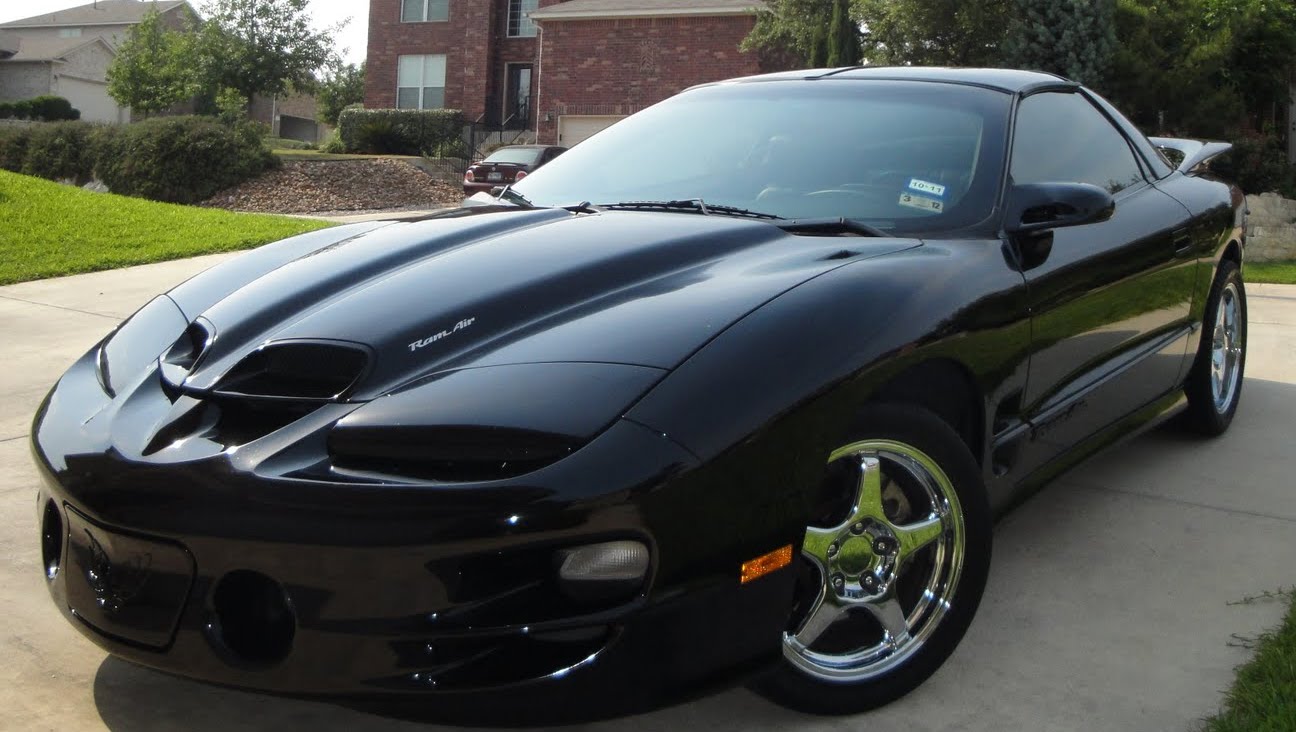 Founding Member #36- Robert Deforge
2002 triple black ws6 automatic with T. Tops tinted windows I don't have a picture of it but I will soon in the process of pin striping it and adding mirriors under the hood with a little more bling and I just got my personal licence plates that reads EXXTINC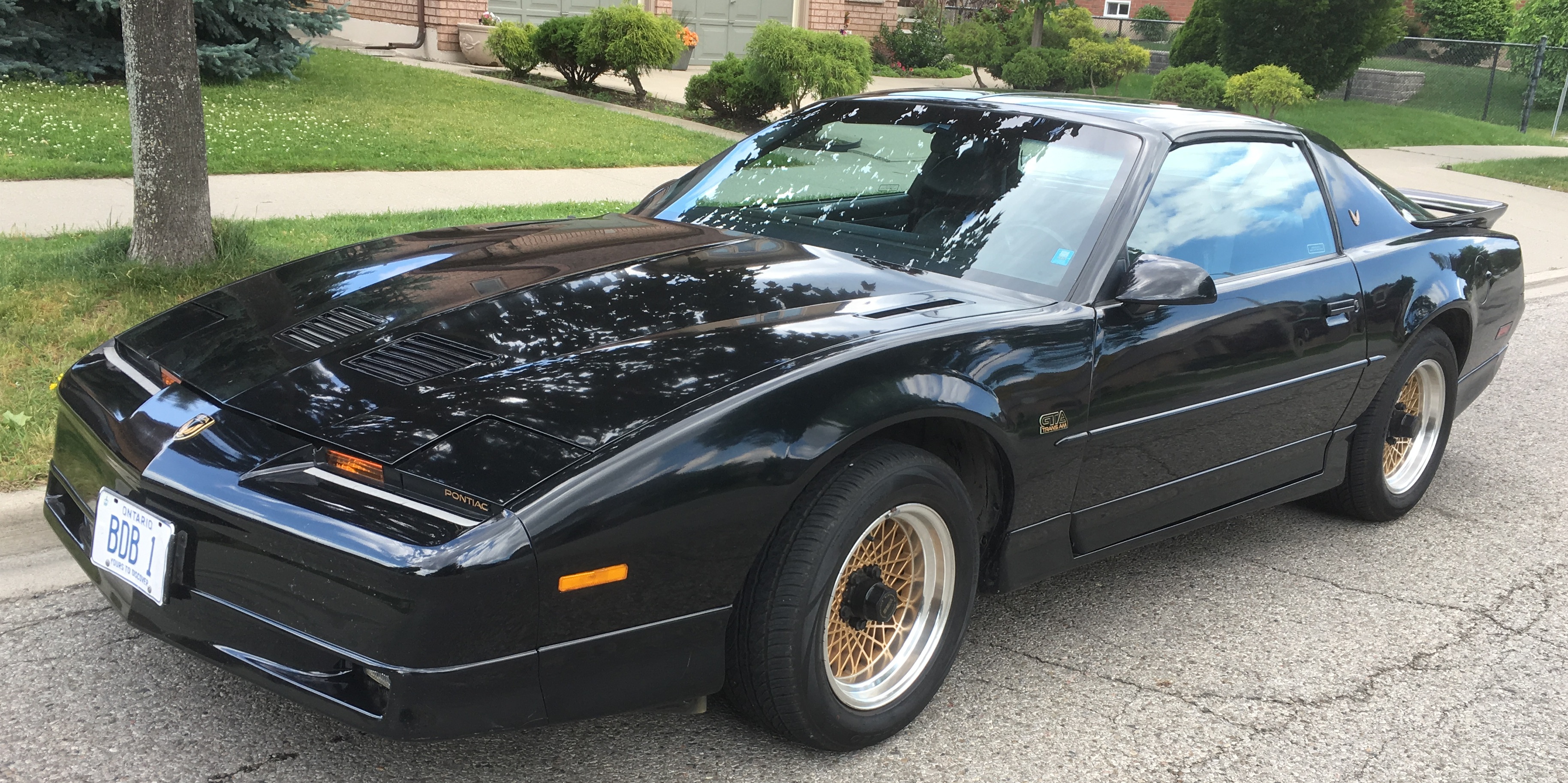 Founding Member #37 // Barry Bodo
INNACTIVE
1988 Trans Am GTA
Original Owner
5 litre GTA
Black Leather Interior ordered from the factory
5 speed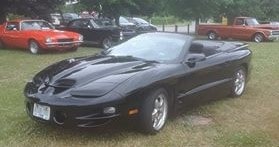 Founding Member #38 //  Ben Vanderwiel
2002 WS6 Trans Am Convertible Black on black I purchased my Trans Am in 2006 . Have been as far as Cape Britain Ns Nashville Tn. and everywhere in between. No trips out west yet but I can be tricked! Great driver especially with the top down! Looking We forward to attending some events. Anne and I are both retired now so we have time to enjoy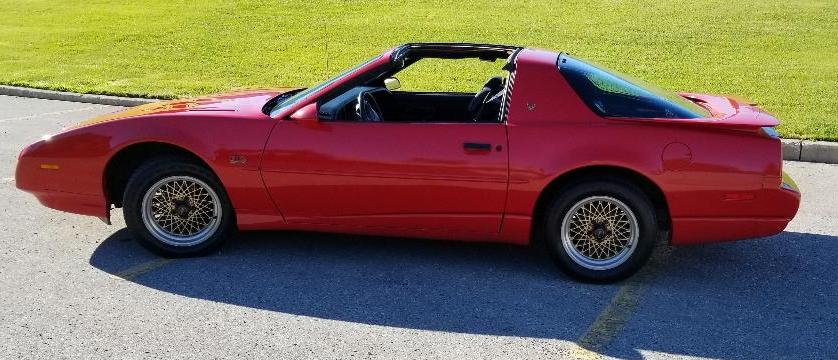 Founding Member #39 // Kevin Cahill
91 TransAm GTA 305 TPI with TH700r4 , pos rear end 2.73 gears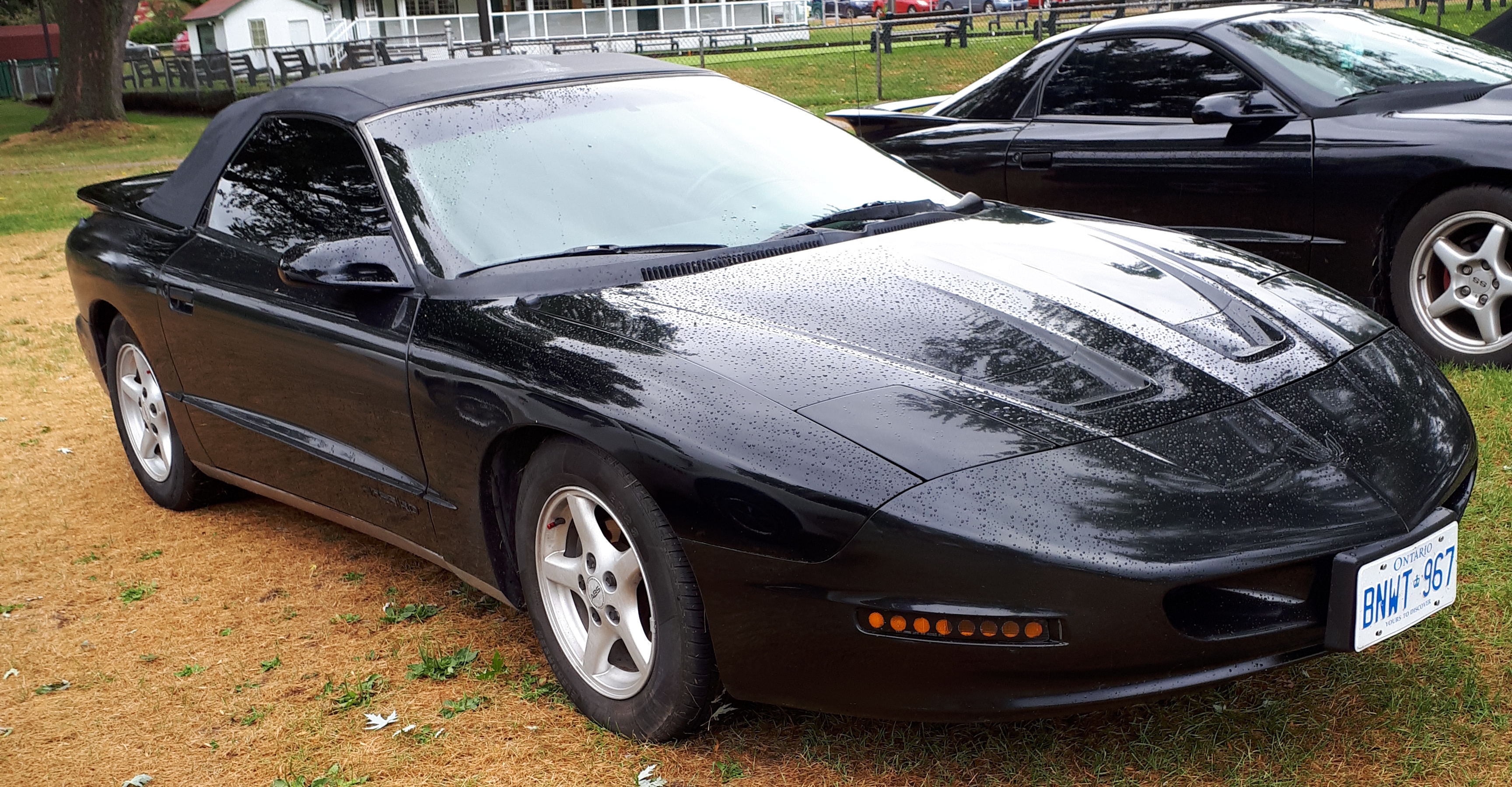 Founding Member #40 // Chuck - Charles Mossey
1997 Firebird Convertible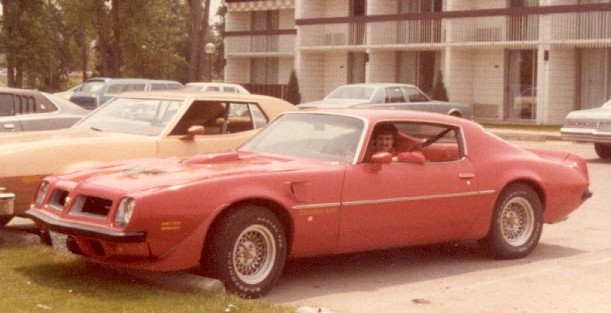 Founding Member #51 - Terry Cooke
1974 Trans Am 400 AT 25000 original miles , low option .
Was with the original owner when ordered new and was his "commuter" car to university.
It's been in storage since 1976
I've owned the car for 11 years but have never driven it on the road.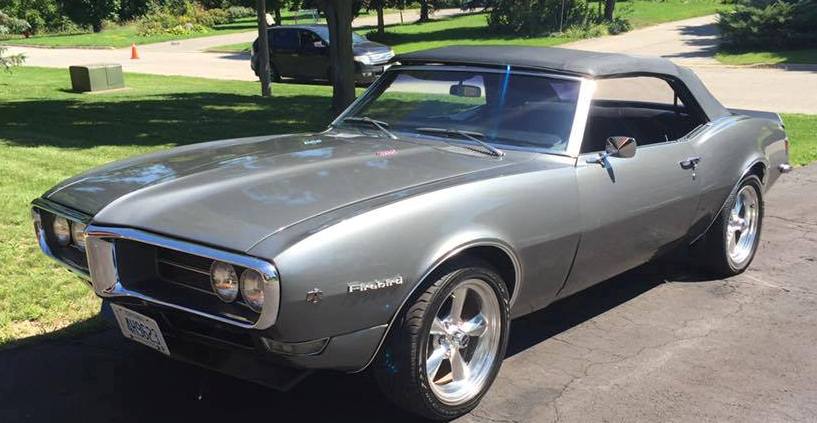 Founding Member #42 // Marco Ramos
1968 Firebird
It was originally a V6, previous owner has dropped in a SBC 350 from a 69 Camaro
2 ½ stainless exhaust with Magnaflow, gives the car a nice sound.
Over the winter I installed power steering
Has original 4 speed Saginaw and 10 bolt rear end that is non POSI, yes I'm a one wheel peeler for now.
Car was painted about 5 years ago and had a new top installed last year.
I've owned the car for just one year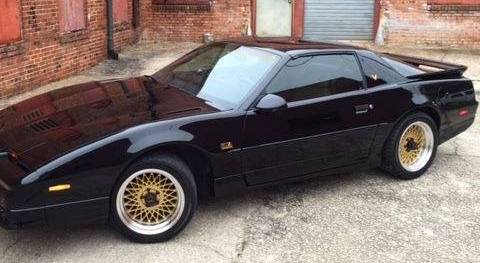 Founding Member #43 // George Ritu
1988 Trans Am GTA. I've owned it for 27 years.
5.0L 305, 5 speed, T-Roof
Gray leather interior
Centerforce Dual Friction clutch
Lowered 1 inch
Magnaflow Stainless Ehaust with hi-flo CAT
Fiberglass Aerowing. Motor is stock along with most of the car
80k miles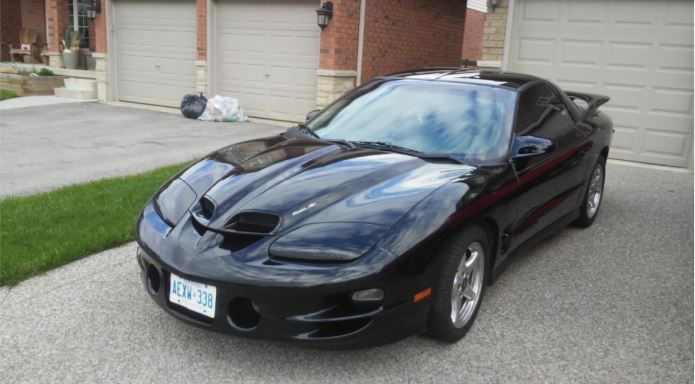 Founding Member #44 // Dennis Klander
I purchased my 1999 Ws6 Trans Am on July 17, 1999 and have enjoyed it ever since. Betsy, "the car" has not been modified.
Founding Member 45 // Mark Seibert
1981 SE Trans AM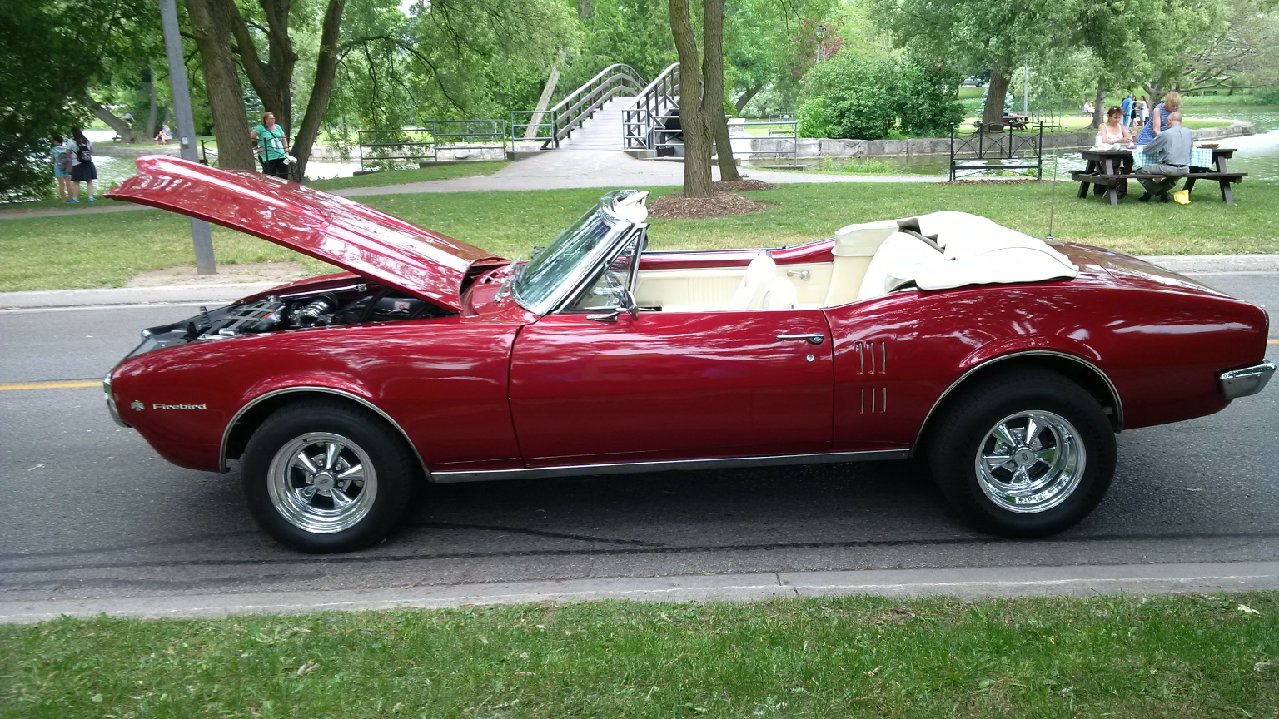 Founding Member #46 // Scott Oliver
1967 Firebird convertible.
It has been in the shop for over a year for body and paint and ended up with a new frame, sub-frame connectors and almost every new metal body panel. It should be out of the shop in the next couple of weeks. Just in time for Plunkett's car show in London.
I completed an engine swap with an LS2. Paint is Cherry Red. The interior is leather closely matching the original parchment colour and stitching .
Updates include a Dakota digital dash, LED halo headlights, LED tail lights, 68 side marker lights and a chrome steering column.
The transmission is a six speed with a posi rear end with 4:10 gears.

Founding Member #47 // Tim Newell
Stock 1980 Trans Am 301 Turbo, Auto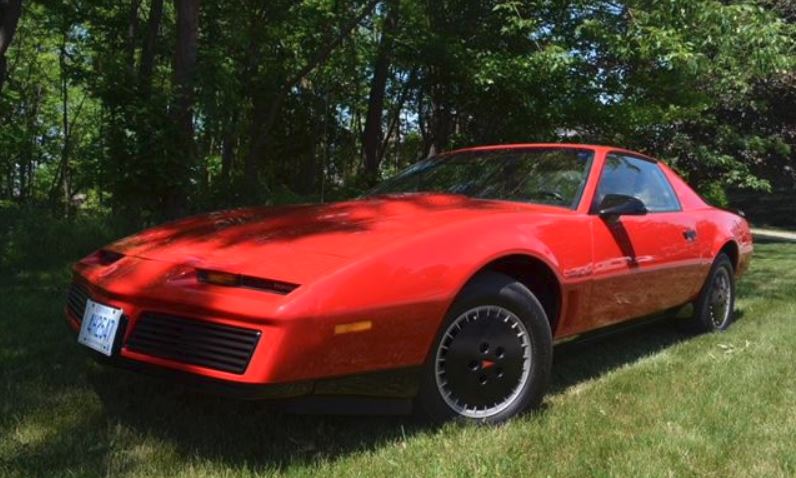 Founding Member #48 // Sergio Succi
1982 Firebird Trans Am
Colour: Spectra Red
Interior: Tan
Engine: 305H
Transmission: TH350C
This car belonged to my dad, for 23 years. I only drove the car once, the day after it was stolen and found. I went to retrieve it.
My dad loved his grand children very much, and because he loved them, he mistakenly promised this car to all seven grandchildren. He was on in years and no longer felt comfortable in driving this car. So, it sat parked for about seven years. To get him out of a bind, I purchased the car for $3500, that way he could give each grandchild $500 and keep everyone happy.
I have worked on the restoration for the last 5 years. When he last saw it, his only comment was "it looks brand you". This past October, I registered the car for the 2018 Motorama in Toronto, to be held on March 9th. Tuesday March 6th, my dad passed away. I was devastated, but my friends and fellow club members of the Rodmasters Car Club stepped up to the plate. 5am Thursday morning they showed up at my door step, took the car to Toronto International Center. They setup up and cleaned the car until it was spotless. We had my dad's funeral Friday, the first day of the Motorama. Saturday, I had the opportunity to go to the show and see the results of my friend's efforts.
Saturday afternoon, my son and daughter-in-law were with me. We sat down for the awards presentation. My daughter-in-law asked me if I had a chance at any awards, I replied, "not a hope in hell", knowing all the other nice cars in attendance.
About 20 minutes into the awards presentation, I heard "entry #331 …" I held my breath; did I hear right? Then "1982 Pontiac Firebird Trans Am, owned by Sergio Succi, First in Class" Went up thinking; no can't be true, and thinking of my dad the entire time. After accepting the plaque, sat back down and totally lost control!
The emotions of that week can never be duplicated. My dad finally got some recognition.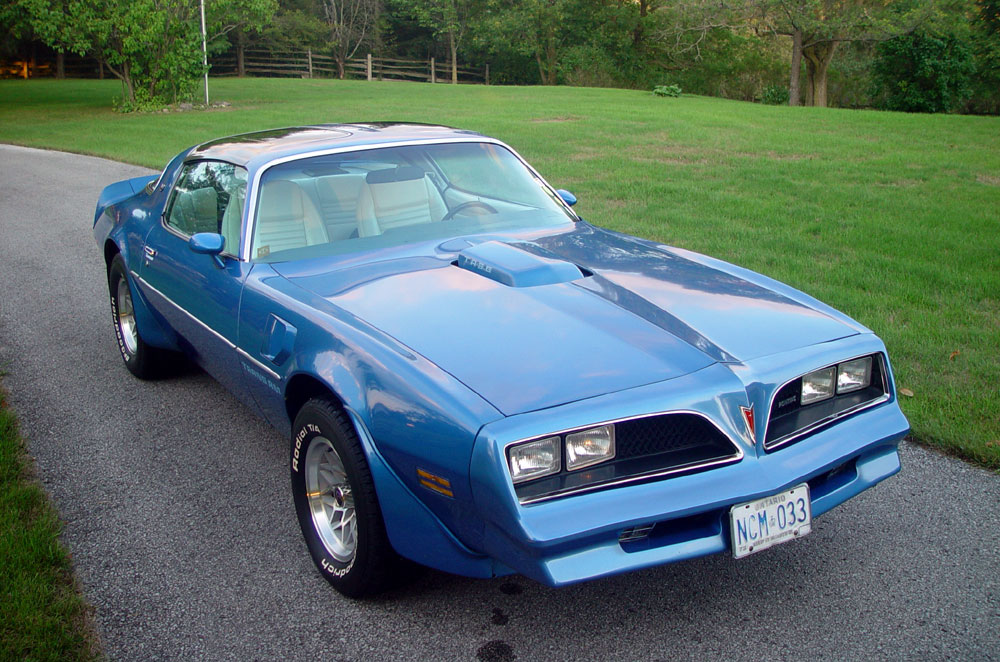 Founding Member #49 // Barry Simpson
1978 Trans Am, original owner, original paint and interior. Martinique blue with white interior and ordered with the the following options:
A31 - Power Windows - C60 - Air Conditioning
R19 - Rear Window Defroster - A01 - Tinted Glass
Y92 - Lamp Group - B37 - Floor Mats
B84 - Side Moldings - A90 - Remote Deck Release
UN2 - AM/FM 8 Track - N33 - Tilt Wheel
Y90 - Custom Trim - C04 - Delay Wipers
K30 - Cruise Control - CC1 - Roof Hatches
WS6 - Rally Handling - V02 - Super Cooling
MX1 - Automatic Transmission - W72 - 400 4bbl 220 HP
In 1996 the original motor and transmission were removed and stored for future reinstallation, replaced with a built 455 HO with the following specs:
block - 1971 455HO service replacement block, 4 bolt mains, align bored .034 over, sonic tested
rods - Eagle 6.80" BBC forged H-beam
crank - stock cross drilled, rod journals machined to accept Eagle BBC rods
pistons - Ross XL421P custom dished to SD Performance specs
rings - Speed Pro plasma-moly file fit
cam - Comp Cams custom grind hydraulic roller camshaft of 236/245 duration, .570/.574 valve lift, 112 lobe separation
deck height - 0.000"
heads - Edelbrock 72cc ported by SD Performance
rockers - Harlan Sharp 1.50 roller rockers
lifters - Comp Cams roller lifters
valves - Ferrea 2.19" intake valves, 1.77" exhaust valves
springs - SP VS1606 FM 120 lbs at 1.620"
intake - Port matched Edelbrock Performer RPM & Blocker High Velocity Induction System
carb - 800 cfm Quadrajet 73 SD clone - built by Cliff Ruggles, Mt. Vernon OH
oil pump - Mellings Ram Air
compression - 10.25 to 1
ignition - 78 HEI with Crane HI-6, rev limiter set at 6000, 14o initial, 18o mechanical by 2400, 14o vacuum
exhaust - Hooker $uper Comp 2" to 3.5" collectors, 3" Dr Gas X pipe, Ultra-flo mufflers, 3" tailpipes.
converter - Custom Continental from Cliff Ruggles - flashes to 4000 rpm
rear end - reinforced GM 10 bolt, Eaton posi - 3.42 gears, Moser 30 spline axles
estimated power output, 550 hp, 600+ lb/ft torque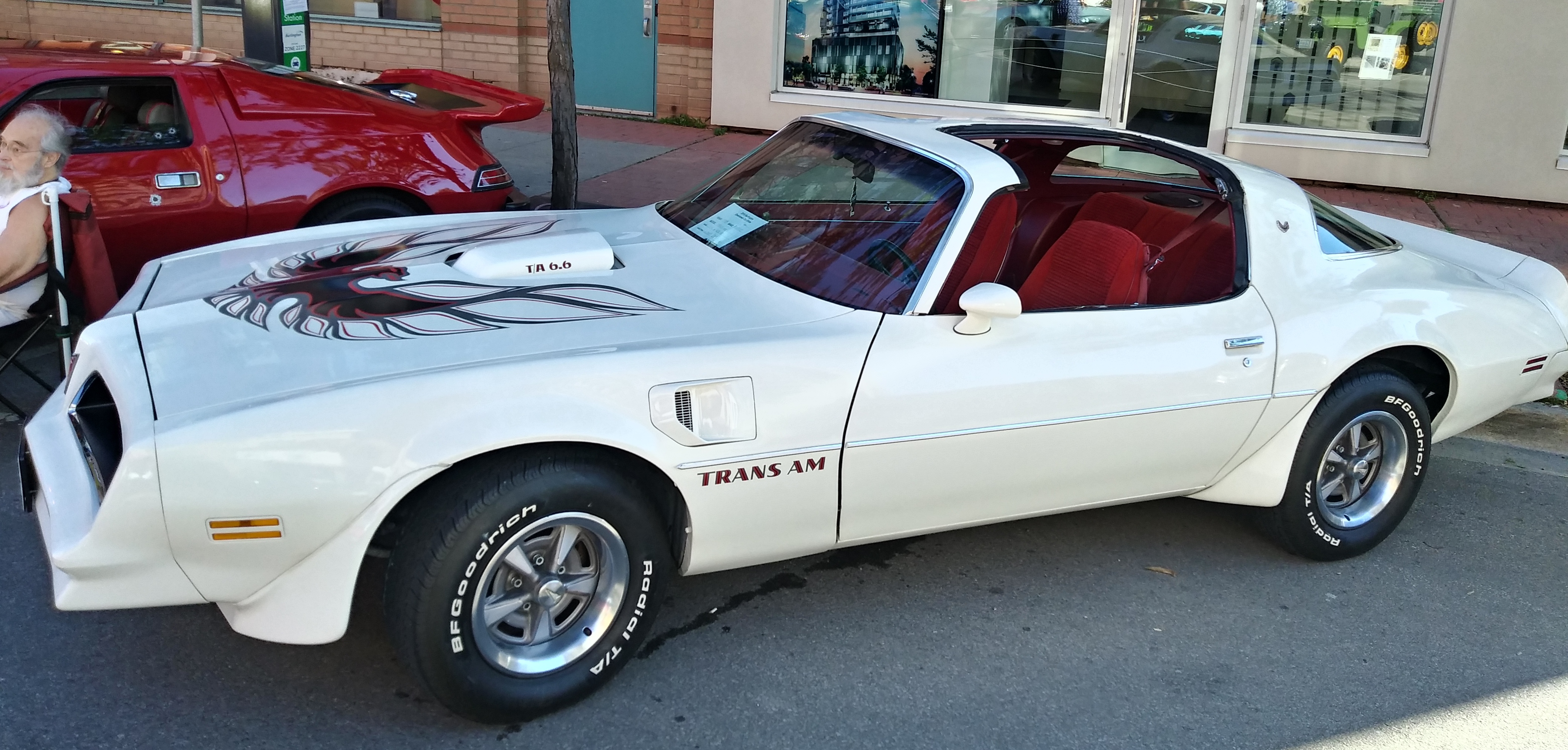 Founding Members #50 // Giovanni and Veronica Infanti
1978 Firebird Trans Am with T- tops. Purchased 4 years ago from Michigan with 43,000 miles. So far the engine (Pontiac 400) has been rebuilt. Original interior. Just having fun right now driving it.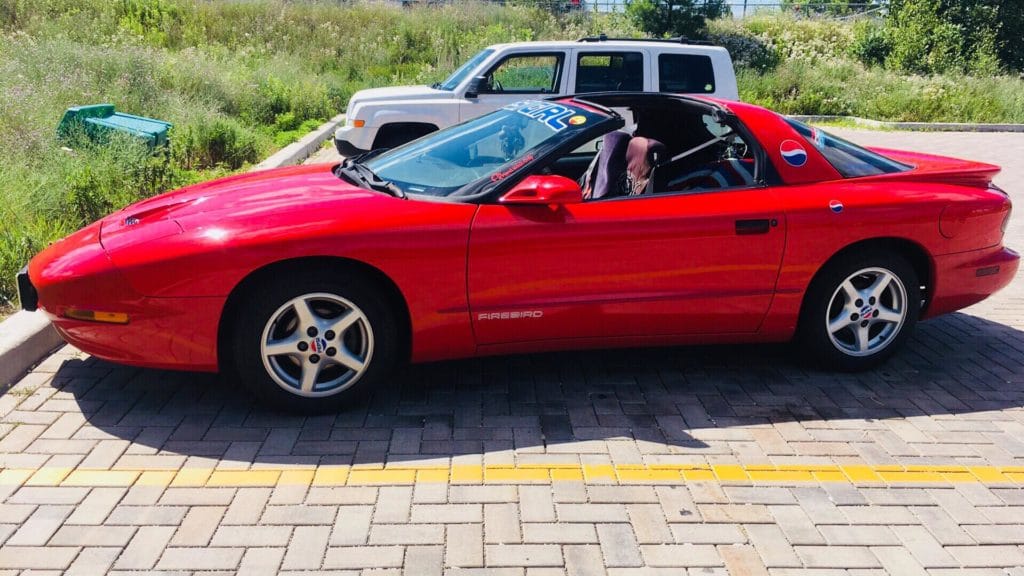 Founding Members #51 - Jen Ram
1996 Firebird Pepsi themed bird her name is PePsI GiRL 2 as I am PePsI GiRL 1 v6 3.8 all year round car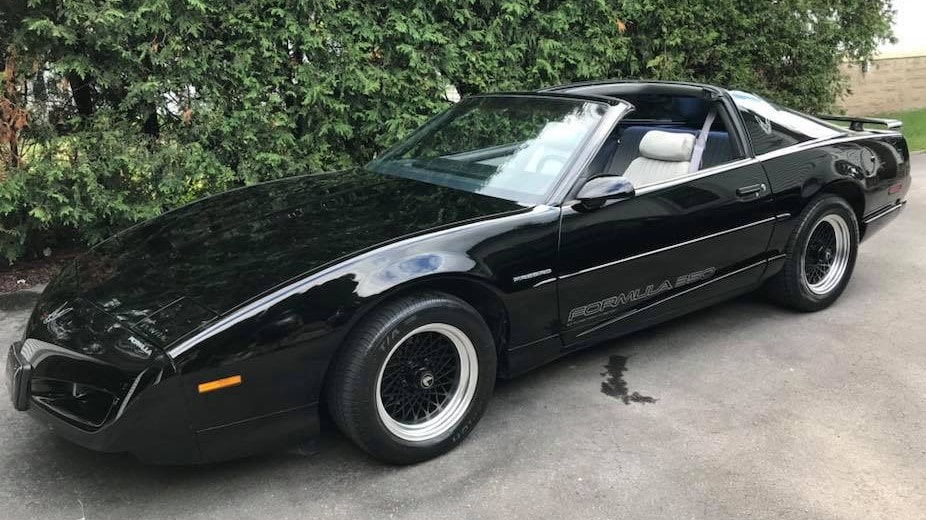 Founding Member #52 - Greg Brown
91 formula 350.
Custom dash and gauges. GTA rims. Flow master outlaw exhaust
Full chrome detail on the motor.
700r4 with and B&M mega shifter
60000 original miles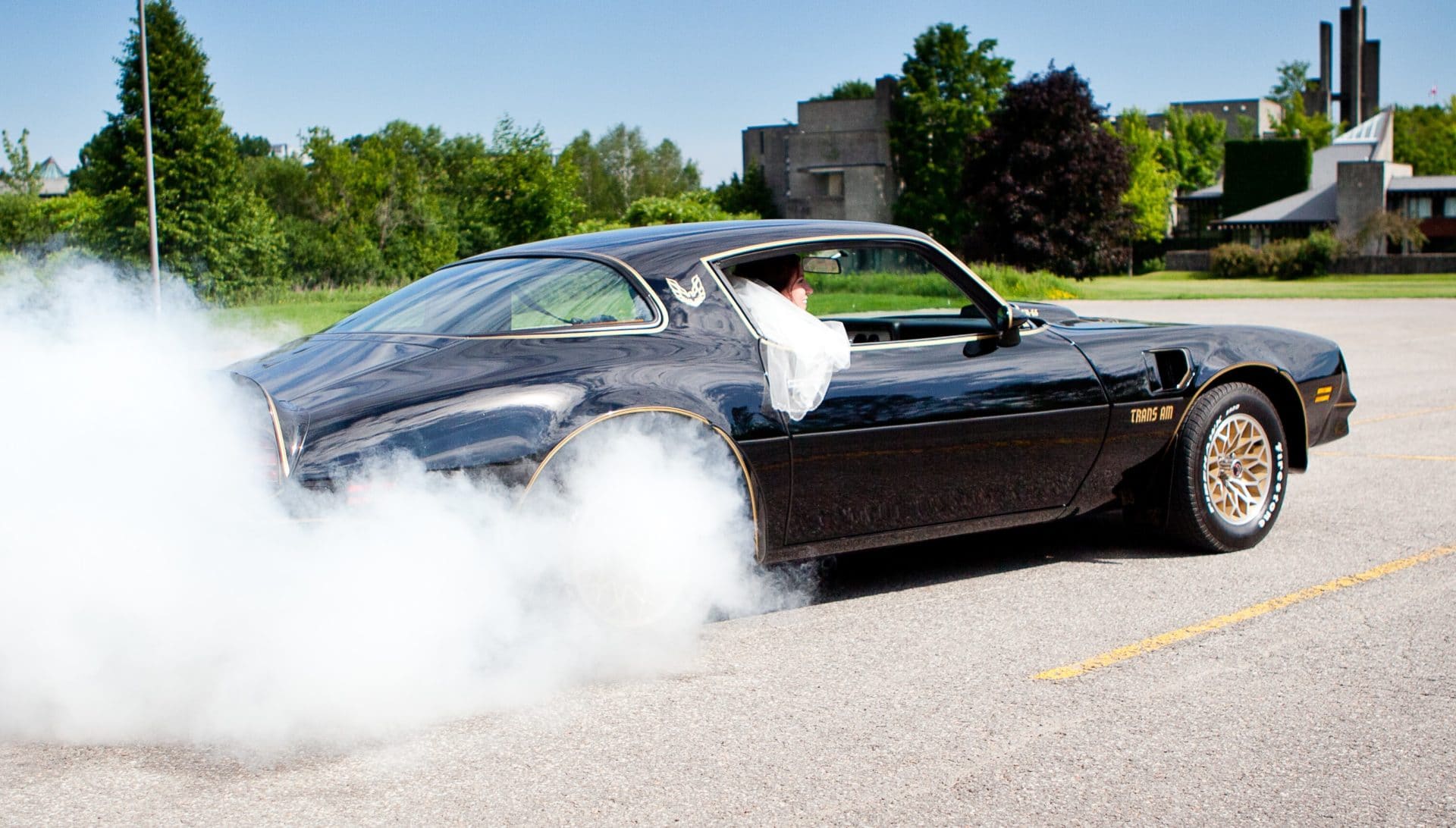 Founding Members #53 - Jamie McKeiver
1978 Pontiac Trans Am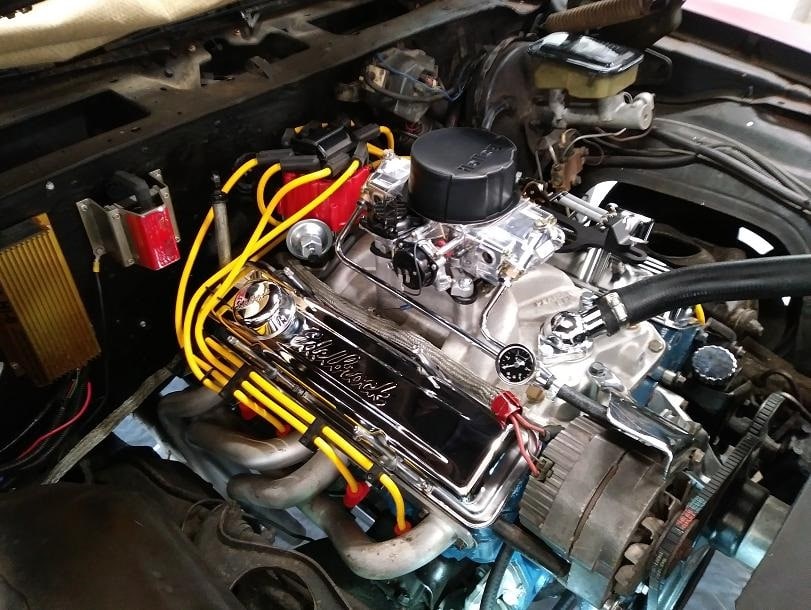 Founding Members #54 - Matt Mamuza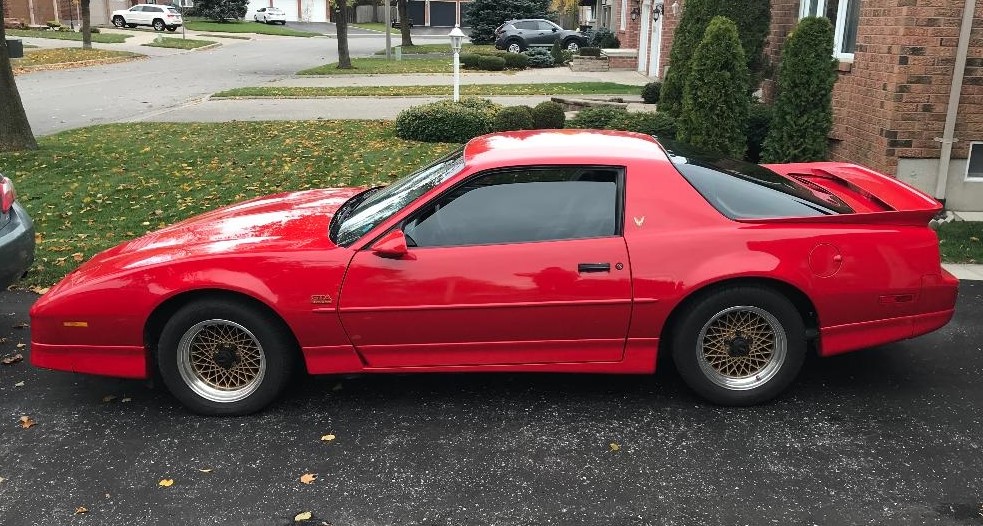 Founding Members #55 - Gus Tzirivilas
1988 Trans Am GTA 5.7L 138000km Bright Red exterior Grey Cloth Interior. All original except exhaust and stereo.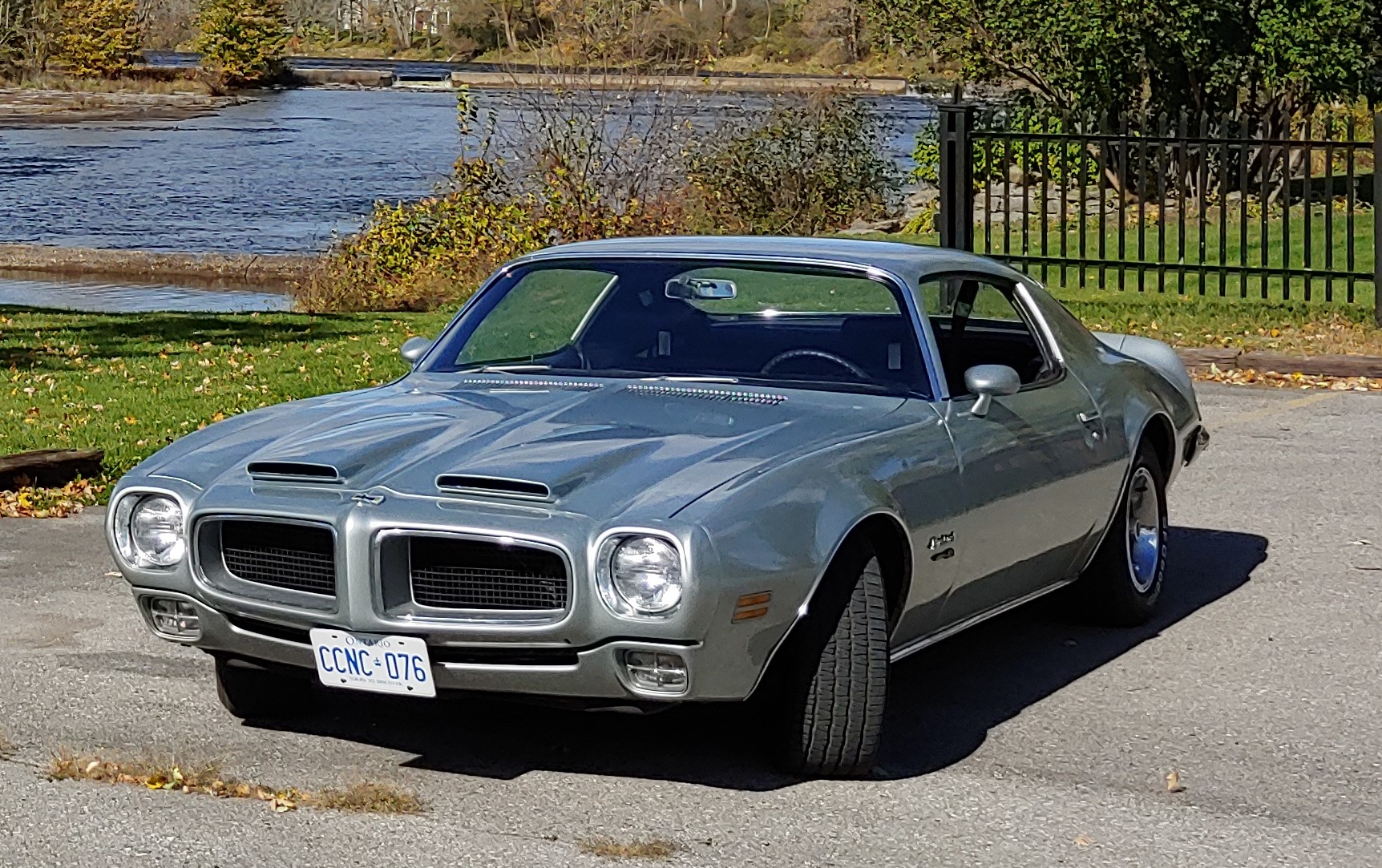 Founding Members #56 - Cameron Haskins
1970 formula 400 99 percent original 1 repaint been in the family about 20 years .
Founding Members #57 - Mike Crofton
1981 Trans Am
Bought this Car in Thunder Bay in 1985 from the original purchaser. It had only 30000 Kms on it. Most of those coming from trip from Thunder Bay to Daytona in 1984 It has been stored every winter since then. In the late 1980"s I had an aftermarket"Alpine" cassette deck and amplifier installed. It's now just a clock / Around the same time I had the rear leafs re-arced and an extra leaf installed, giving it its present raked look \ It is a WS4 car and I have the original Brentwood Brown Paint. It's a little scuffed up but hanging in there
It still has the original 5.0 litre "GM Production" engine which has not yet been re-built (now over 100,000 MILES)
The car has Cragar Louvres, Painted body colour
Unfortunately a few years ago "Joe Shadetree" decided to remove the air conditioning since it has a T-roof
I have the air conditioning system and am planning to have it reinstalled
The interior was re-done in the early 2000'swith special embroidery done on both front seats
The snowflake wheels came from a friend's 1979 Trans Am (He prefers the turbines)
The stock rally 2"s that were on it can be seen on my 1968 Firebird coupe
I run 235/60/15 tires on the front and 255/60/15 tires out back
The drive train was pulled and refreshed with new gasket, belts, houses and seals and then re- painted this summer.
At that same time I had the catylitic converter removed. After 39 years of silence it now makes a little sound. I take the car to local cruise nights and car shows even though it's far from a show car
Recently though it has gotten some interest as the "Survivor" seems to getting more popular with the show judge
It won a trophy (Not 1st place) in Verona in 2017 in its age class
It also received honorable mention at the Limestone City Classic in Kingston the summer amongst 500+ vehicles
I have 3 sets of T-tops including the ones on the car, an extra set of snowflakes, and various other bits and pieces
I (Like no doubt most of the members) get constant offers on the car but have no plans to sell
1968 Firebird Coupe
Purchased 2012 in Odessa Ont. / 17th titled owner   / My mission to take a lot of the "race" out of it and put a lot more "street" into it
It has since undergone a three year restoration . 1974 Chevrolet 454 /  700R4 with a B&M shift Kit built in /  The shifter is also a B&M overdrive unit / High performance 4 wheel disc brake kit, new lines and hardware
New 4 core performance radiator with dual electric fans / There is a spectre dual cone air intake on top of a Quikfuel 750 carburetor
Chrome valve covers, an MSD6AL ignition and blaster and a high performance chrome alternator
Newly powder coated Hooker headers start the exhaust off with Borla mufflers
It has frame connectors and traction bars The wheels are the stock 15X8 rally 2 wheels from my 1981 Trans Am
I run 225/60/15 tires on the front and 255/60/15 tires out back
The car has custom paint exclusive to this car. It is black with gold and green flake in it for a different effect
Total Page Visits: 2390 - Today Page Visits: 3