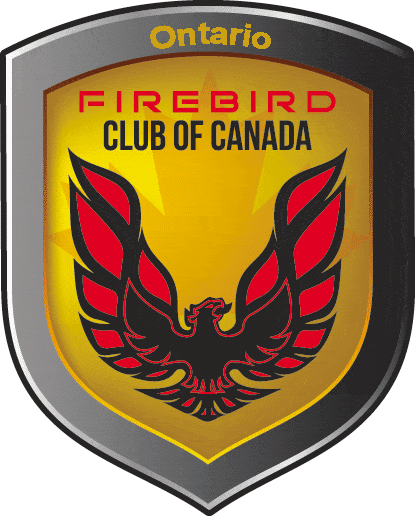 Ontario - Active - Founding Members
 Club Founder & National President Murray McMillan 
Engine - 1969 Pontiac 428 - Bored .030 - 4 Bolt Mains - Ported & Polished -Original #62 Heads
Compression is 11 To 1 - Premium Fuel Only - Horsepower = Enough
Lunati RAM IV Cam .495 Lift - Comp Cams Roller Rockers
Edelborok Performer Intake - Hedman Aluminum Headers..Dual exhaust
Holley Avenger 670 ....Size 76 Jet Primary / Size 80 Secondary - Vacum Tuned
Interior - Black Leather from Larry's Auto Trim
Paint Viper Red W/Gold Misted Pixie Dust / Flames by Ron AKA "ICEMAN" at Classic Paint
New Turbo 400 W/3000 Hole-shot Stall Converter - B&M Quick Silver Shifter W/ Trans Go Stage 3 Shift Kit
12 Bolt Rear end 3:23 Gears - 2" Summit Drop Leafs In The Rear
QA-1 Coil Overs in the Front - Complete Braking System Redone - All New Hubs and Ceramic Pads
Accel HEI Ignition System With 6200 Rev Limiter - 3 Core Chamion Aluminum Radiator With Dual Heat Activate Electric fans
Halogen Lamp Upgrade With Cut Glass Lenses - All New Control Arm Bushings in 2019
14.7 :1 Steering System Upgrade 2019 - 18x8 Bandit Wheels Front
18x9 Bandit Wheels Rear - Tires - Bridgestone Summer Performance Pole Position
4200 Watt Rockville Sound system with 1000 Watt Alpine - Mono Amp For 12" JL Audio Subwoofer
Clubs 1st Founding Member Nationally -// Terry Donaldson // Chief Executive Officer For Life
1977 Trans Am
Black on black - I have owned the car for 23 years. -95,885 original miles - New Black Paint in 2015
Black leather interior - 400 Pontiac Engine - 350 Transmission - Hurst Dual Gate Shifter
Rare Rear Seat Console - Rally 2 Wheels Aluminum Rings -15 Inch Tires 50 Series - Original space saver spare
Kenwood Sound System - Aluminum Radiator Complete New Brake Hardware
/////////////////////////////////////////////////////////////////////////////////////////////////////////////////////////////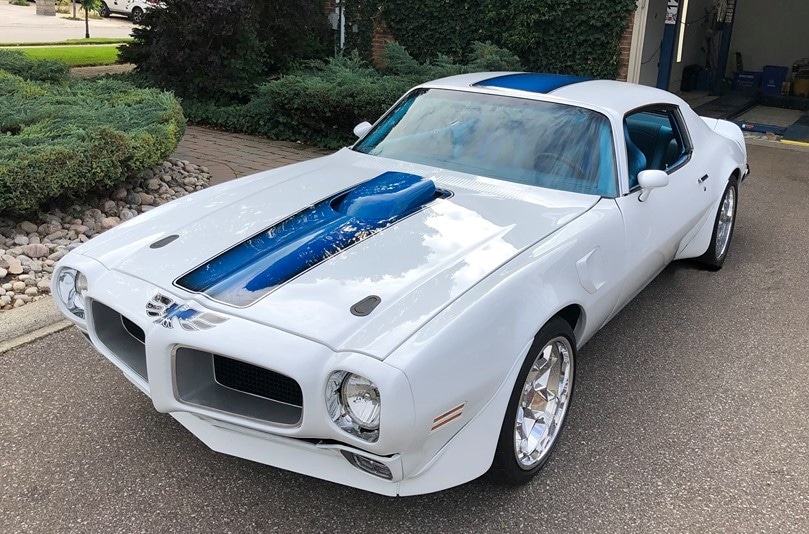 Founding Member - Albert Melchior
Albert's 1970 Pro-touring TA
The first car in Albert's "Warrior Series" of builds this 1970 firebird Pro-touring TA has 95% of
it's exterior body panels replaced in Carbon Fiber. The modifications to not end with Carbon as the car
has a 418 cubic inch LS3 with a 2,300 Magnuson super charger matted to a T56 6 speed transmission
and a Ride tech triangulated 4 link rear end. Controlling and stopping this beast is left to BFG Rival S tires
and Baer XTR brakes, and Ride Tech Tripple adjustable shocks that keep contact with road. The Custom
carved Forgeline Honeycomb styled rims pay homage to Pontiac's iconic styled rims.
Blue painted seat backs to tie into the theme of the car.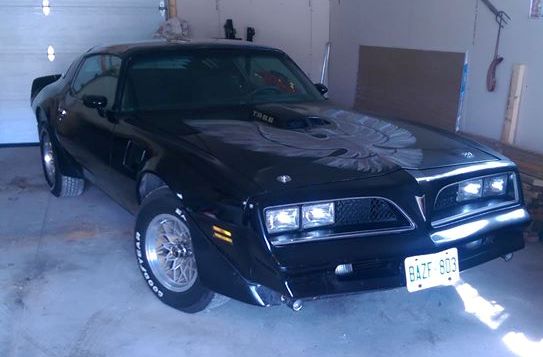 Founding Member - Ted Greene
Bought in 1994 needing lots of work for $300.
Had rear ended someone.
Stock 403 with headers, currently getting 1970 350 heads, cam etc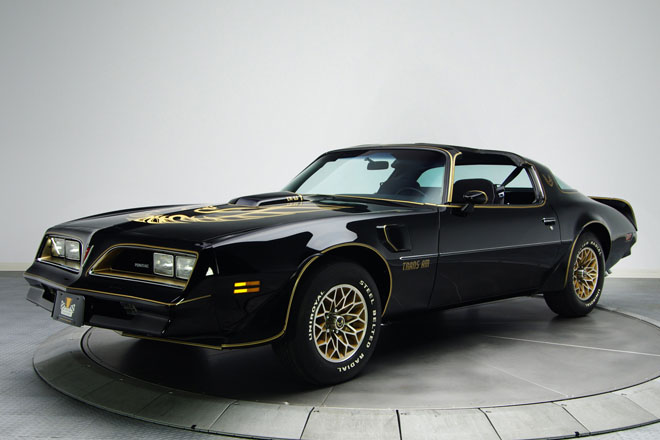 Founding Member - Dale Hart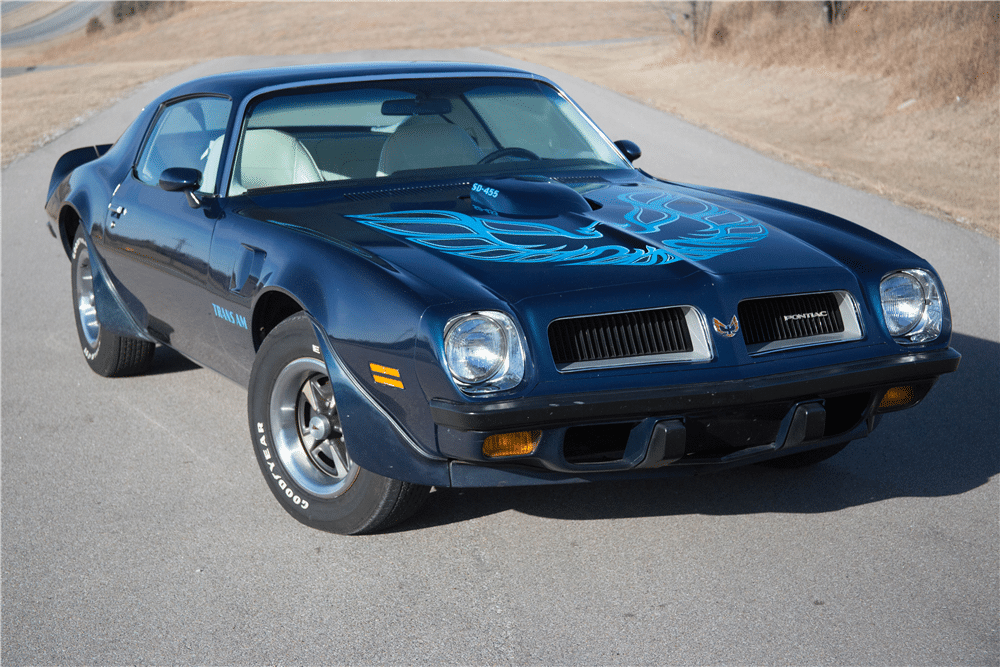 Founding Member - Dean Bergerson
1974 - 4 speed 455 SD
I am the origional owner.
Only 289 4 speeds produced in 73/74 that I am aware of.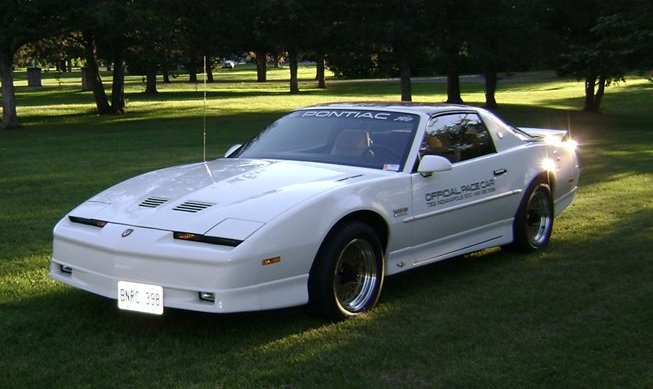 Founding Member - Don Stewart
1989 Trans Am 20th Anniversary
Turbo Trans Am Festival Pace Car #37
PAS REgistry car #78
1994 25th Anniversary T-Top 1750 Produced - 600 W/Cassette 75 For Canada Imported From Maryland
1999 Trans Am 30th Anniversary -Convertible #1565 - 1 of 535 Produced - Originally New Mexico Car Imported To Canada
Founding Member - Rick Ward
68 Firebird 400 Convertible
Engine 1971 – 400
Trans 1971- TH350
Bought in Iowa - 2010.
Kept in Florida until 2017
Parts I have added:
QA1 Coil overs 550lb/in GS401-10450A
Hotchkis front and rear sway bars
Hotchkis 1.5 rear shocks
Hotchkis 2407C Rear Leaf springs
Hotchkis sub frame extenders
Hotchkis Convertible X-Brace body support
Right Stuff front Disk Brakes
BF Goodrich Radial T/A's
Flo master Dual Exhaust w/2 1/2" pipes
Petronix Flame Thrower Distributor HE Ignition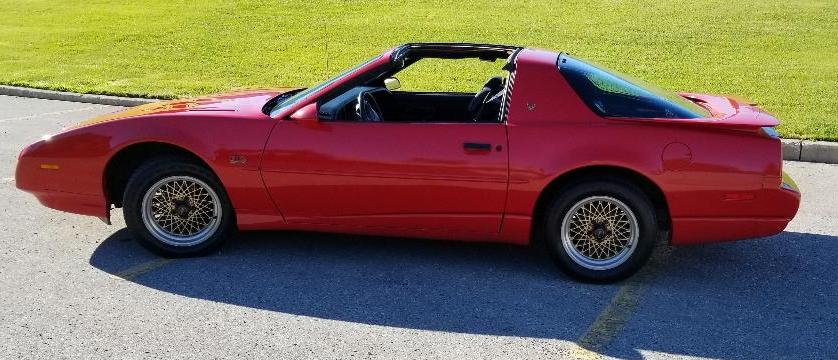 Founding Member - Kevin Cahill
91 TransAm GTA 305 TPI with TH700r4 , pos rear end 2.73 gears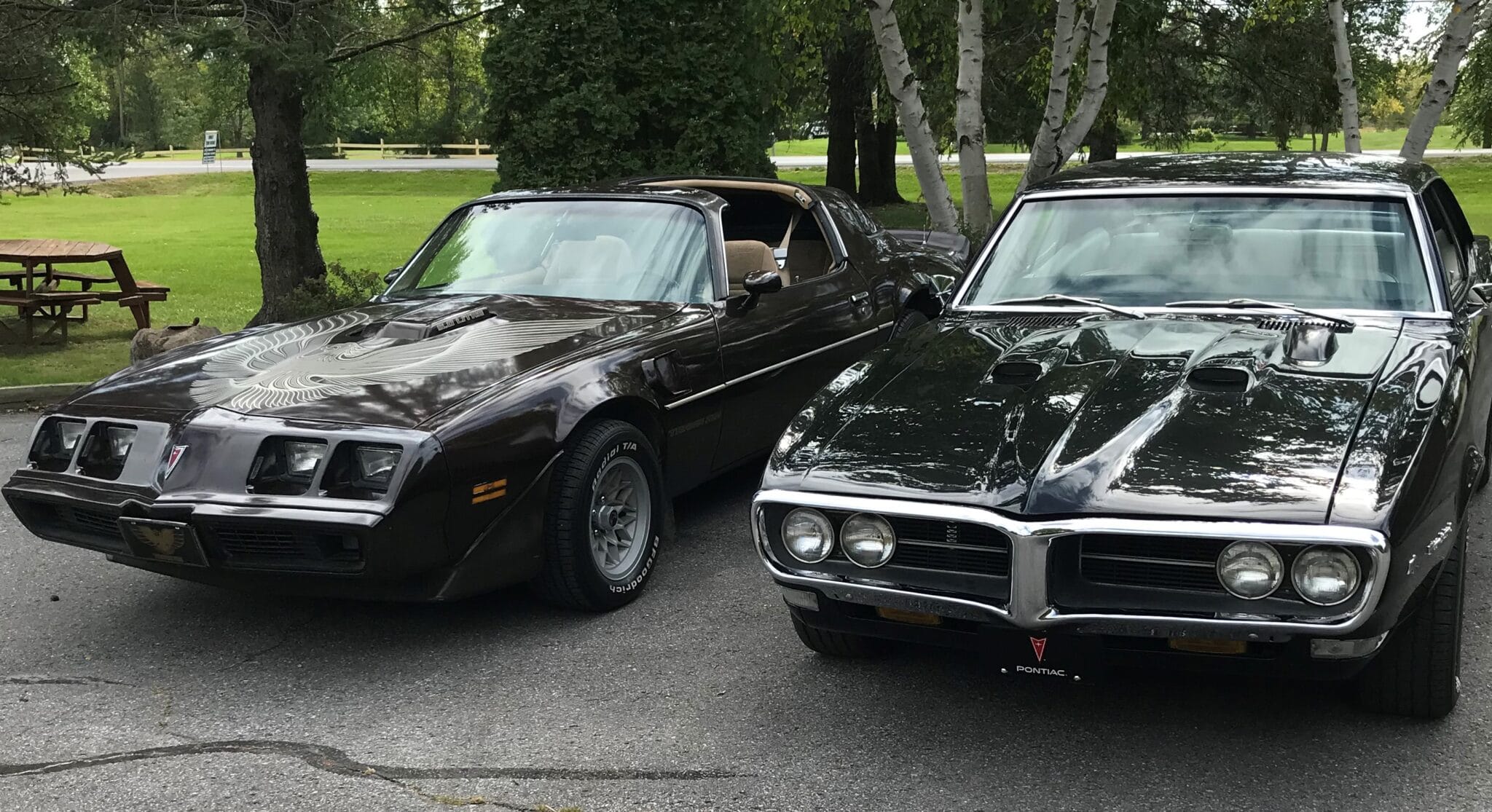 Founding Members - Mike Crofton
Firebird #2 1981 Trans Am
Bought this Car in Thunder Bay in 1985 from the original purchaser. It had only 30000 Kms on it. Most of those coming from trip from Thunder Bay to Daytona in 1984 It has been stored every winter since then. In the late 1980"s I had an aftermarket"Alpine" cassette deck and amplifier installed. It's now just a clock / Around the same time I had the rear leafs re-arced and an extra leaf installed, giving it its present raked look \ It is a WS4 car and I have the original Brentwood Brown Paint. It's a little scuffed up but hanging in there
Founding Members - Graham Hill
The 1980 Firbird ar was my father's and it sat for 8 years. I put it back on the road last summer to get dad out for 1 last ride unfortunately he did not get to go as he was to sick and he passed away.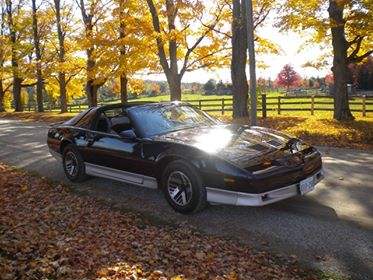 Founding Members - John Stillo
1986 Trans Am all original and only 92000 kms. Owned for two fantastic years and enjoying every ride. The Tbar just adds to the freedom. Ride on Firebird family.
Founding Members - Lorraine Brann
My little 1983 V6 which I purchased in June 1983 as my daily driver. This car has been through a lot over the years from tires being slashed to having bullets removed from the body and taillights but we keep moving forward.
"Firechicken" aka "The Flaming Seagull"
as my mechanic calls her has been a faithful car all these years. She's in need of some cosmetic repairs but she starts everytime and right now that's all that matters to me. ❤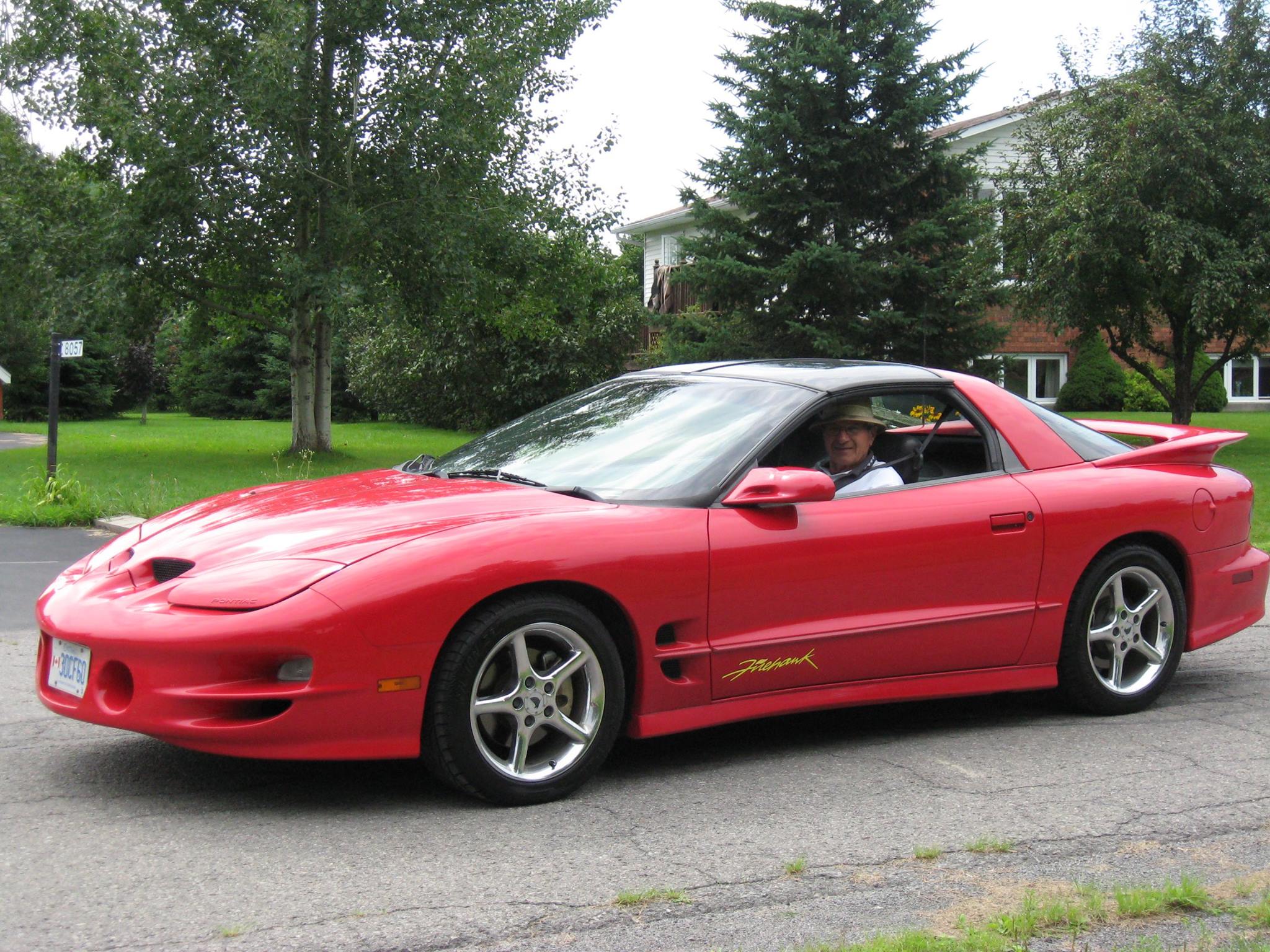 Founding Members -Wolfgang Uwe Schulz
1999 Trans-Am Firehawk c096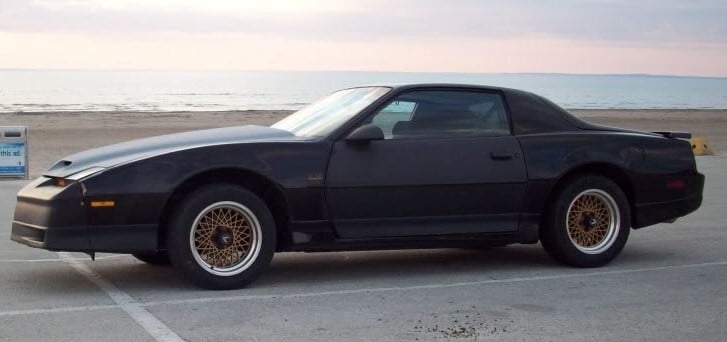 Founding Members -Mike Clark
1988 notchback GTA, currently undergoing some body work to fix an accident from 1992,
long before I owned it in 2006. Bought it from Thirdgen classifieds with out a motor, but a clean title.
Was a US car from Florida originally and had a 91-92 front bumper on it.
That's when I started digging and found all sorts of evidence it was in a front end collision.
Last time it was on the road under it's own power was 2010.
And then there's my 87 GTA, bought this one last summer so I would have something nice to drive.
Didn't take much to safety but there were some things that were fixed on it right away to clear up some
codes and make it safe to drive (exhaust leak and steering components).
Founding Members - Gary Boucher
I purchased my Transam in 1977 off of my cousin with 6,000 miles on it for 6 thousand dollars. It sits with 106 thousand miles on it now. About 7years ago, we had a ground-up restoration we had the engine rebuilt with a boosted cam. I completely disassembled the car apart and started the restoration. I have been to car shows, and I never see one like mine, maybe because it was a cheap transam without power windows ac or t roof. One thing I noticed is this Transam has a three-side belt mldg and continues on the fender and across the hood, so I'm not sure what model of Transam am it is.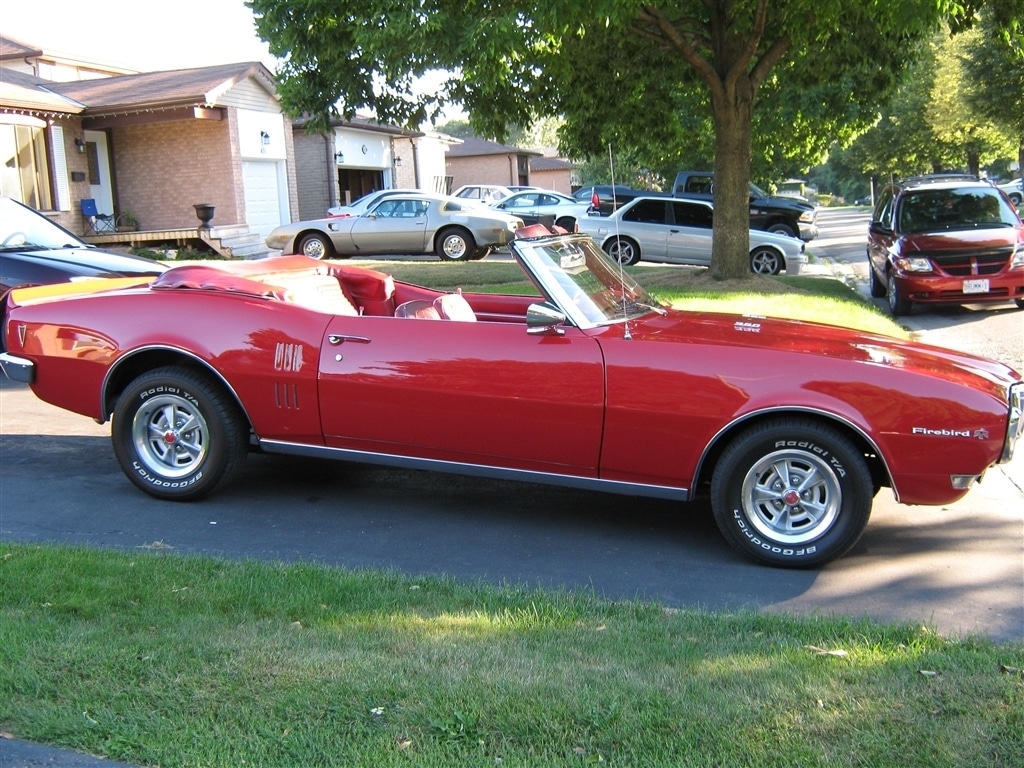 Founding Members - Dwayne Kish
1968 Firebird
350 Pontiac Engine
3 Speed Manual On The Floor
Matching Numbers car Restored Over 9 Year Period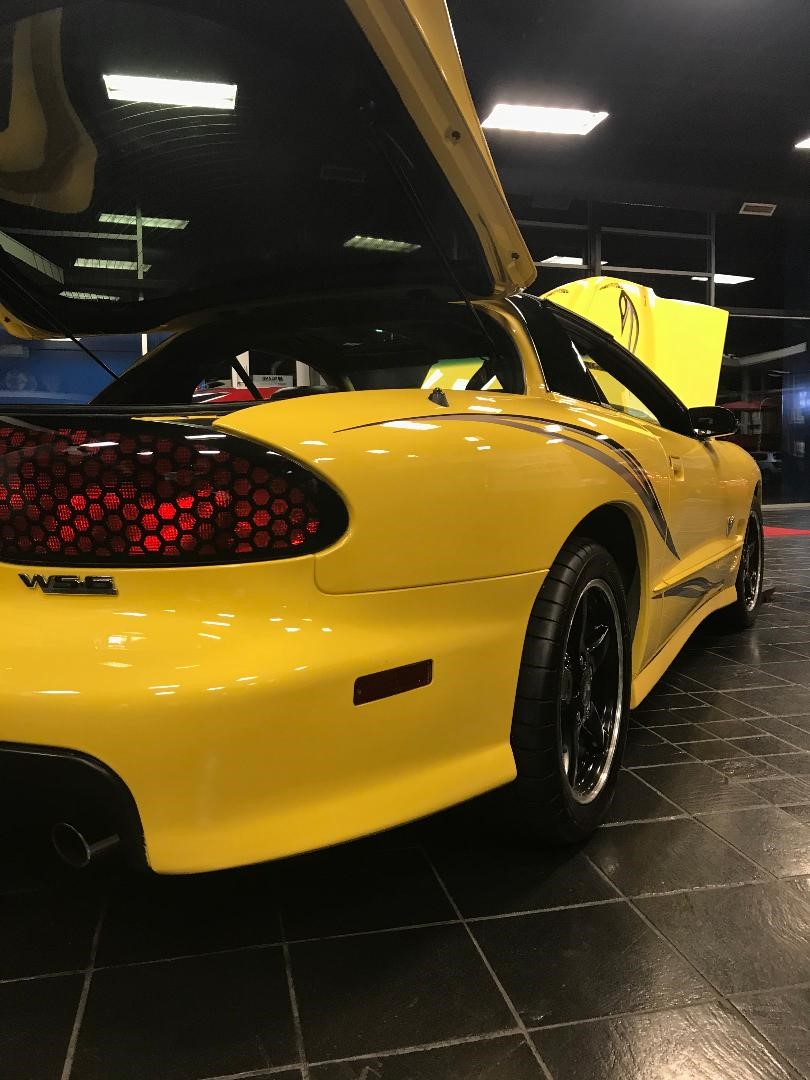 Founding Members - Jas Sandhu
2002 trans am collectors edition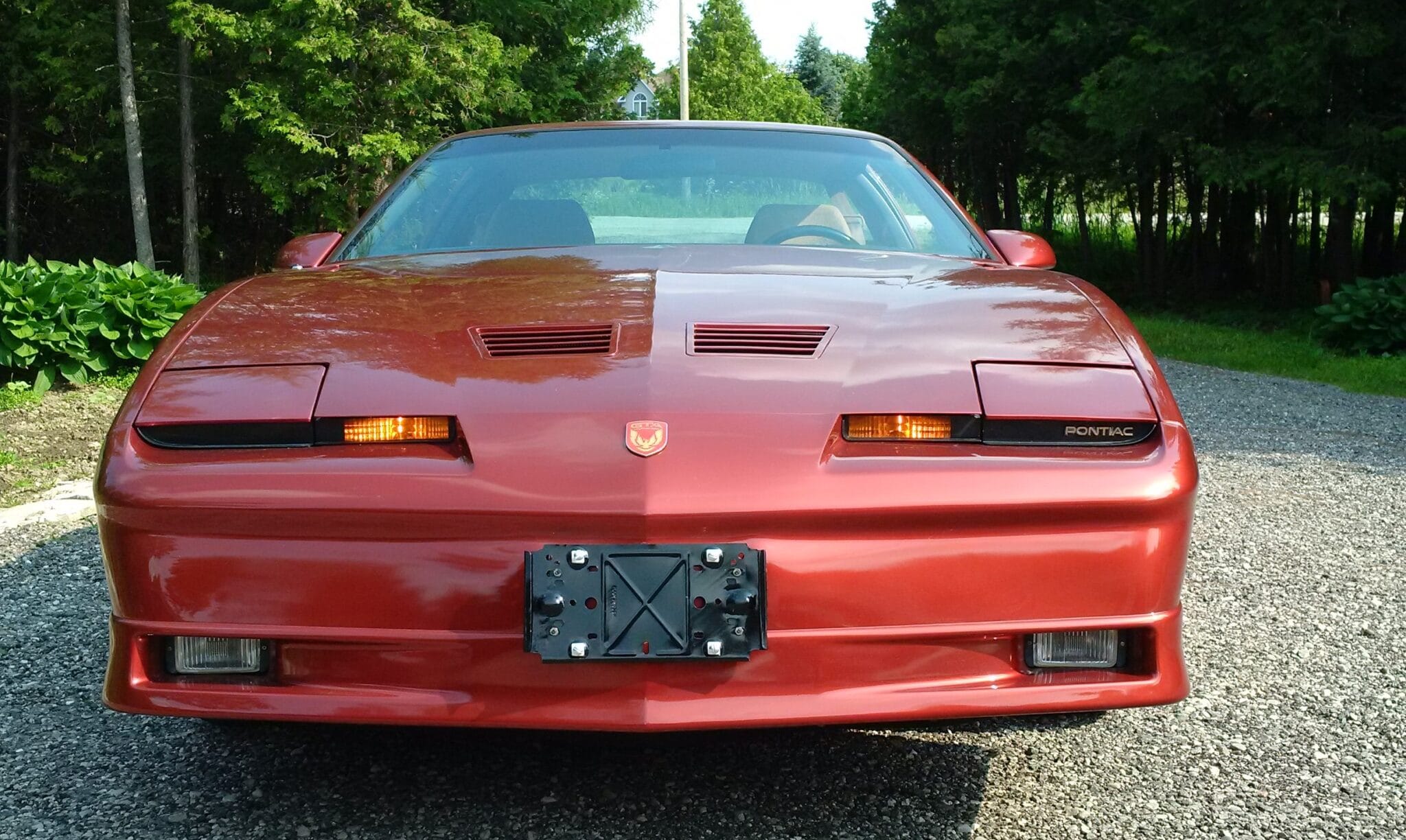 Founding Members - John Mothersell
1988 Trans AM GTA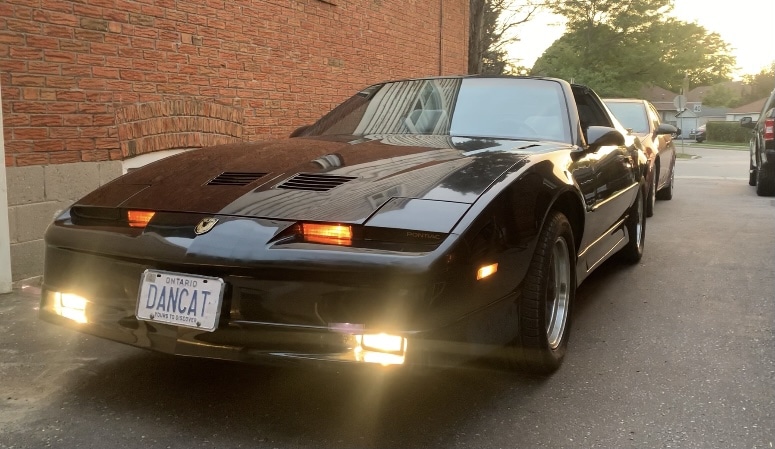 Founding Members - Dan Heard
1988 Trans AM GTA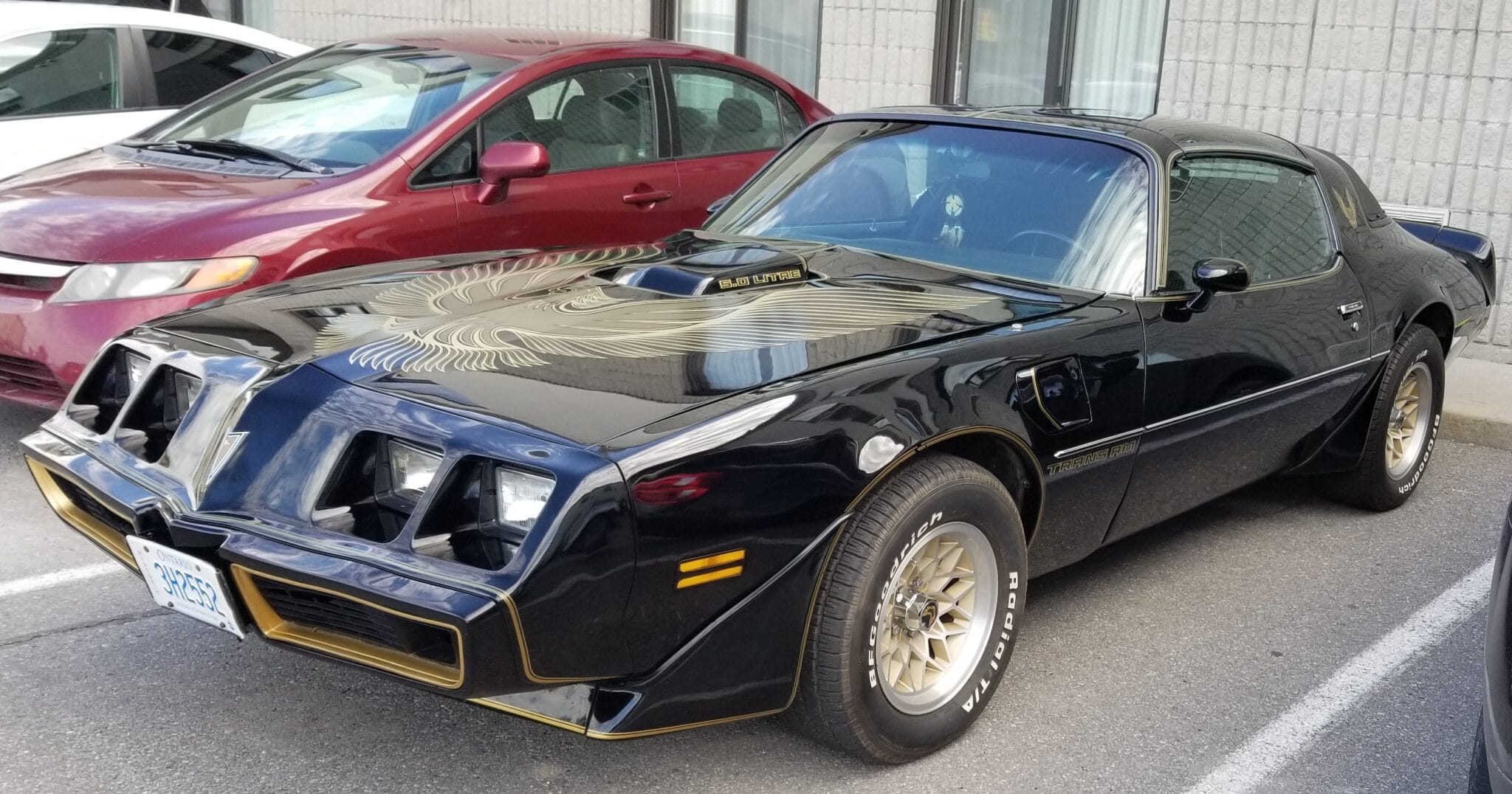 Founding Members - Kathy Gristey
81 TransAm Special Edition, 305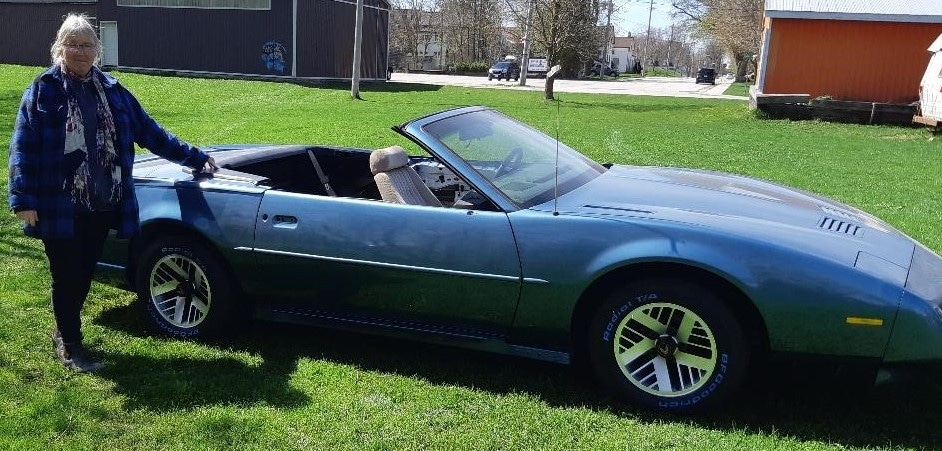 Founding Members - Heidi Schumacher
1992 Firebird convertible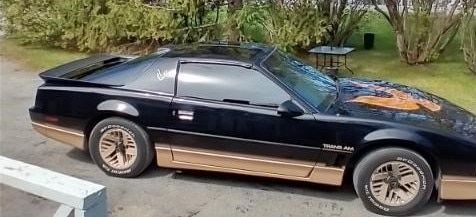 Founding Members - Donna Crowe
1986 Trans Am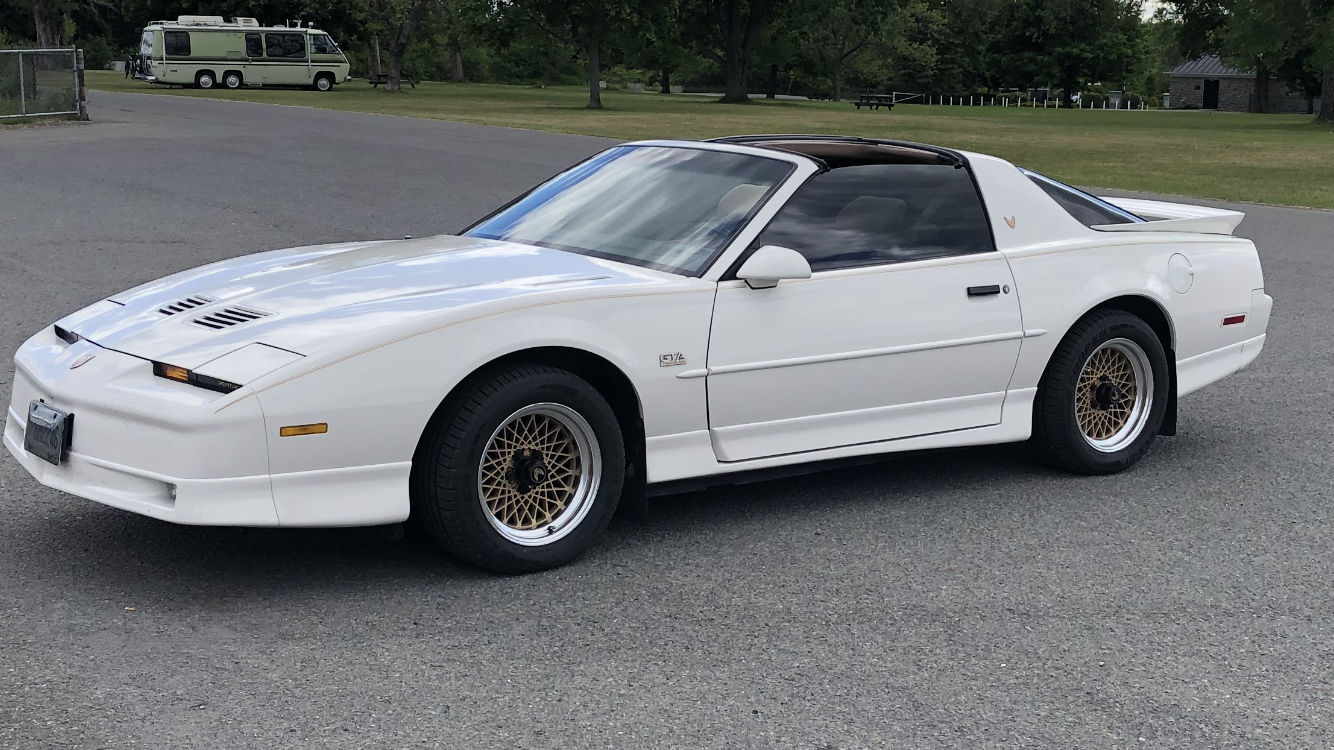 Founding Members - Greg Stewart
1987 Pontiac Firebird GTA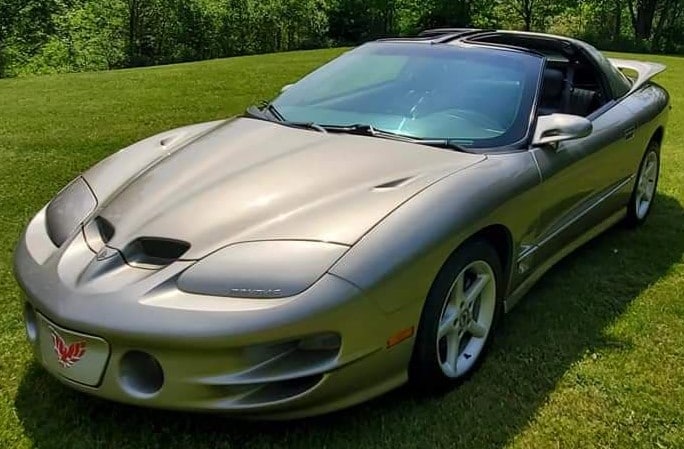 Founding Members - Tim Newell
1999 Firehawk Car #C017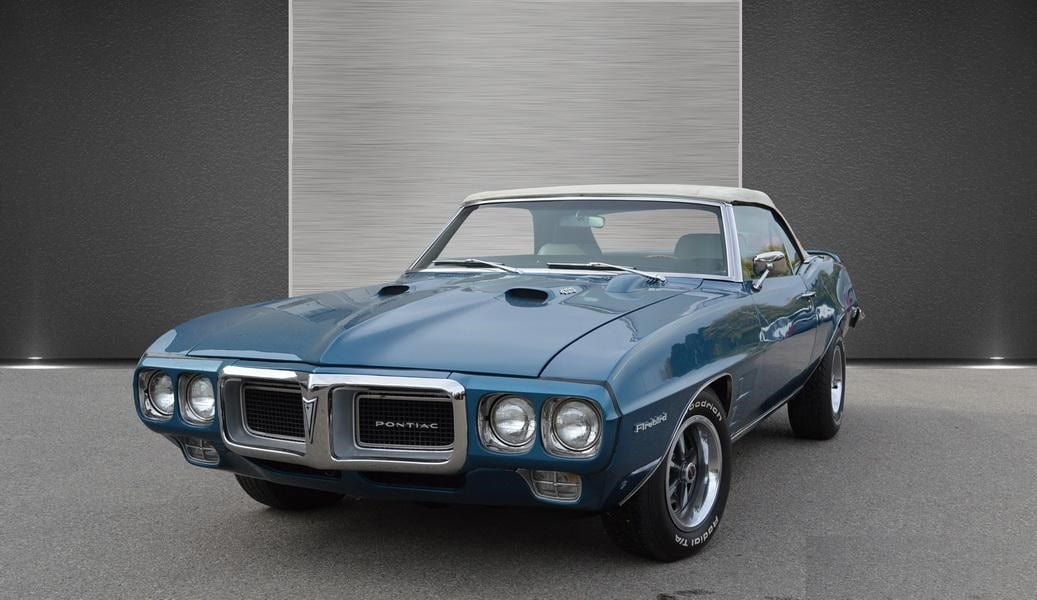 Founding Members - Jeff Bryer
1969 Firebird 400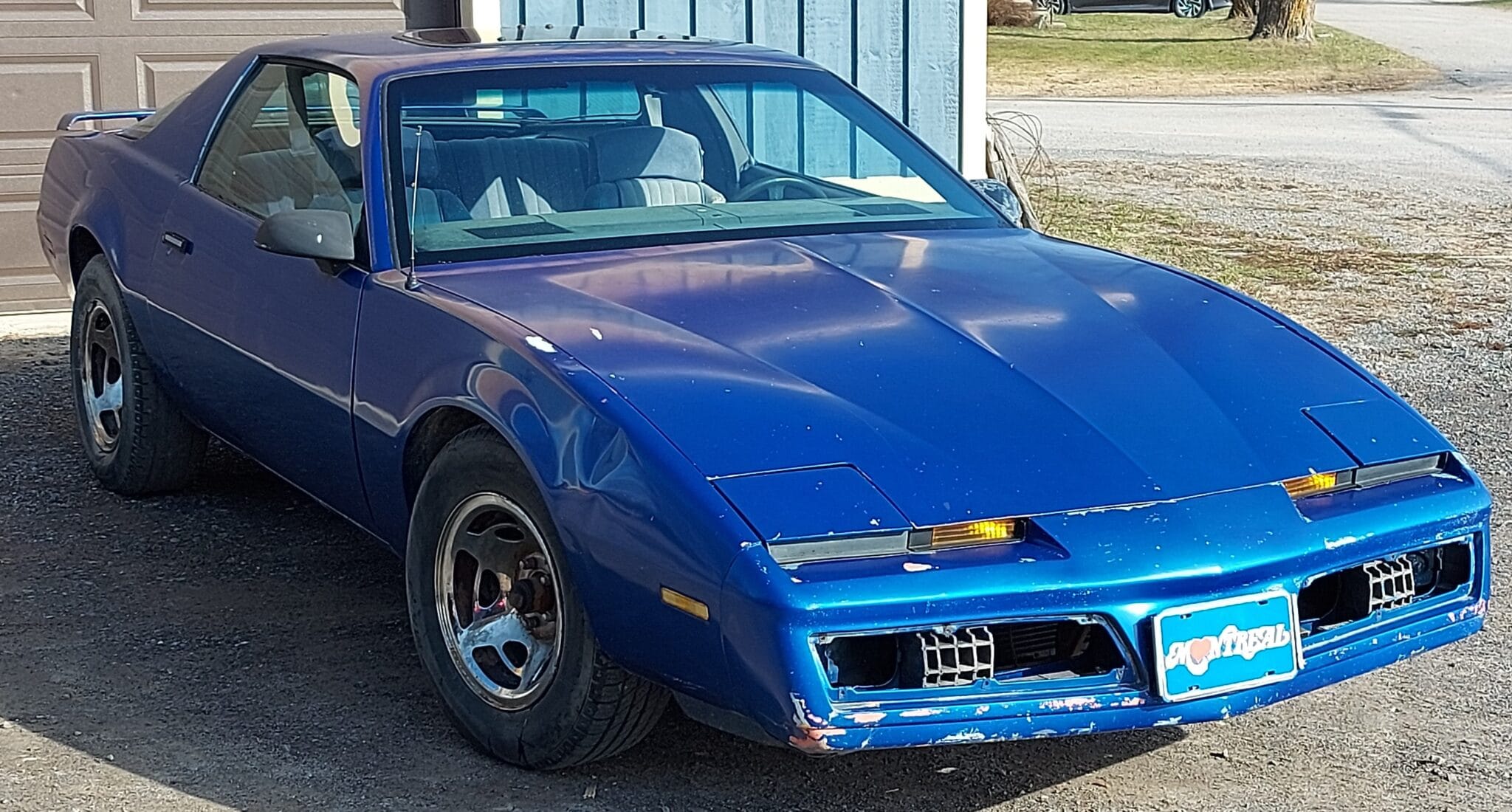 Founding Members - Jonathan Morris
1983 Firebird, blue, V8, sunroof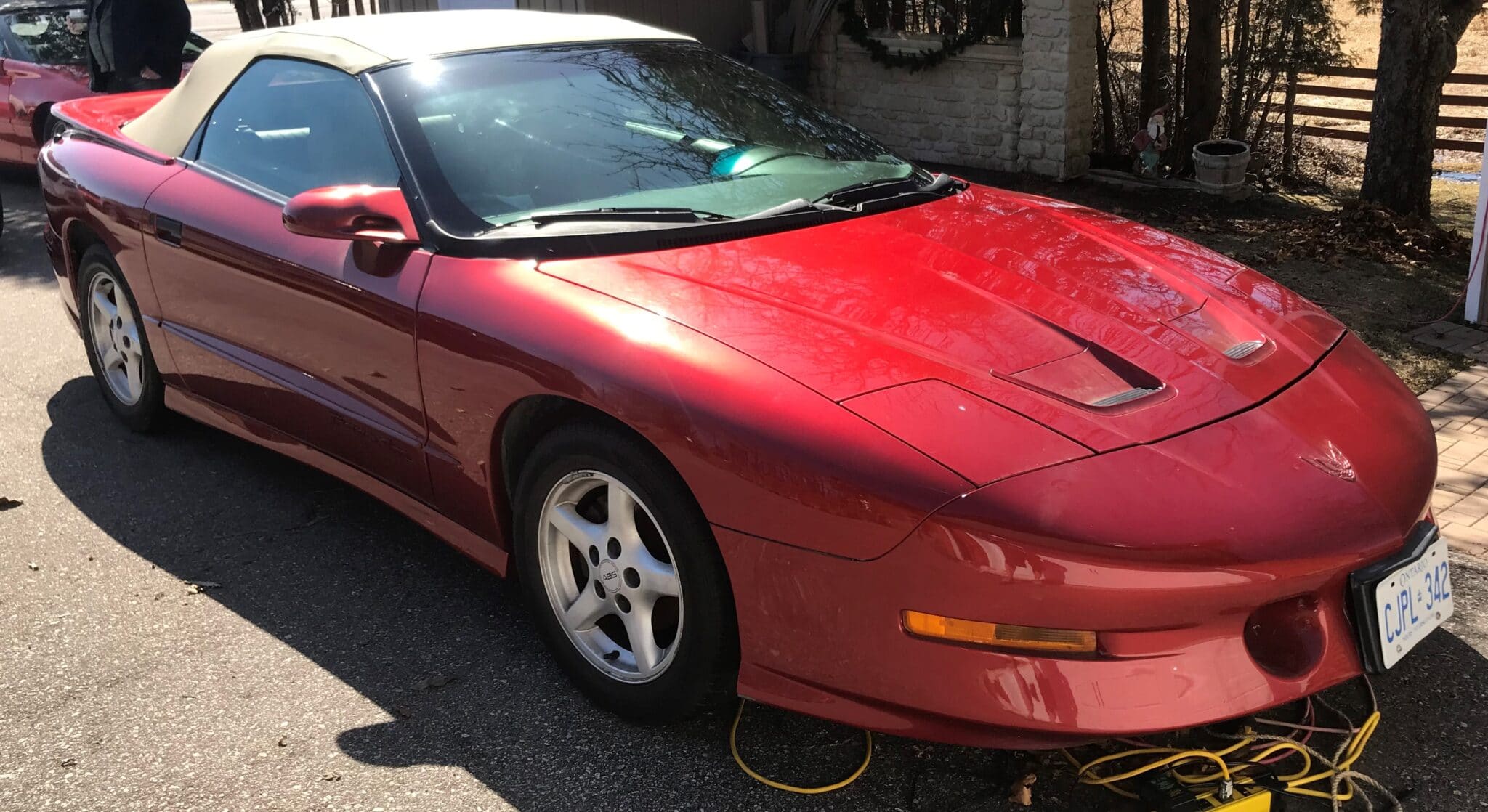 Founding Members - Craig Mackinnon
2002 Trans Am Convertible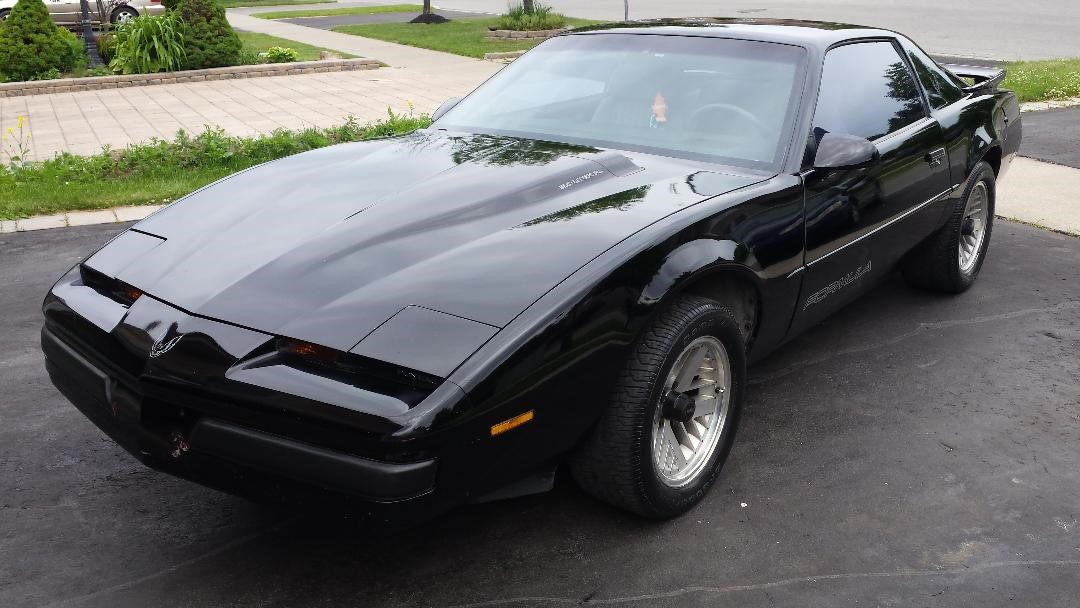 Founding Members - Pat Morra
1988 Firebird Formula, 305 TPI 5 speed, 3.45 rear end with rear disc brakes. I have had the car since 1992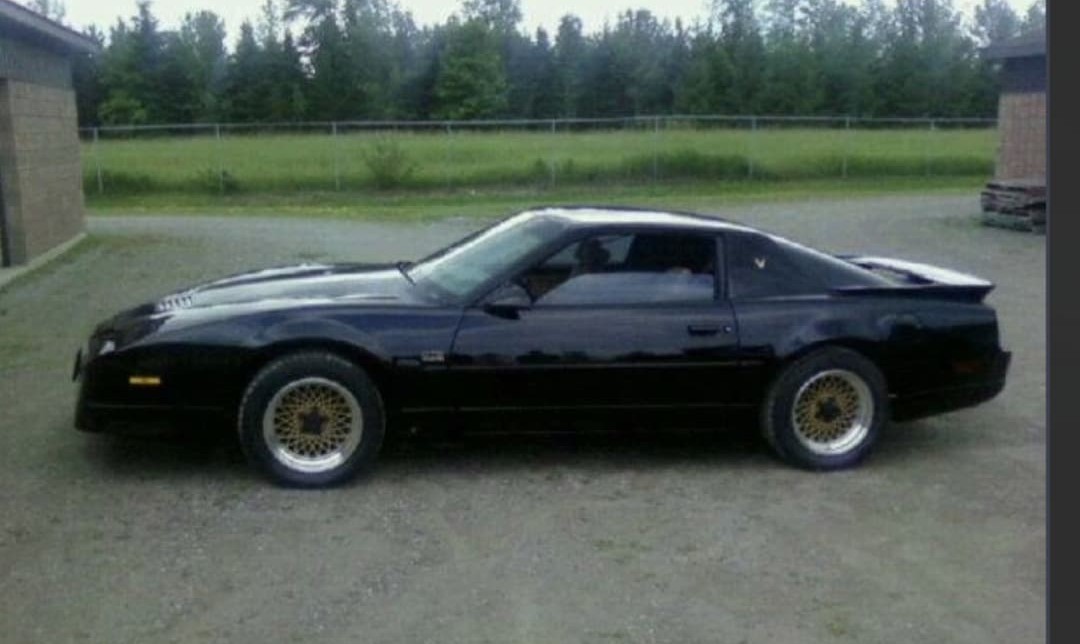 Founding Member - Paul Severiano
1988 GTA 5.7
Black Exterior
Beige interiorAutomatic
Crazy high end stereo
Founding Members - Danny Federico
1970 Trans Am & 1976 Trans Am 50th Anniversary Edition
///////////////////////////////////////////////////////////////////////
Innactive Members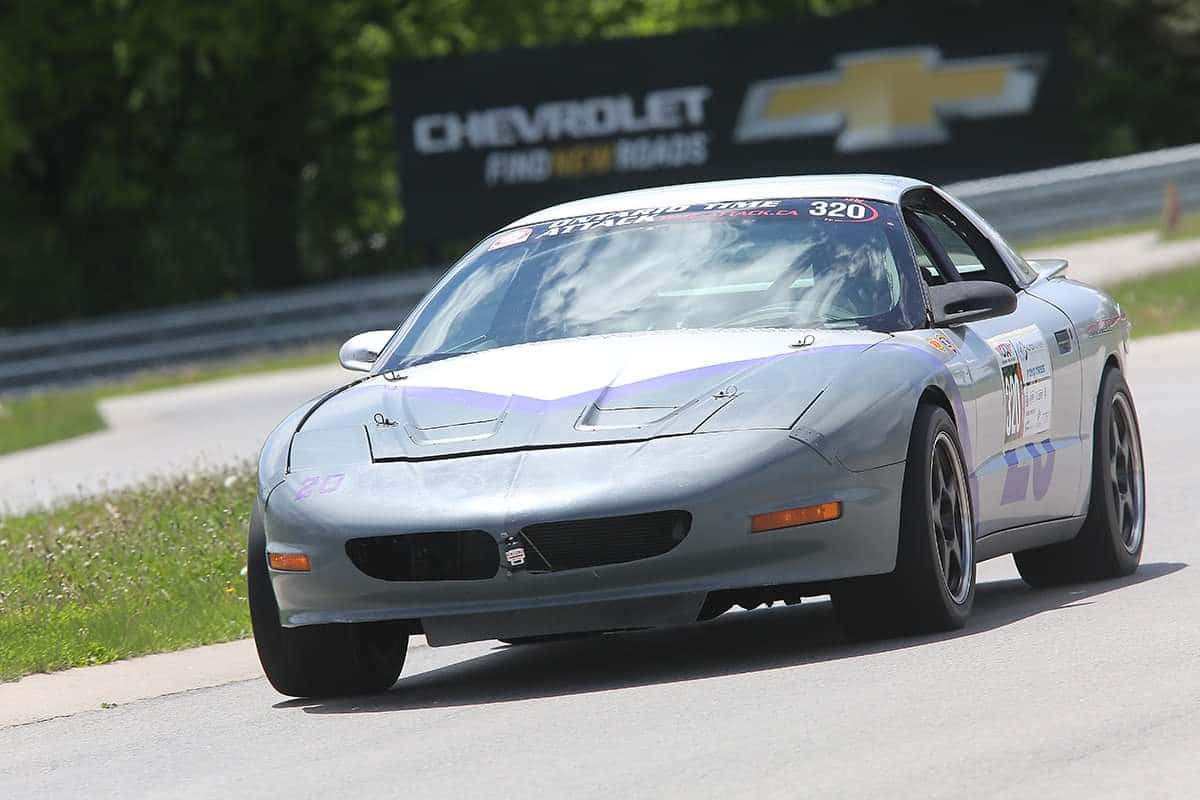 Founding Members - Jay Dover
1997 Formula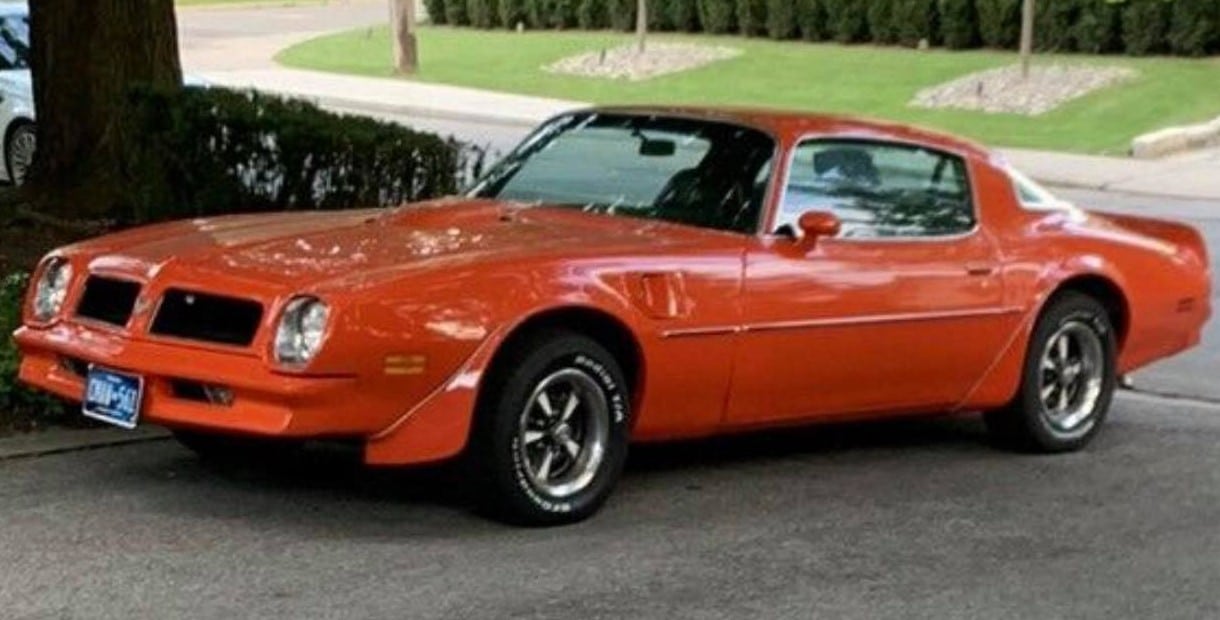 Founding Members - Ben Rosenthal
Last summer I picked up a 76 TA and have been bringing it back to its former glory over the past year and a half. It a 400, auto in carrousel red. Original colour. It still has a small list of things that still need to be done but overall a great driver.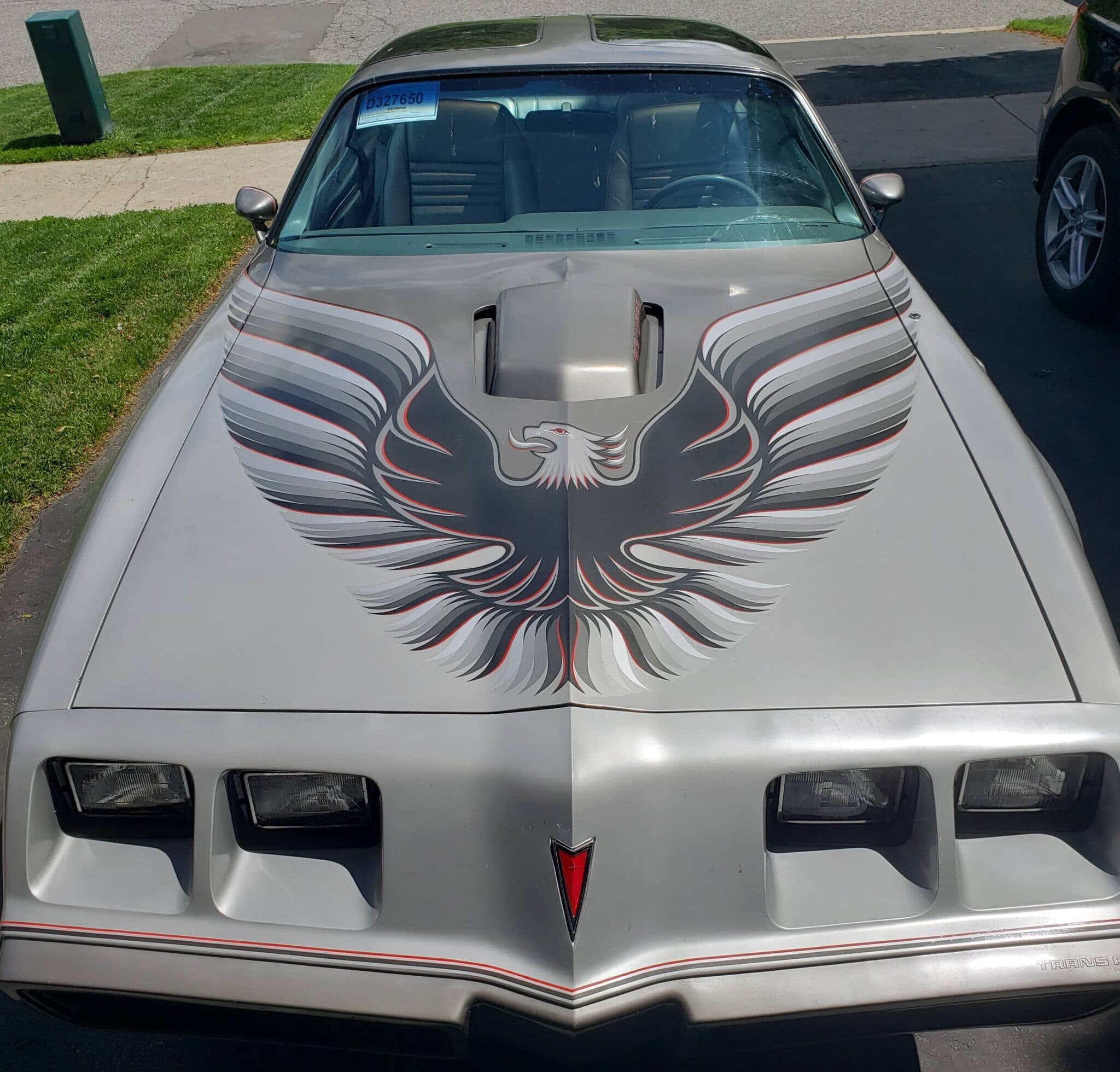 Founding Members - Rod Theoret
79 10th anniversary TransAm - 403 automatic (all original with papers).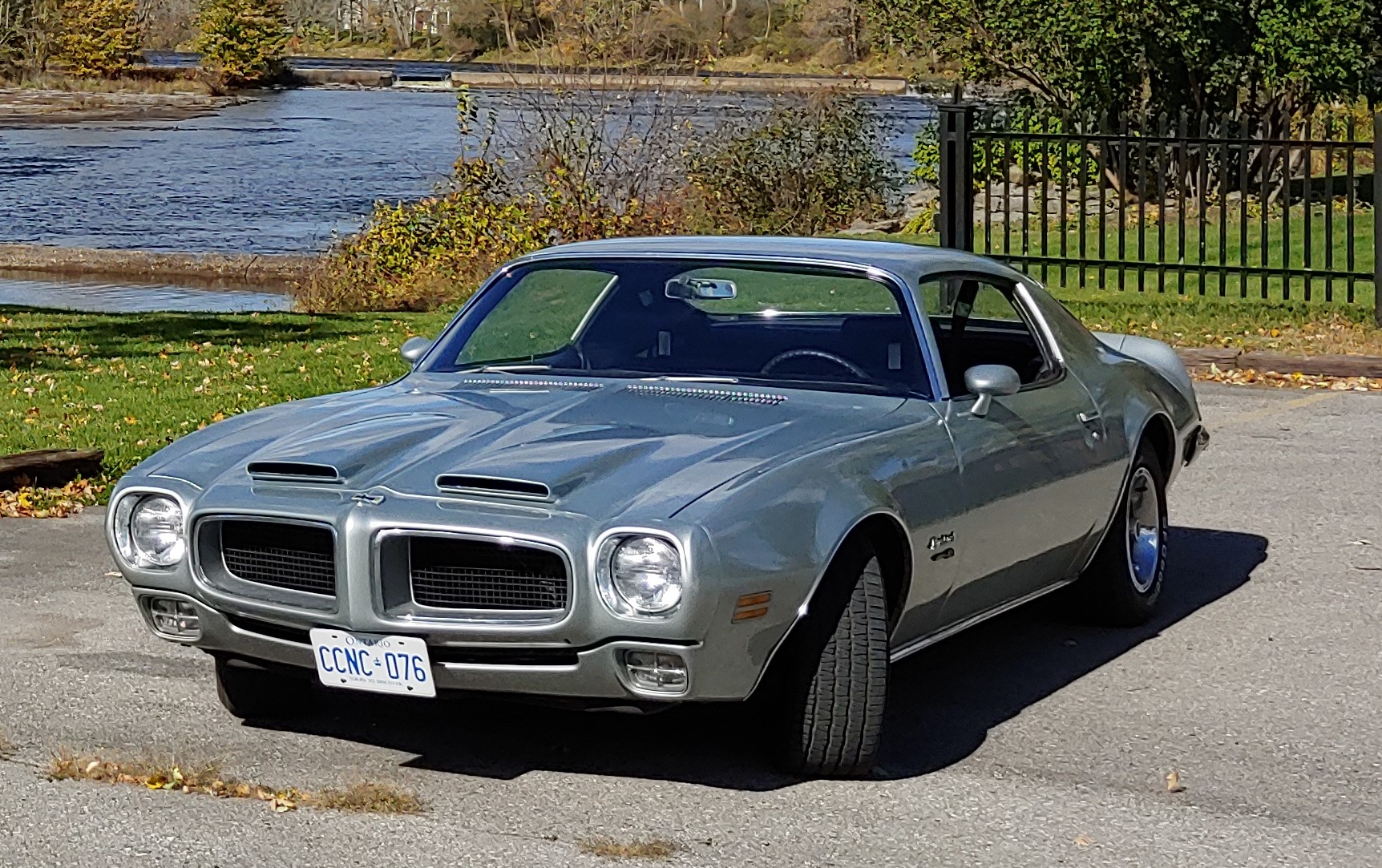 Founding Members - Cameron Haskins
1970 formula 400 99 percent original 1 repaint been in the family about 20 years .
Founding Member - Scott Oliver
1967 Firebird convertible.
It has been in the shop for over a year for body and paint and ended up with a new frame, sub-frame connectors and almost every new metal body panel. It should be out of the shop in the next couple of weeks. Just in time for Plunkett's car show in London.
Founding Member - Marco Ramos
1968 Firebird
It was originally a V6, previous owner has dropped in a SBC 350 from a 69 Camaro
2 ½ stainless exhaust with Magnaflow, gives the car a nice sound.
Over the winter I installed power steering
Has original 4 speed Saginaw and 10 bolt rear end that is non POSI, yes I'm a one wheel peeler for now.
Car was painted about 5 years ago and had a new top installed last year.
I've owned the car for just one year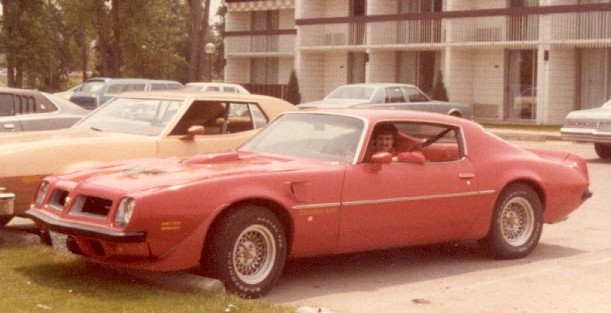 Founding Member - Terry Cooke
1974 Trans Am 400 AT 25000 original miles , low option .
Was with the original owner when ordered new and was his "commuter" car to university.
It's been in storage since 1976
I've owned the car for 11 years but have never driven it on the road.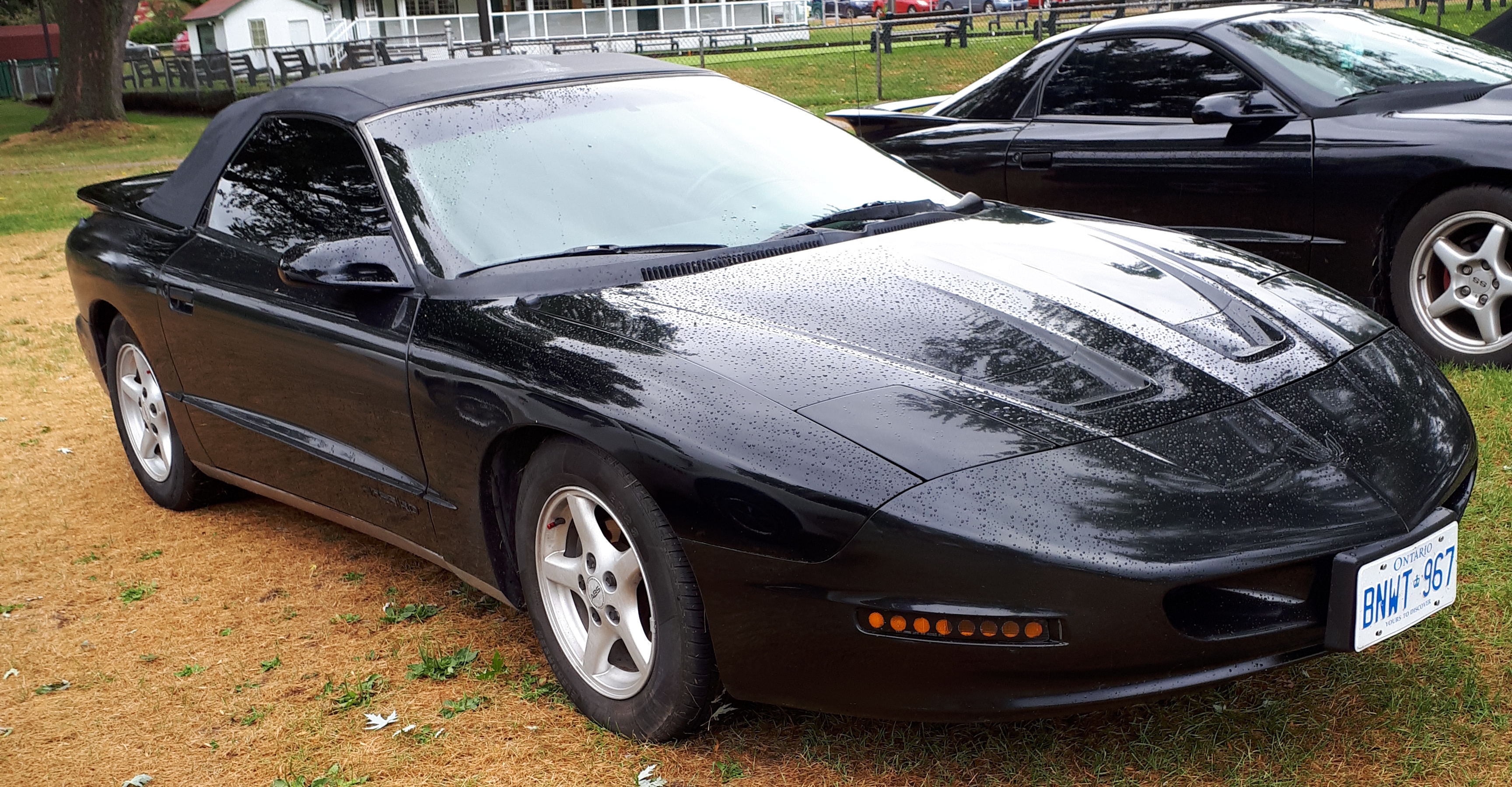 Founding Member - Chuck - Charles Mossey
1997 Firebird Convertible
Founding Member - Alex Pulcini
1968 Firebird
Numbers matching 350 - upgraded with 4 barrel Edelbrock intake, Holley carb, 4 speed automatic with OD, posi traction 3.55 gearsAlessandro Pulcini ///California built car, numbers matchingEngine: 400 CI , mild cam,Transmission: Turbo 400Shift kit, posi traction 3.55 gears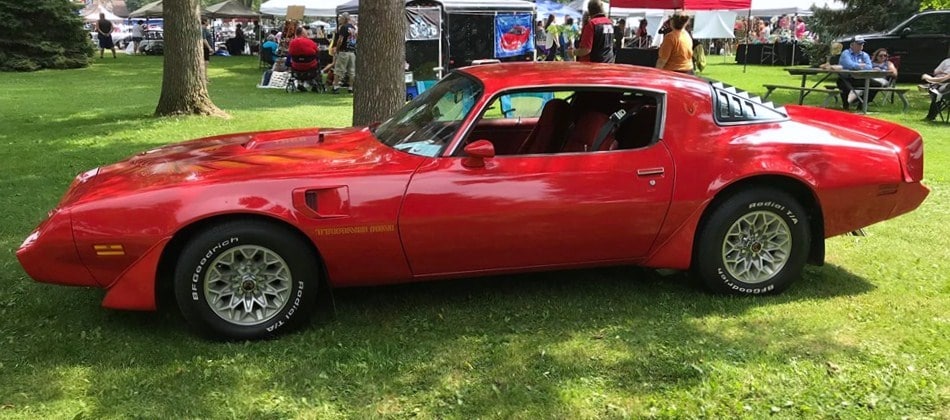 Founding Member - Wyatt Bedard
1979 Trans Am
Unmolested , All Original, Numbers Matching
6.6 litre, Automatic
Original Mayan Red colour
I am the 2nd owner, and I have owned it since 1995
Low Kilometers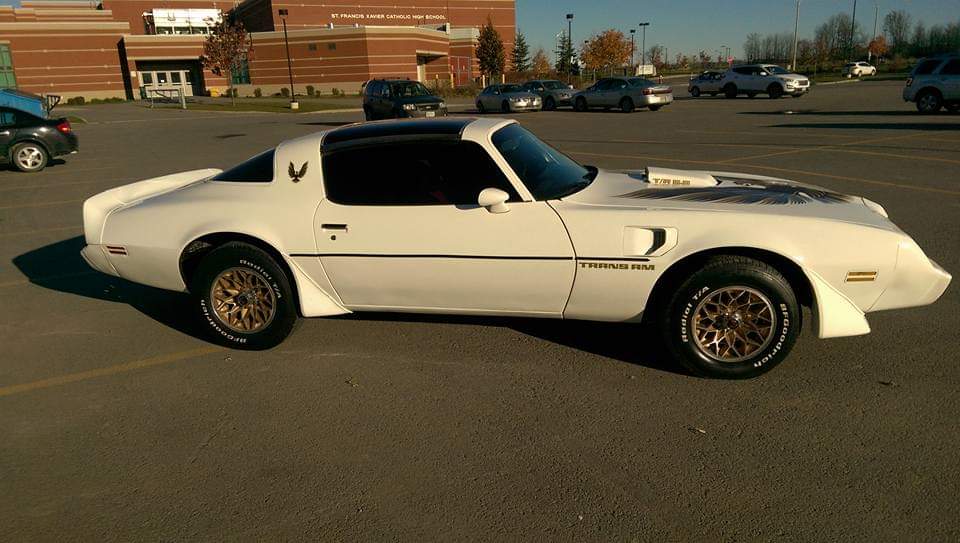 Founding Member - Shawn Cormier
Creme white 1979 Firebird Trans Am with the following
30 over Olds 350 Rocket with Edelbrock Performer aluminum intake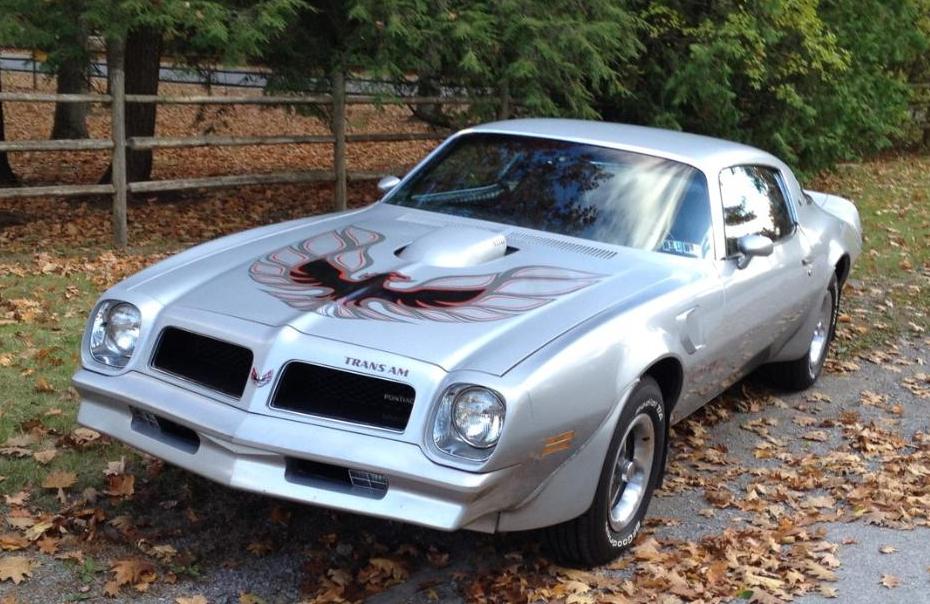 Founding Member - Ken McCaw
1976 Trans Am, 400 engine with Automatic transmission, Sterling Silver paint and Black Interior. All stock survivor with a stock engine rebuild this summer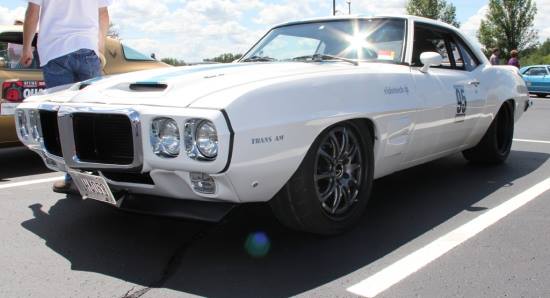 Founding Member - Imran Chaudry
Info Pending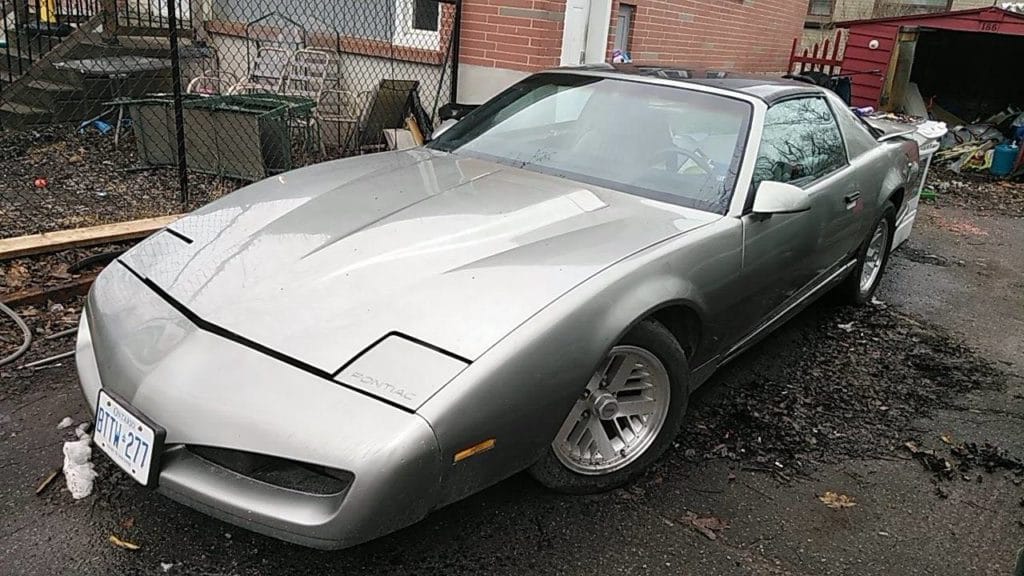 Founding Member - Jesse Battye
Decals say Trans Am
1991 firebird GTA
5.7 liter with a Carburetor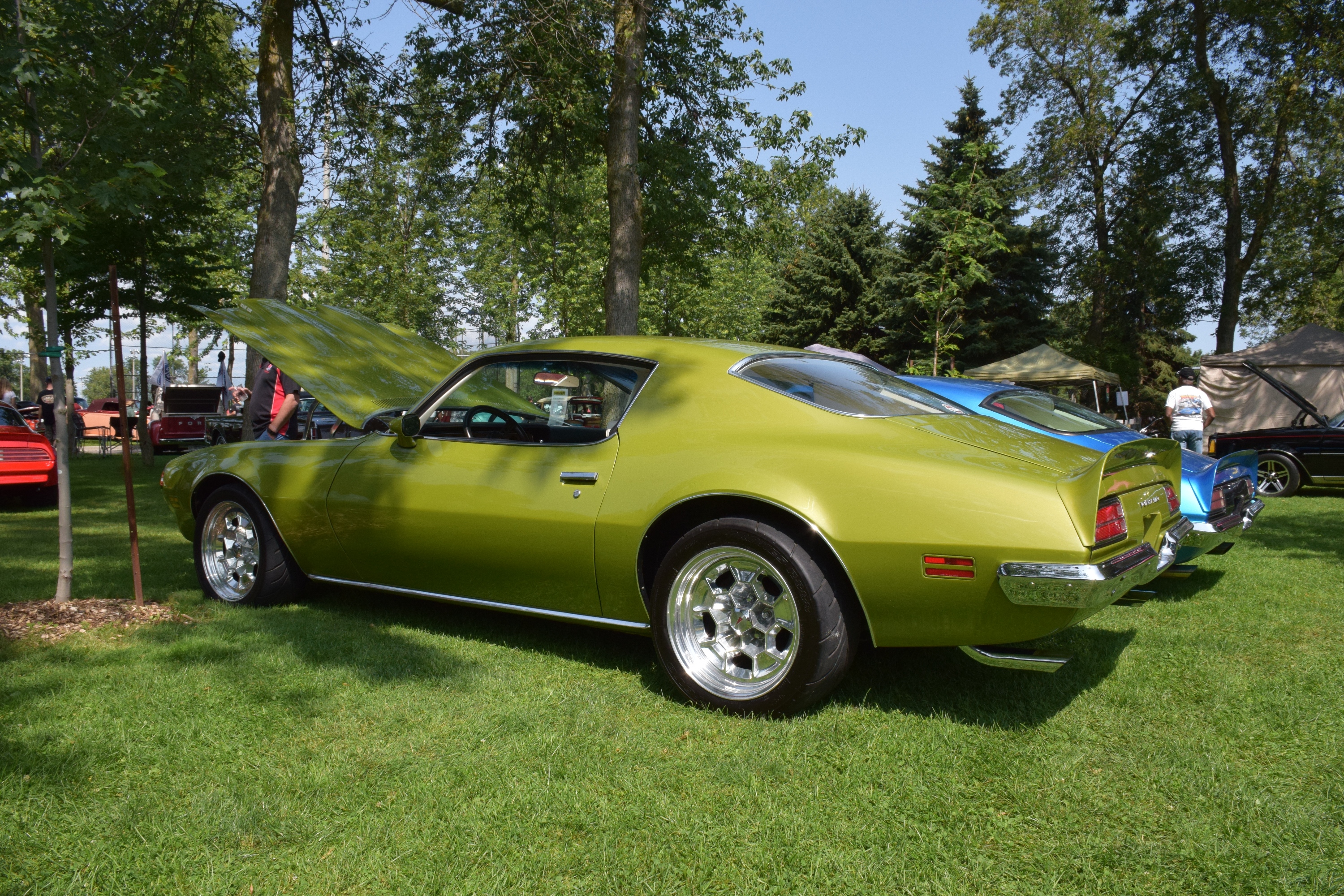 Founding Member - Gordon Barrister
1970 Formula 400 with a 60 over bored 455 hooked up to a TKO 600 5 speed...Oregon based roller that we brought back to Ontario in 2007 was the base for this early Pro-touring platform. The car took two years to complete and has been featured at "SEMA", competed at the "Optima Ultimate Street Car" ,was feature in March of 2009 in "High Performance Pontiac" magazine, and won "The Starlight Children's choice Best of Show" award at the 2009 Trans Am Nationals. The wheels are custom carved one off in the world rims that are arguably the rims that spurred the production of Year One's subsequent 17" honey comb styled wheels...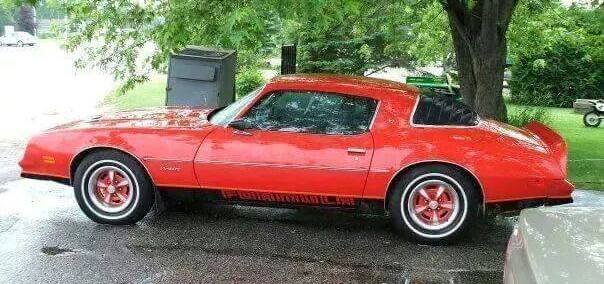 Founding Member - Jim Morisson
1977 Formula Firebird
Engine Pontiac 455 525 HP
Paint - Buccaneer red.
Transmission -Automatic
Options - power windows, Rallye wheels, gauge pkg,black velour interior with a new headliner, console with factory eight track deck rear spoiler, rear window louvre, has the original licence plates, space saver spare with inflator can, 36707 miles on car,, bought on October 7, 1977. Second owner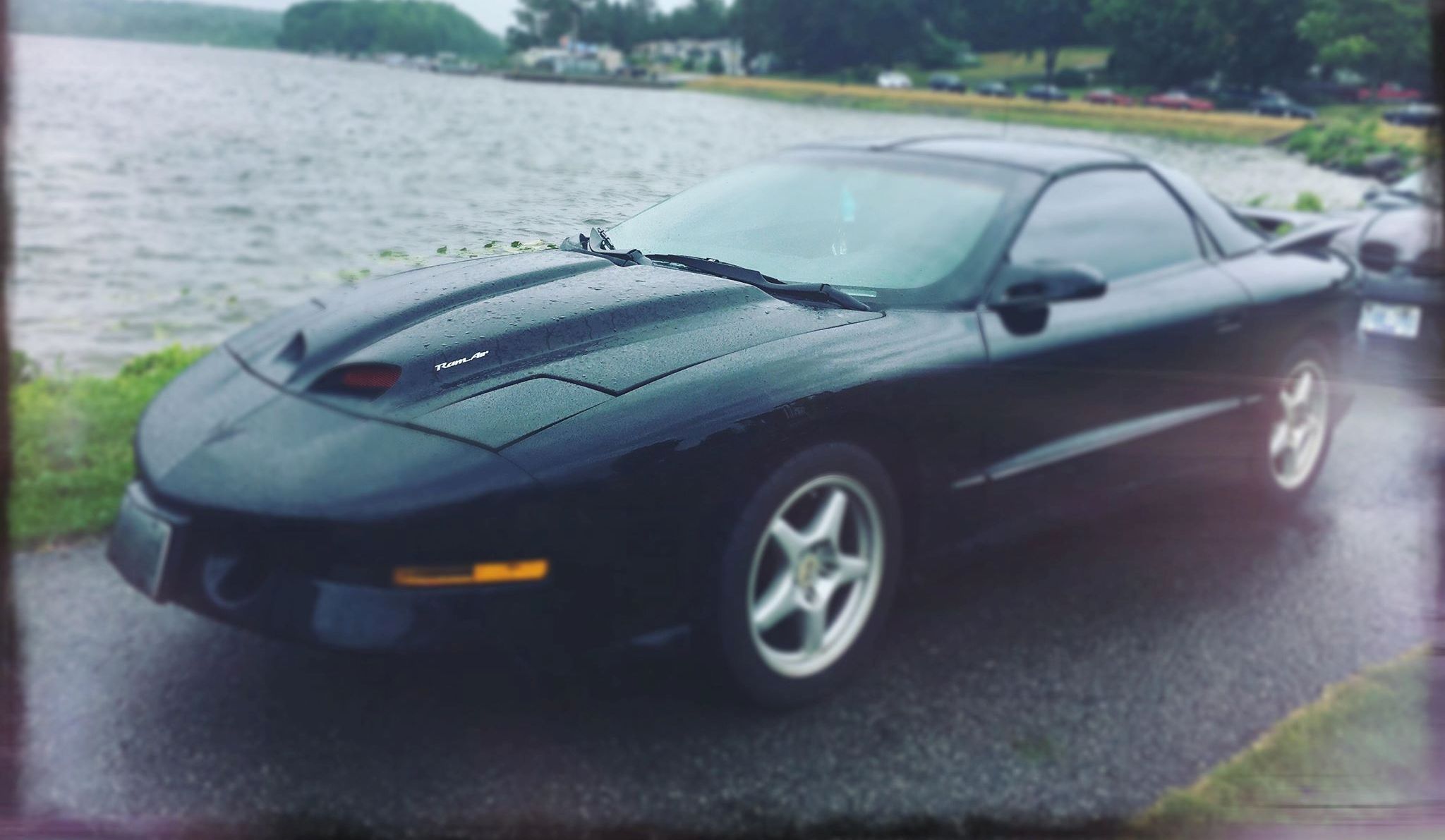 Founding Member - Wanda Jestara Lorraine
1994 Trans Am
5.7 LT1
6 speed t56
Black T - Top
Aftermarket Ram Air Hood.
Leather interior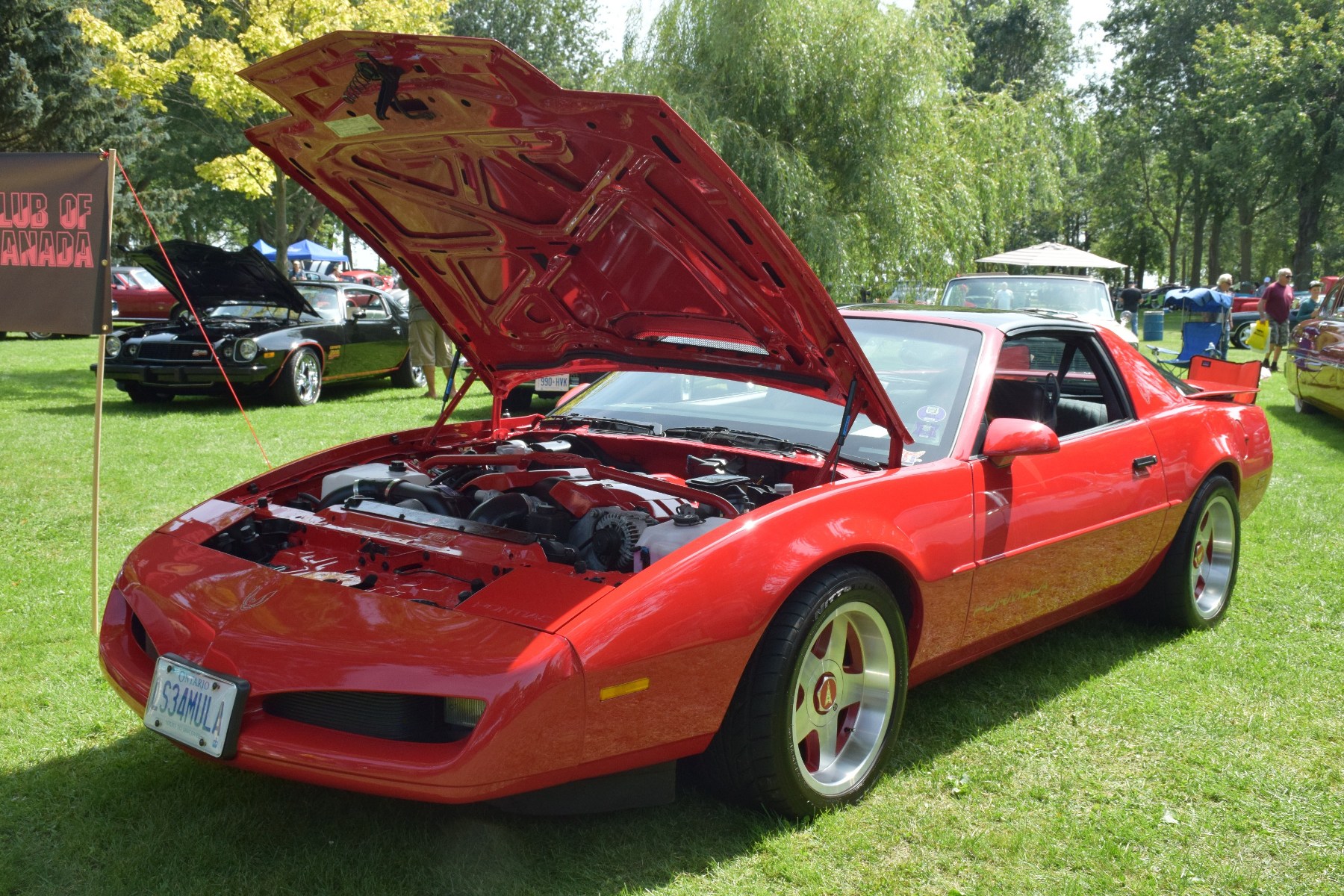 Founding Member - Jeffrey Cohen
I've owned my Formula since 2003. I looked for 2 years to find the right car. It was originally a 5 litre automatic. I did a swap to a manual 5 speed in my garage using a donor car a year later. I've done the following mods in chronological order:
17" Ronal Firehawk wheels
New carpet
Flowmaster cat back exhaust - Eibach sport lowering springs.
BMR strut tower brace - Sub frame connectors
Steering box brace
LS3 swap using a a GMPP LS480 crate engine
Magnum T56 six speed transmission
Stainless works headers
In 2014 I added:
BRP hot rod headers and cat, and Magnaflow cat back.Repainted the engine bay, front clip, and the bottom of the car.
Corvette fuel system with 400 lph pump. All new fuel lines.Night Fury camshaft
Hawks 8.8 rear end, which included swapping the factory rear drum set up with 4th gen rear discs.4th Gen seats.
Nitto 555s in front and 555Rs in the rear.Last year I added the Procharger and intercooler.It put down 650 rwhp on the Dyno in current form at 8 psi.
Founding Member - Carl Beaudry
1980 turbo. Black and gold SE. Interior is camel tan. I rebuilt the 301 turbo motor and was unsatisfied with its performance so I sold the motor and transmission. I have a rebuilt 403 from my 79 trans am sitting on a stand ready to drop in. Car is currently in my barn waiting for restauration. Parts car: 1980 turbo with a blown 403 in it. Interior is also camel tan. Donor for the black car. I am going to part this one out. Once I have stripped it, I will post the parts up on the club site if anyone wants anything that is left.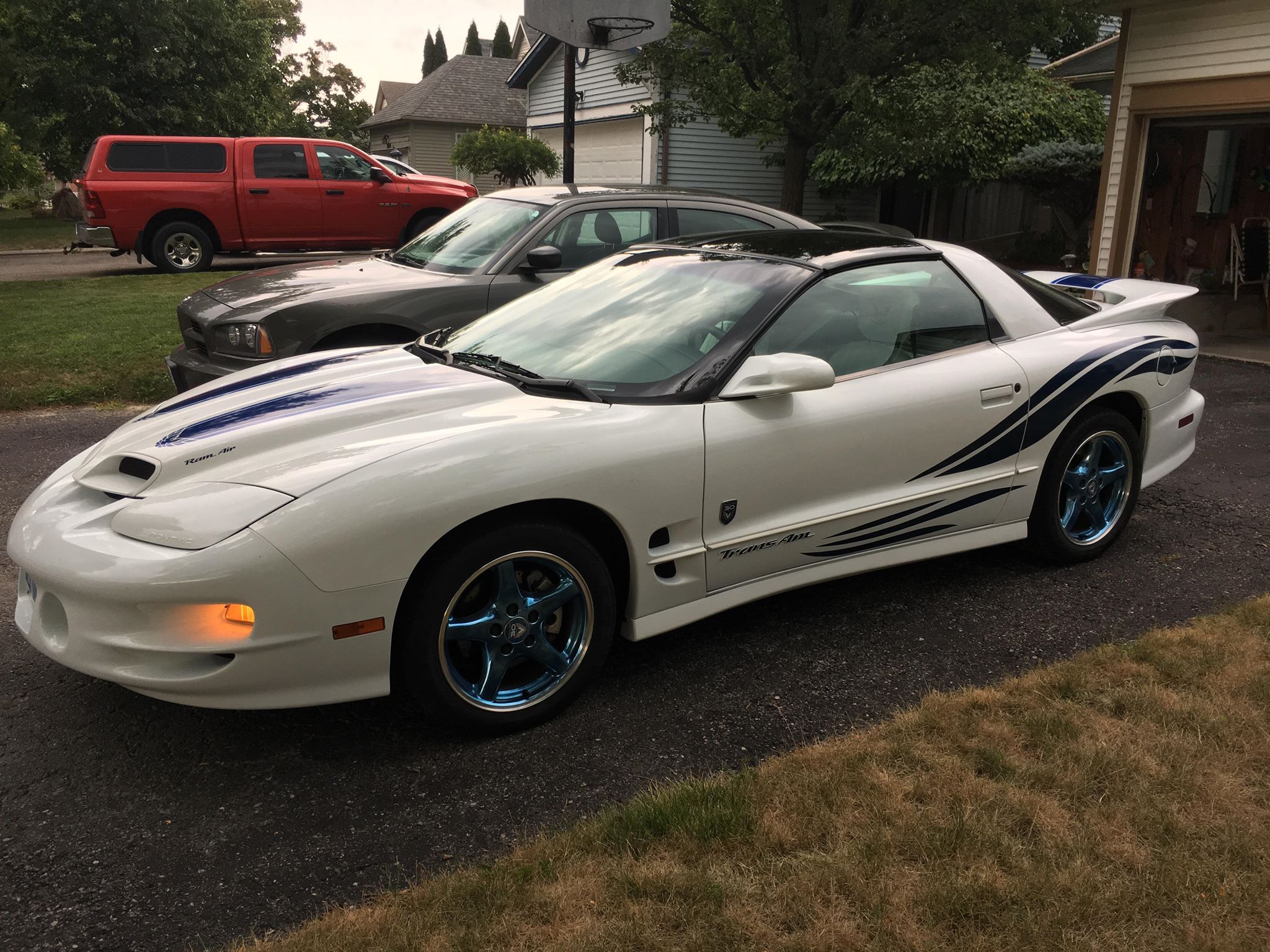 Founding Member - Charles Kelly
1999 30th Anniversary edition #658 Firebird Transam
Founding Member #8 // Charles Kelly
1999 30th Anniversary edition #658 Firebird Transam
Founding Member - John Armstrong
1980 Pontiac Firebird
I am the 4th owner and the 6th owner
The car was purchased by my grandfather in 1989
Passed down to me
Sold in 2012 repurchased in 2015
Originally came with a 301 small block but was later replaced with a 350 after an engine seize in 2014
The entire car is pretty much stock except for the replaced engine