Newfoundland - Active - Founding Members
Rick Hickey - Newfoundland Chapter President
1969 Trans am (tribute)
400 Pontiac motor (461, eagle stroker kit)
Comp Cams custom grind hydraulic roller with 1.65 PRW roller rockers.
Edelbrock RPM intake.
Holley 850 street HP carburetor.
KRE D-Port heads.
Heads ported by SD performance to flow 295 cfm.
Pontiac HEI. Ram air restorations Pontiac factory headers, 2.5". @.5" duel exhaust from manifolds to tail pipes, with flow master 40 series mufflers.
Turbo 400 trans with 3500 stall converter.
GM 10 bolt rear with 3.42 gears.
Three year rotisserie restoration completed in 2013.
Rex Drover - Newfoundland Chapter - Vice President
1976 Trans Am
Bought off original owner in 2006 here in my Hometown of Bay Roberts
It was bought new at the Terra Nova Motors branch in South River(long gone) - in the summer of 1976 by Keith Morgan who has been a friend of mine for many years - Not many people especially here in NL can say they own an original survivor car that's been here it's whole life,in the town I grew up in,and can also say they remember the first time they ever laid eyes on it! Well I do, I was around 13 he had Cragar wheels on it with 50s on the back,side pipes,
traction bars,rear window louvers,and a CB antenna on the trunk. I thought it was the coolest thing I had ever seen with that big burning bird on the hood! It was love at first sight little did I know 30 years later I would own it. L. Rex Drover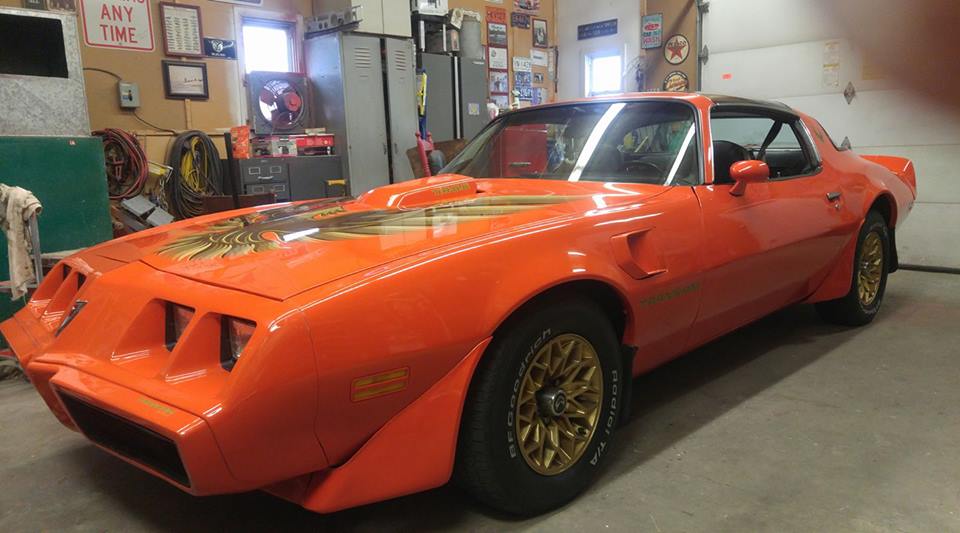 Ron Ryan - Newfoundland Chapter 1st Officer
1979 Trans Am
403 Engine
Paint is higher orange it is basically an original except for the color
Before it was gold, wanted it to be a little bit different so I painted it orange
All the work was done in my back yard with the help of good friends
I'm am pleased with the outcome ,love driving it every chance I get.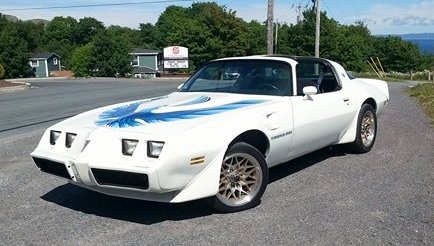 Founding Member - Neil Murphy
1980 WS6 T/A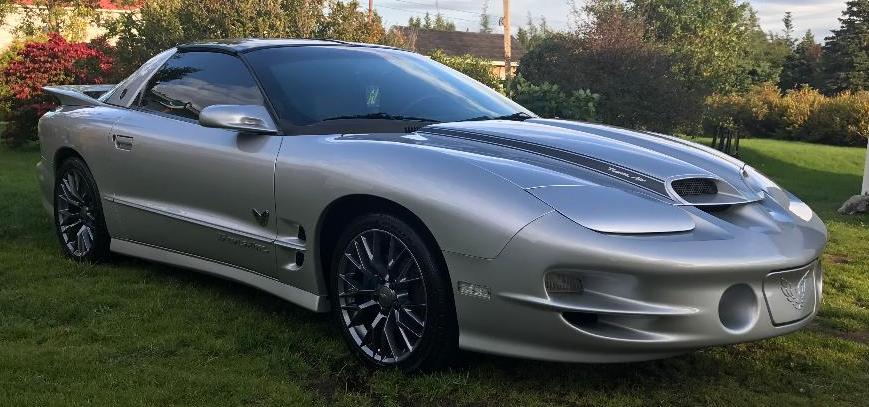 Founding Member - Rocky Trickett
2002 Trans Am WS6 / Automatic LS1 Engine - Silver Paint - Olive leather interior
List of Mods include: Wiseco junkyard dog forged pistons - Texasspeed 228R cam kit / - Clevite double timing set and guides
- Texasspeed Long tube headers with off-road 3.5" Y-Pipe.
- SLP loudmouth 1 canister type muffler
- MSD race wires / - NGK Hot plugs / - PAC springs
- Texasspeed Hardened push rods / - Titanium Retainers
- Granatelli Mass air flow including sensor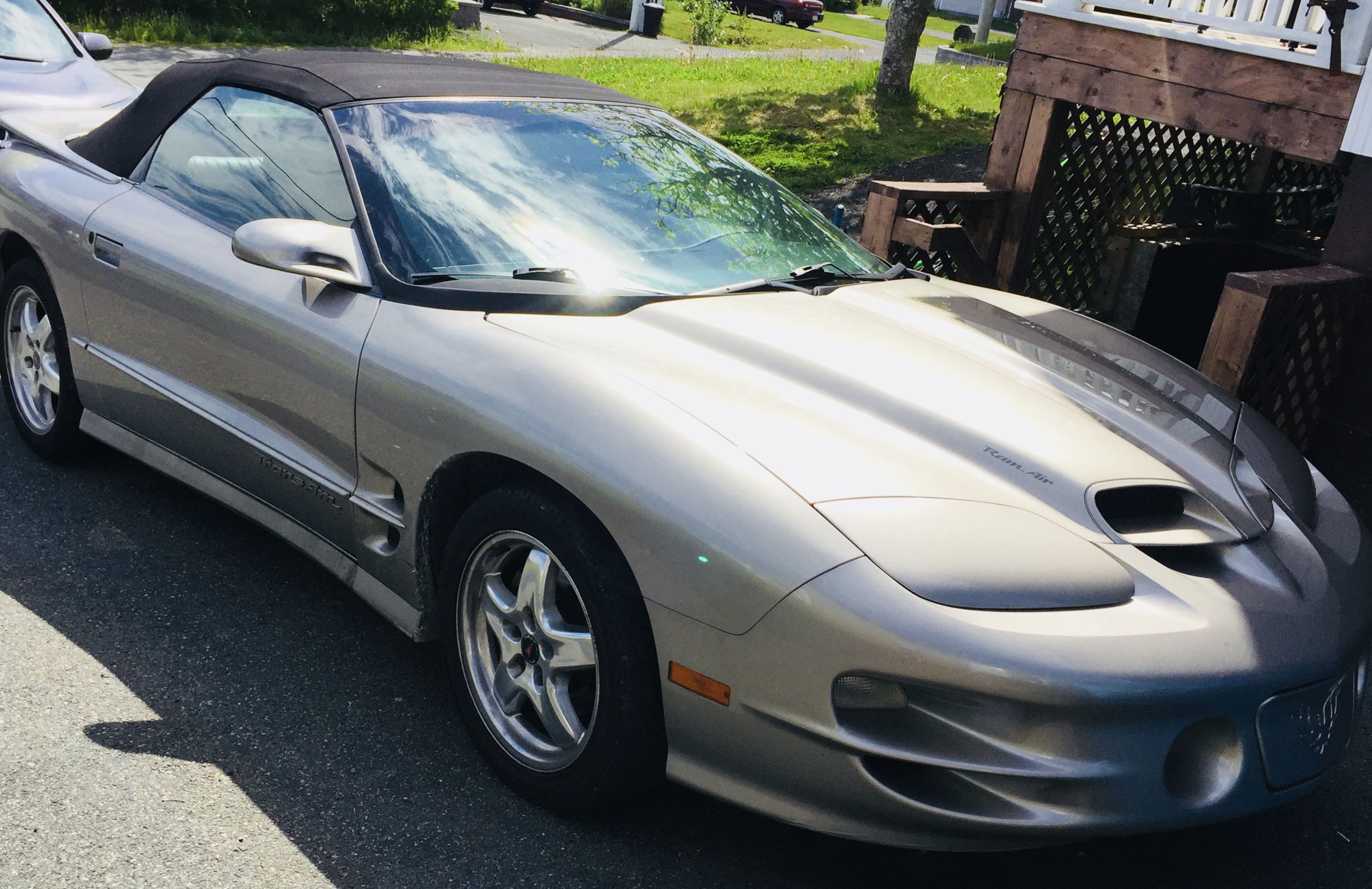 Founding Member - Nicole Victoria
2002 Trans Am WS6 Convertible
Engine 350 LS1
6 speed Standard
All original with no modifications done
Car has just rolled over 100k mark.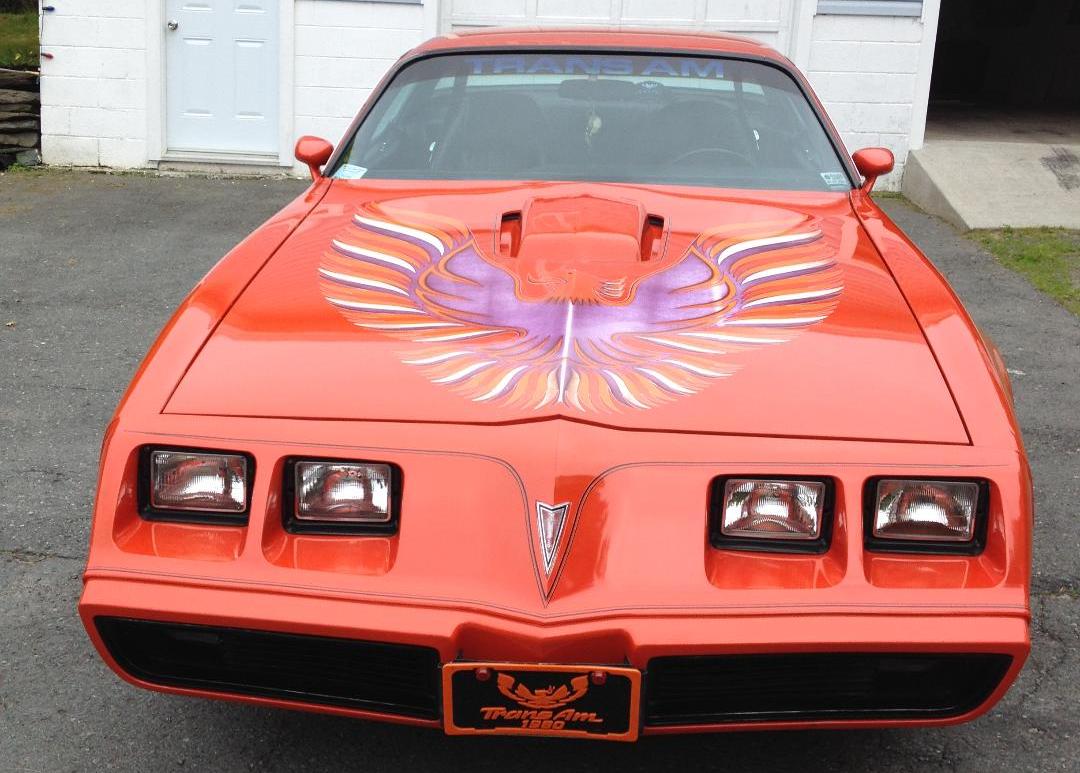 Founding Member - Gerald Mercer -
1980 Pontiac Trans Am
4.9 Lt Engine
Paint : Burnt Orange
Black Leather Interior
Automatic Transmission
This car was purchased March 1980
Original paint on car and I am the original owner.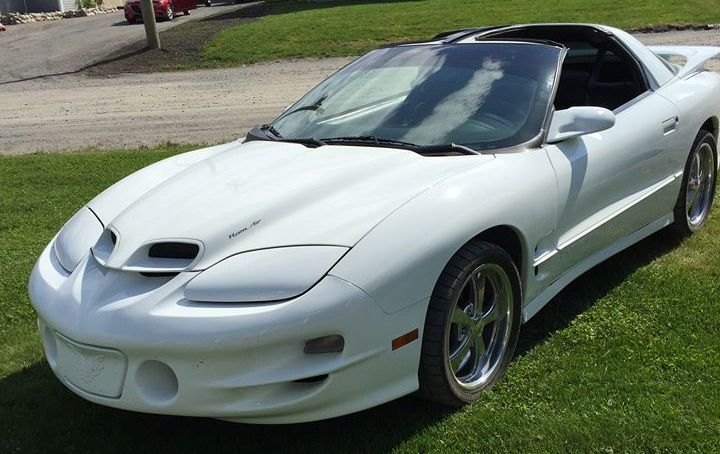 Tristan Rowsell - Founding Member #13
2001 Pontiac Trans Am WS 6 package 18" Eagle Chrome Rims with Cooper Zeon Tires All original except for Alpine stereo system and tires & rims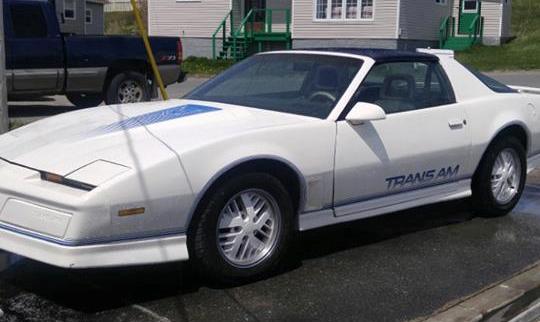 Justin Sheppard - Founding Member #12
1984 15 th anniversary trans am 1 of 1500.  For now 305HO 700r4 with a vortec headed 350 in the making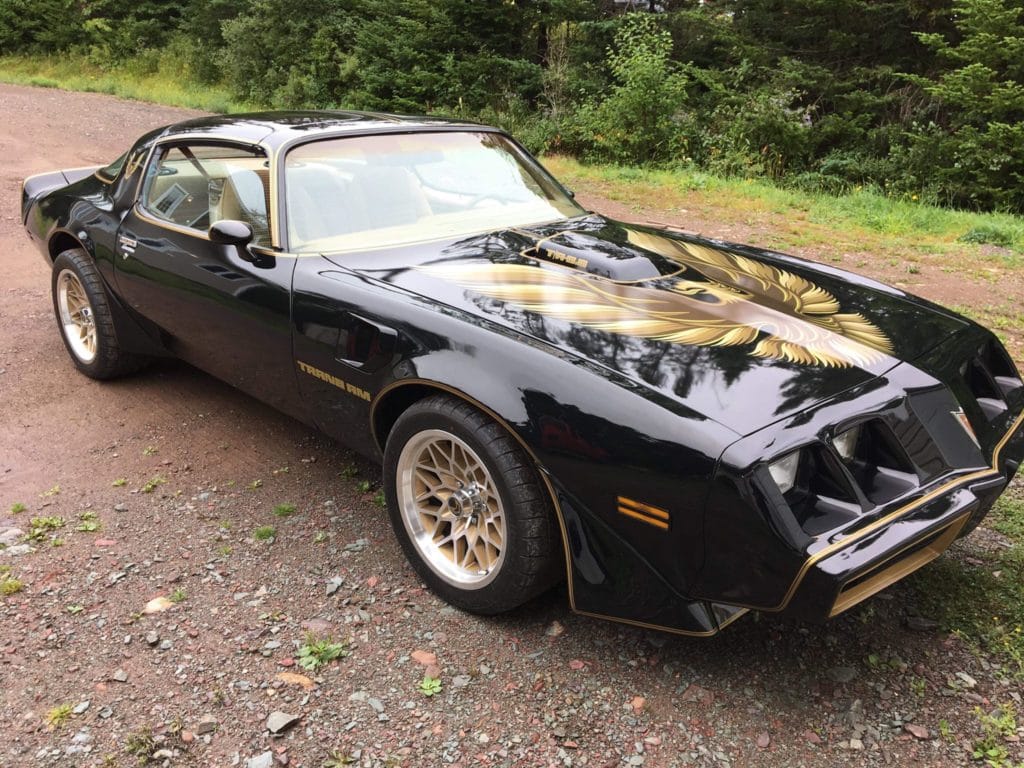 Founding Member - Jim and Connie Harvey
1979. 350 turbo automatic transmission. 403 engine. 17 in tires with honeycomb rims. We bought the car last year in Burin and we can't wait to drive it and enjoy it for years to come. Interior is gold and is in mint condition. All matching numbers. Has won People's choice award Marystown last year with previous owner.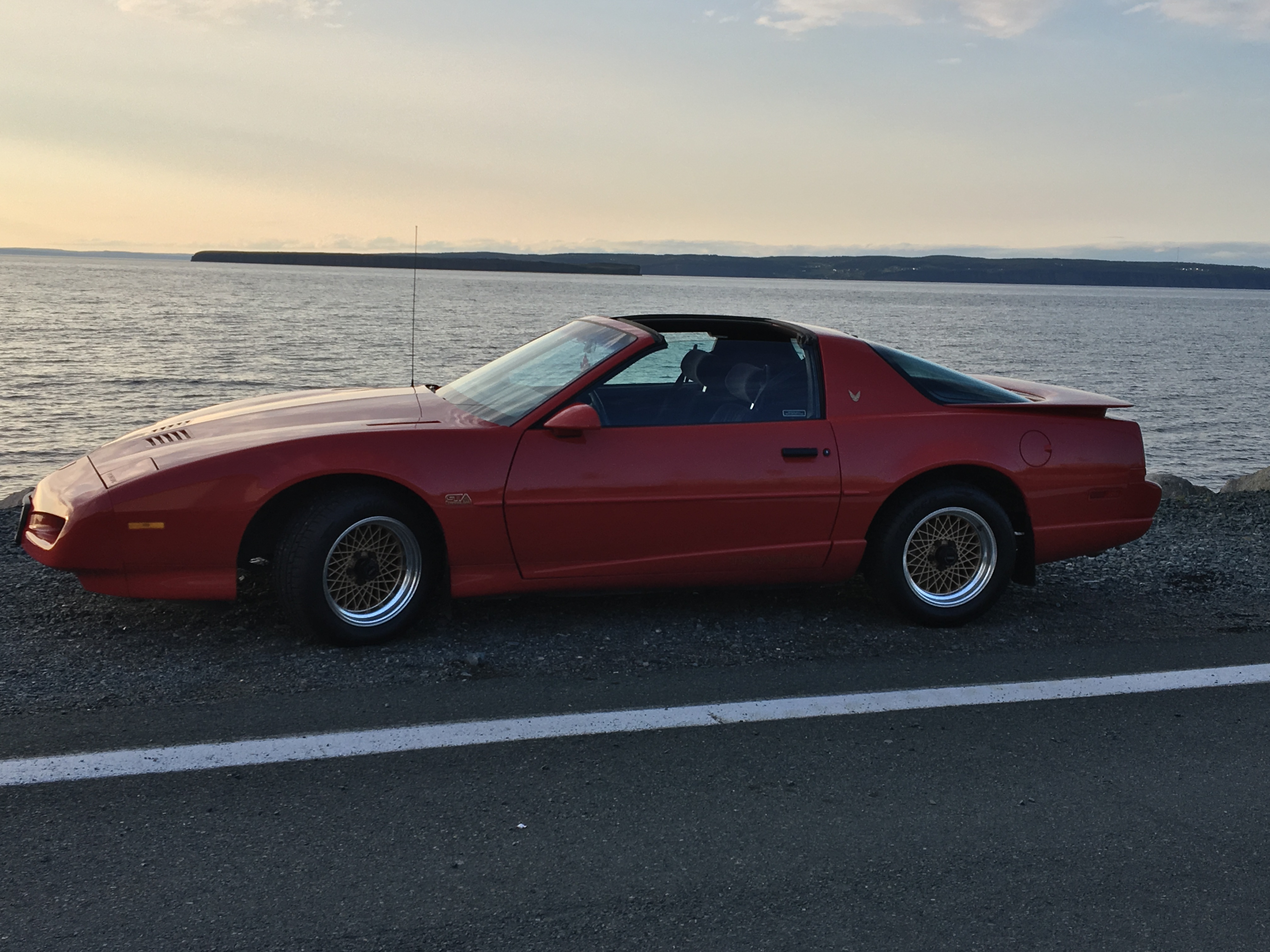 Founding Member - Derek George
1991 Firebird Trans Am GTA.
305 automatic (numbers matching)  with 90,000 original documented kms.
It has the WS6 package, a/c, power windows, power mirrors, power locks, power trunk, t-bar roof and factory black cloth interior.
A complete stainless steel exhaust system will be installed this spring.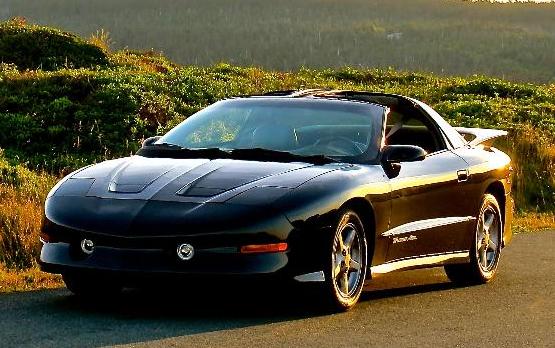 Founding Member - Darren Wall
1995 Trans Am. 
I bought it about 5 years ago and have been working to restore/improve it since. My current plan includes exhaust and suspension upgrades in the near future.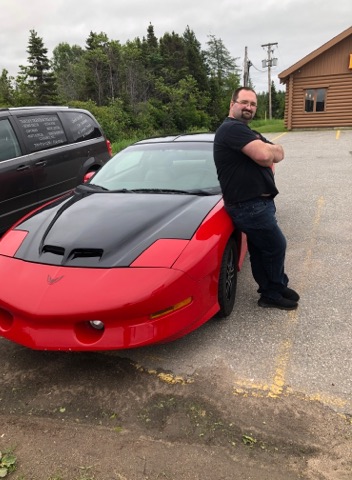 Founding Member - Cory Colins
6 speed standard, leather interior, T bar roof, 350LT1 with a 383 stroker kit performance cam and rocker rollers. Engine was built and installed by a performance shop. Long tube headers with full 3 inch SLP exhaust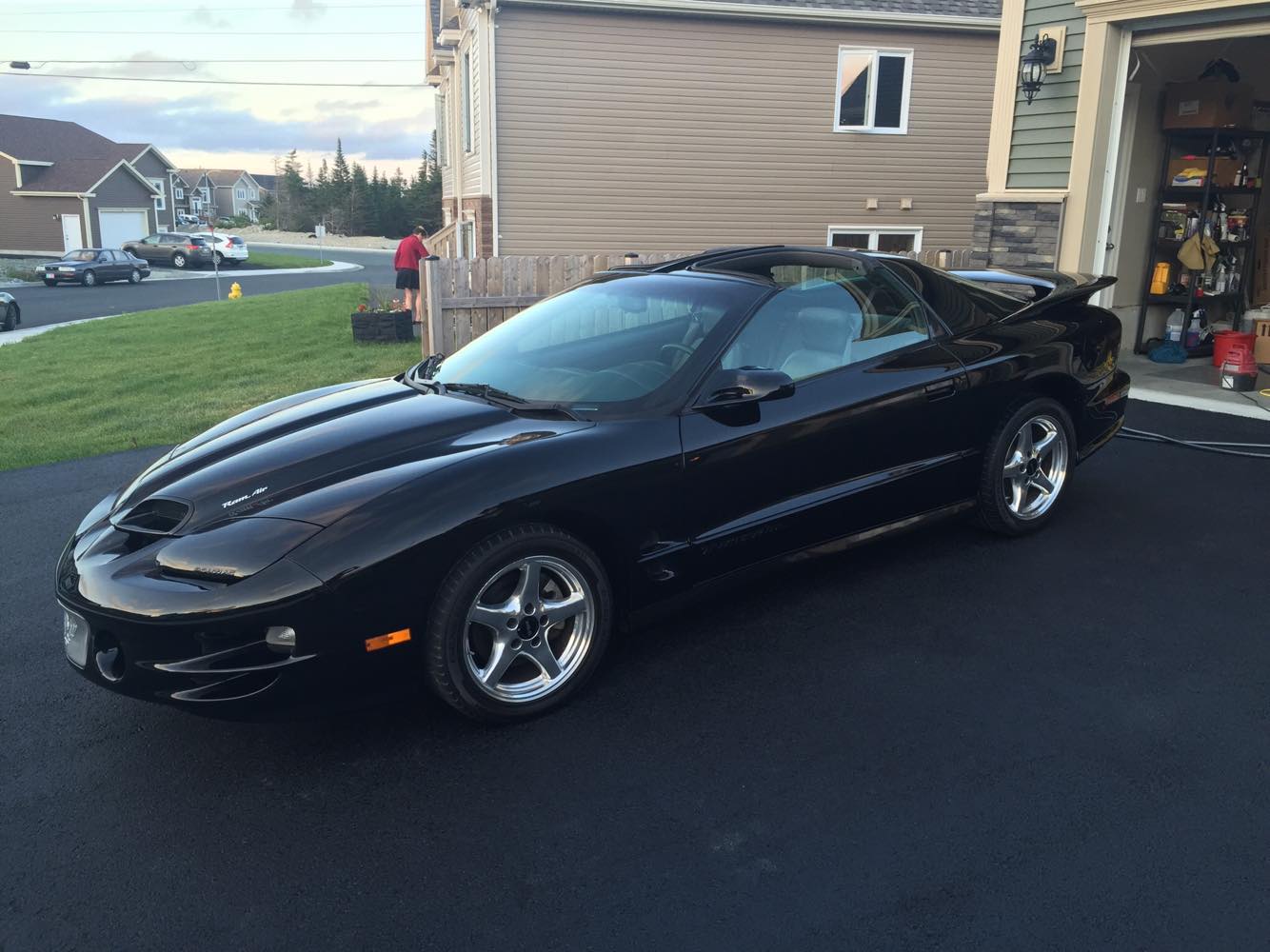 Founding Member - Jonathan Didham
1999 Trans Am WS6.
350 5.7L LS1 Engine.
T-bar roof I purchased this car from the original owner
in Ontario in 2010. Mainly an original car with some minor modifications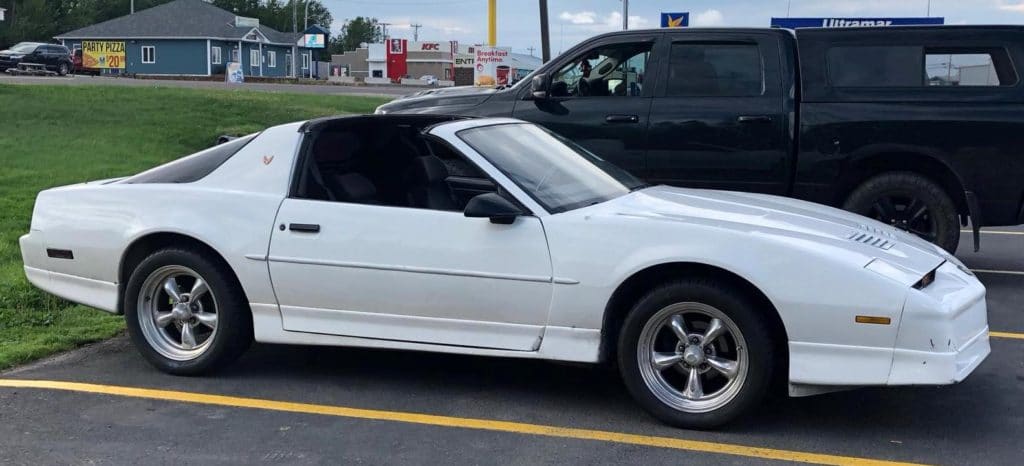 Founding Member - Joel Sheppard
1988 Pontiac trans am GTA
350 auto with headers, exhaust and a cam. Tbar roof with power windows and locks. Car has the digital dash and steering wheel controls. Many plans for this car in the near future!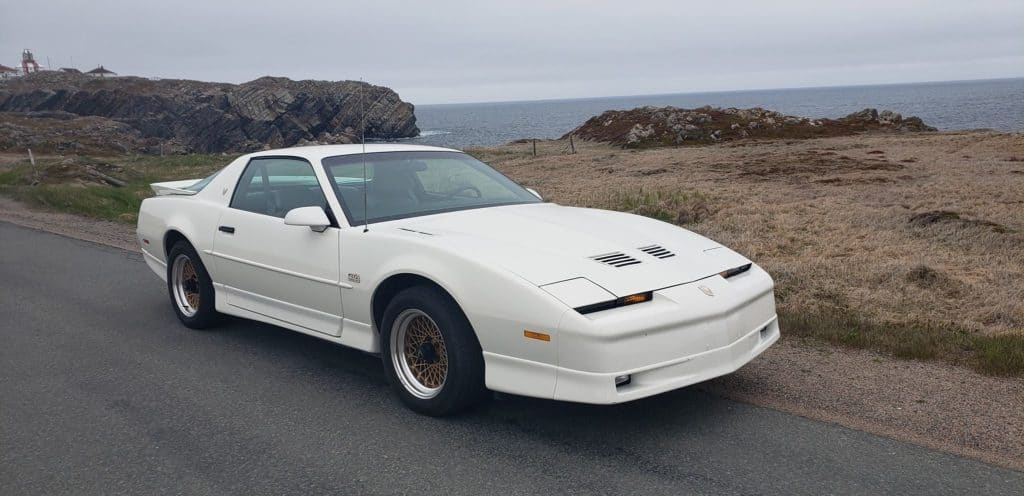 Founding Member - Bailey Fizzard
1987 Trans am GTA with 16,000 original kilometers, she has a stock l98 with 700r4 trans and only current mod is a magnaflow catback with a cat delete. I got the car when i was just 4 years old, after my uncle passed away, he left it to me, he barely drove her or got to do anything to her like he wanted, so now i plan to make his wish come through. Many upgrades planned for the future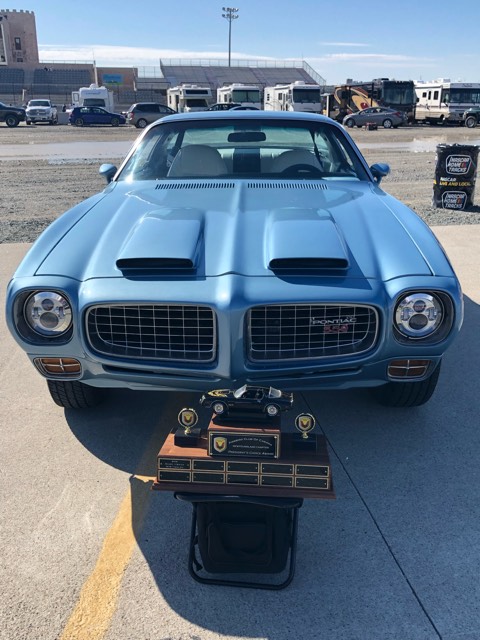 Founding Member - Cory Brocklehurs
1981 Firebird
1973 Front Clip -1973 Formula Hood
1969 350 SBC -bore 0.30, 480 lift cam
Holley 650 Carb TH350 Transmission
B&M Quick Silver Shifter
1973 Rally 2 Rims -LED Headlights-Custom White/Blue Leather Interior.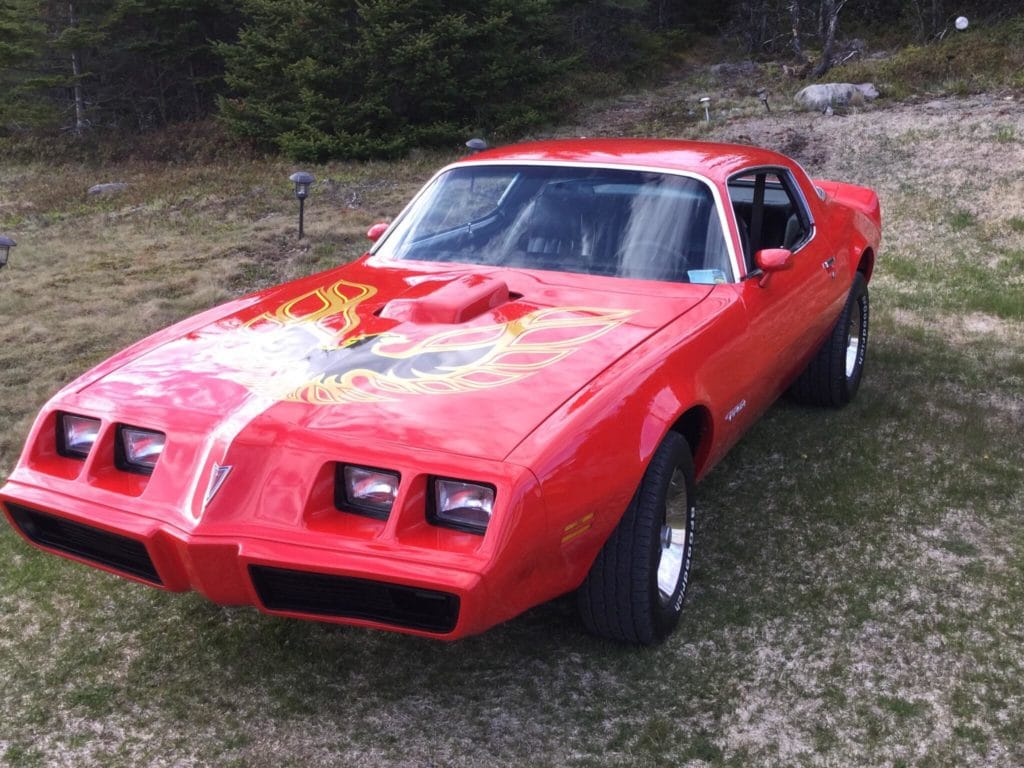 Founding Member - John Elliott
1981 Pontiac firebird - 350 Chevy engine - 350 turbo automatic- BFG goodridge white letter tires - car was fully taken apart top to bottom / front to back and sandblasted /painted/ replaced or restored in 2004 - this hood decal has been cleared over since 2006 -shaker Is mounted to the engine - red color has a glam clear coat - seats were recovered by my late uncle Eric Elliott - underneath the car is as clean and shiny as the top with at least one waxing a year underneath. Special thanks to my wife Cathy for putting up with this car for so long . Right from the beginning I said this car was " Built to be driven rain or shine "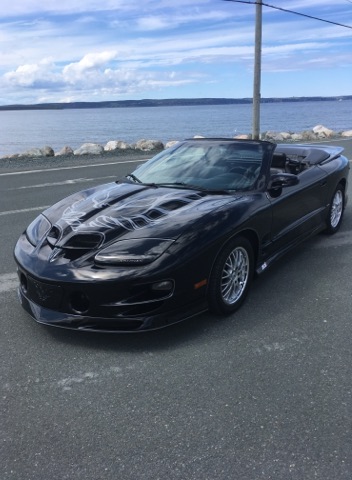 Founding Member - Wade Hiscock
2002 WS6 Trans Am 6 speed convertible. 54000 miles car is originally from Texas. Has stock SLP loudmouth exhaust so I added an SLP cold air intake last summer. I upgraded the wheels to something a little nicer and added a wings west ground effects kit for a more aggressive look. I also added a hood bird and some pin striping to finish off the look.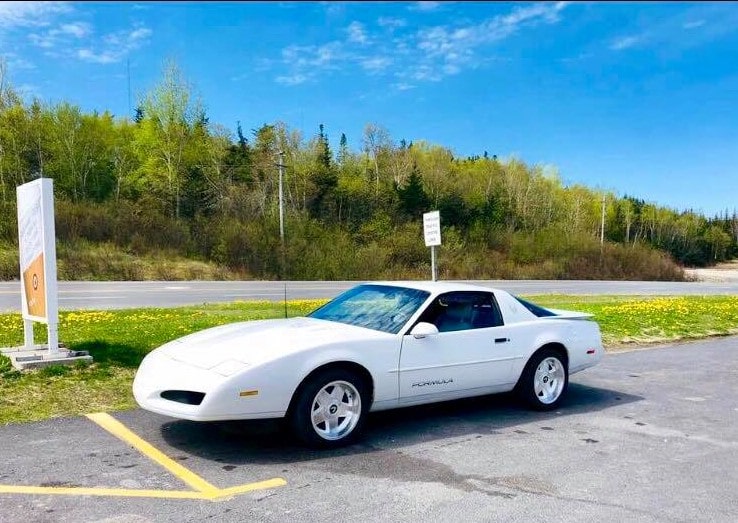 Founding Member - Richard Noesworthy
1991 formula 5.0L auto. Completely stock and original except the firehawk replica wheels.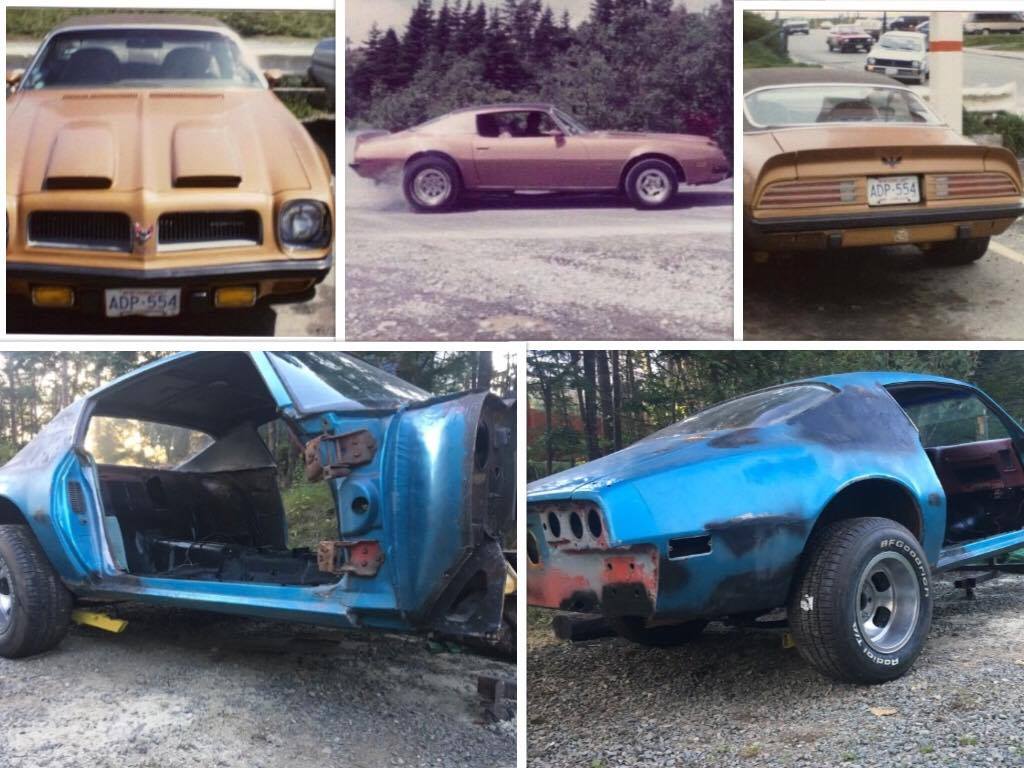 Founding Member - Jason David Clarke
My dad had this 1974 Formula 400 back in the 70's and 80's.
To make a long story short. I tried to track down the car to see where it ended up but found out it was scrapped.
I ended up getting the formula hood from his original car and I am know building a clone of his.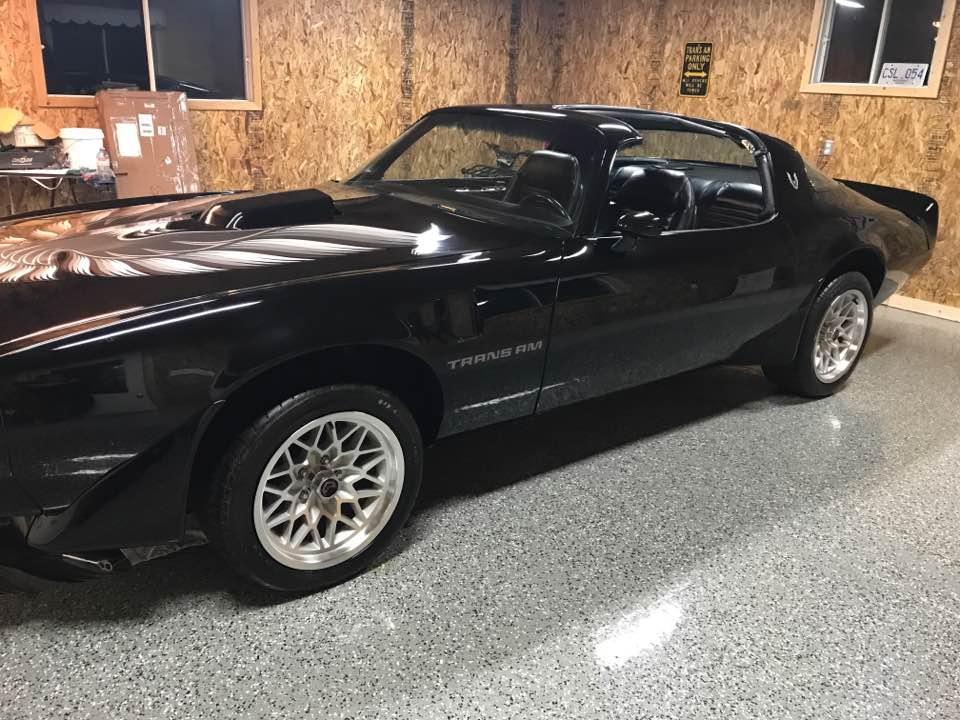 Founding Member - Scott Bartlett
1980 Trans Am
Engine - 455 Olds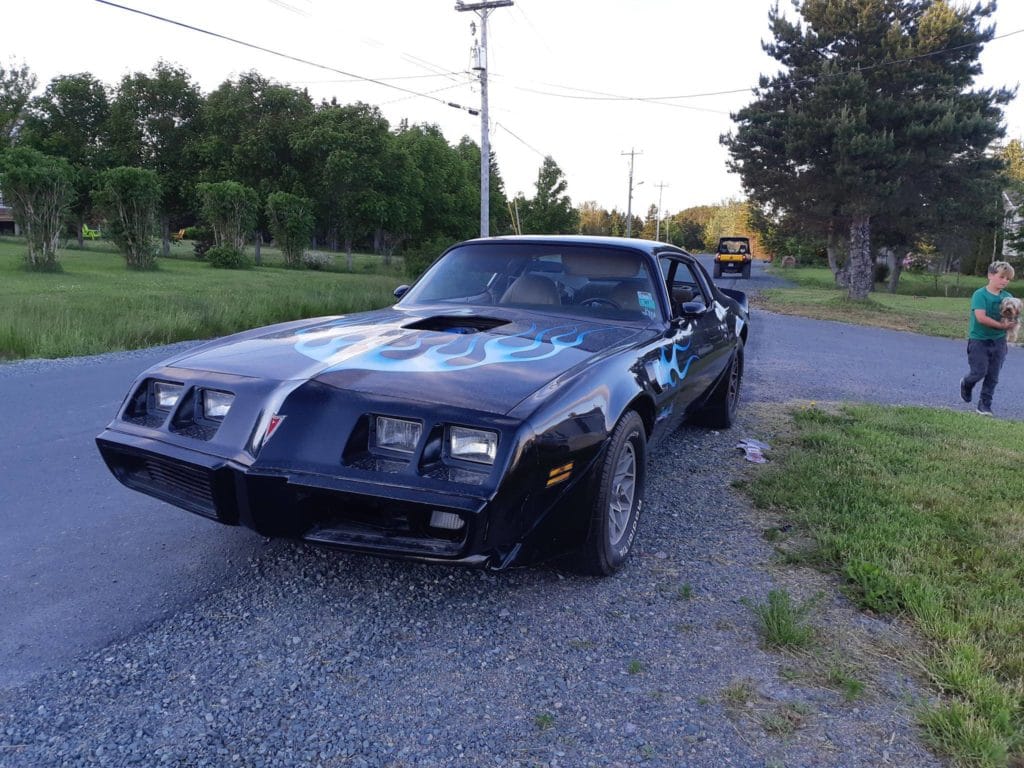 Founding Member - Scott Hawco
He has a few Trans Ams. Gold one is a 1978 with a TH350 Auto and a 455. Black one is a 1981, but I have no info on it. I can provide more info when he gives it to me.
/////////////////////////////////////////////////////////////////////////////////////////////////////////////////////////////
Innactive Members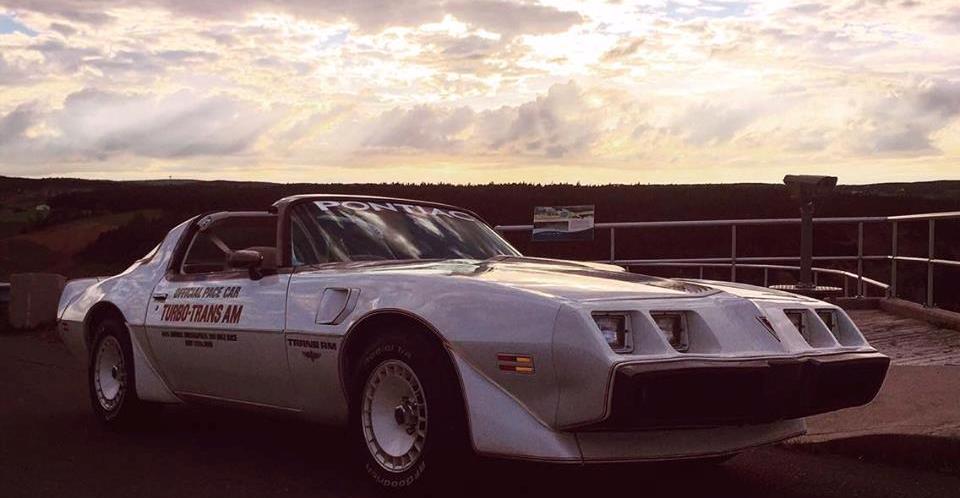 Founding Member - Tom Cromwell
I purchased the car in Ontario in 2014, but my family has a long history with the 1980 Pace Car. My father and mother-in-law drove away from their wedding in his 1980 Pace Car.